AV #TechTuesday is a WPS-curated column showcasing innovative technologies in the audio-video-lighting industry that we think you'll find interesting. These posts are NOT sponsored.
Audio technology is experiencing a renaissance of innovation, thanks in large part to the wide use of software throughout every stage of product development and the deep integration of software in the product itself. Software is responsible for delivering active noise cancelling, spacial/3D audio, and audio networking. Software has created an entirely new category of products that are now equal parts hardware and algorithm-driven, and Fulcrum Acoustic has been been an early adopter of algorithmic processing to deliver balanced quality and coverage at scale, while continuously improving loudspeaker designs with every iteration.
Fulcrum's AHS-Series loudspeakers are part of the TQ Install product line and are designed to be implemented in spaces, like scoreboards, where conventional loudspeakers would be subjected to design or architectural challenges due to space and mounting restraints. WPS has recently implemented the AHS-Series loudspeakers in a variety of stadiums, including Rutgers University's SHI Stadium and Michigan State's Spartan Stadium, both of which integrated the speakers within the scoreboard systems.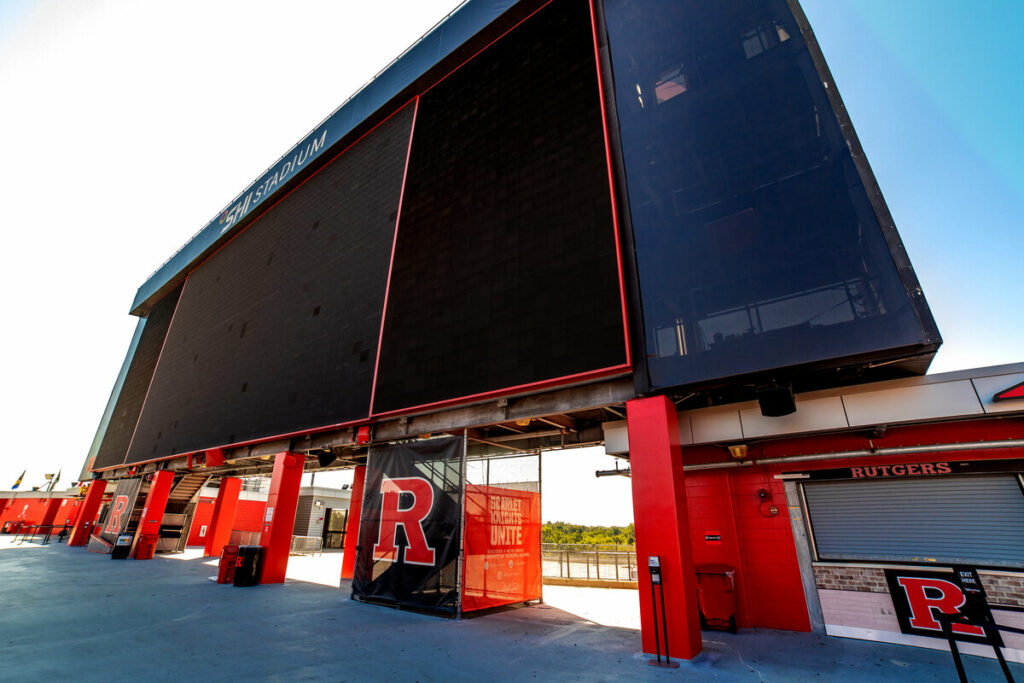 Two models make up the AHS series and are based on the coverage pattern for each, AHS440 45° x +15° to -15° (vertical steering) coverage pattern and AHS460 60° x +10° to -30° (vertical steering) coverage pattern. Both models use a four 10″ neodymium magnet cone driver and two 3.5″ diameter, dual-gap voice coils for the low frequency transducers. For the high frequency transducers, the AHS440 uses a four neodymium coaxial ring radiator (vs. three for the AHS460), a 4″ titanium mid frequency diaphragm, and a 2.5″ high frequency diaphragm. AHS440 includes five channels of processing and amplification, whereas the AHS460 includes six channels. The AHS series are designed to be used individually or as stacked arrays, and pairing both the AHS440 and AHS460 can extend coverage depending on the audio requirements.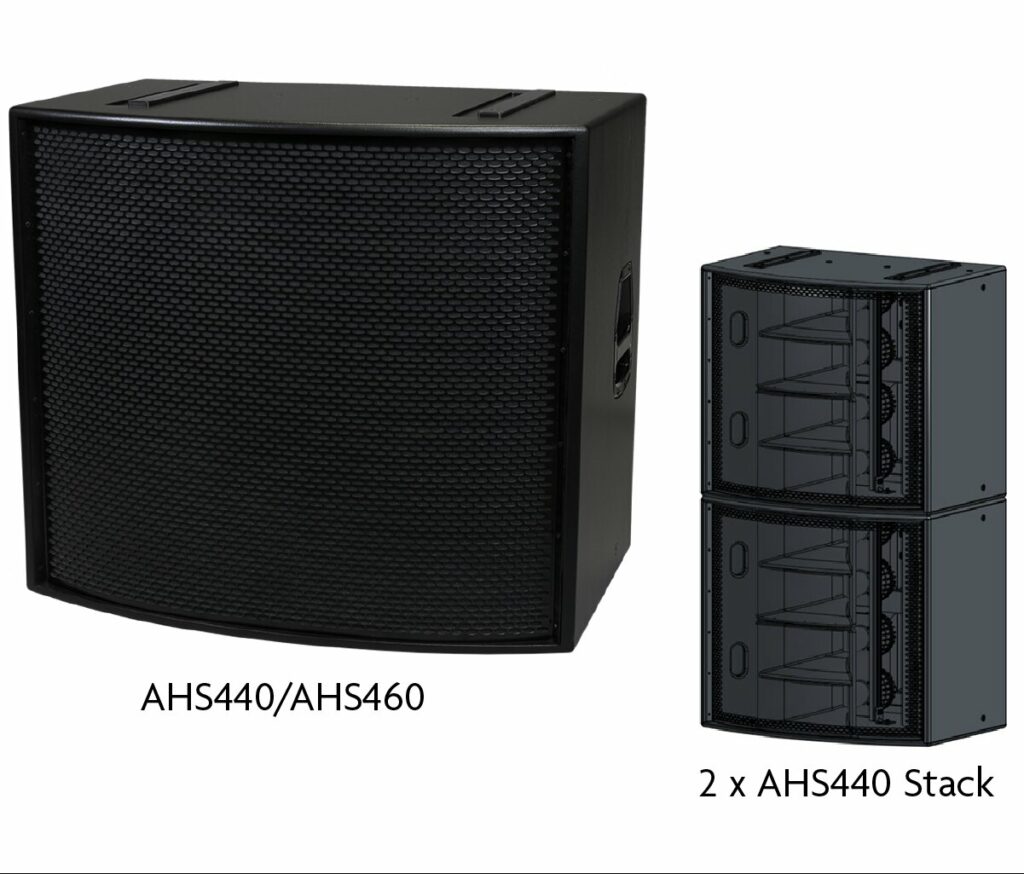 The AHS series features Fulcrum's unique "Compression Head" horn design minimizes the physical depth dimension of the loudspeaker while providing excellent low frequency loading. The AHS also includes "Oculus" phase plugs over each woofer, allowing the low frequencies of the woofers to mesh smoothly with the high compression drivers. Combining both innovative design features helps maintain high sensitivity while delivery a very consistent low frequency character over a wide output range.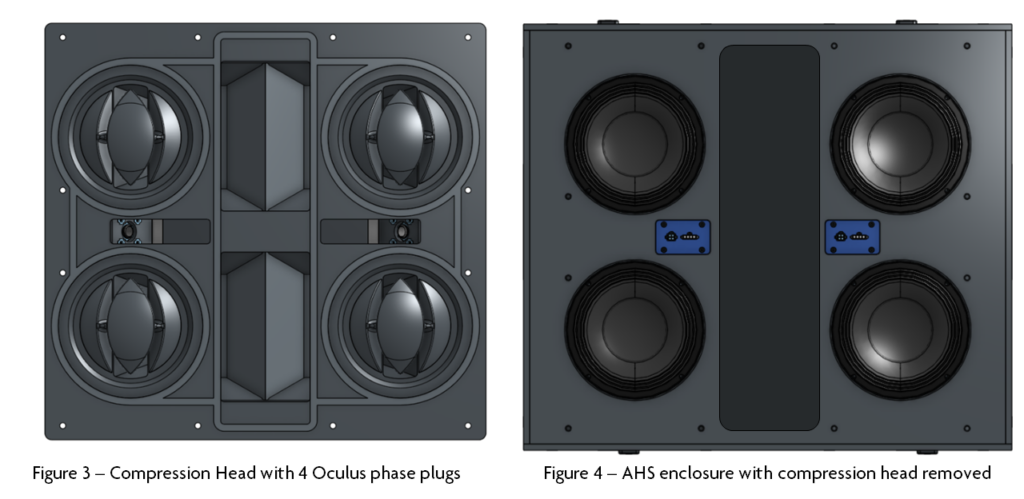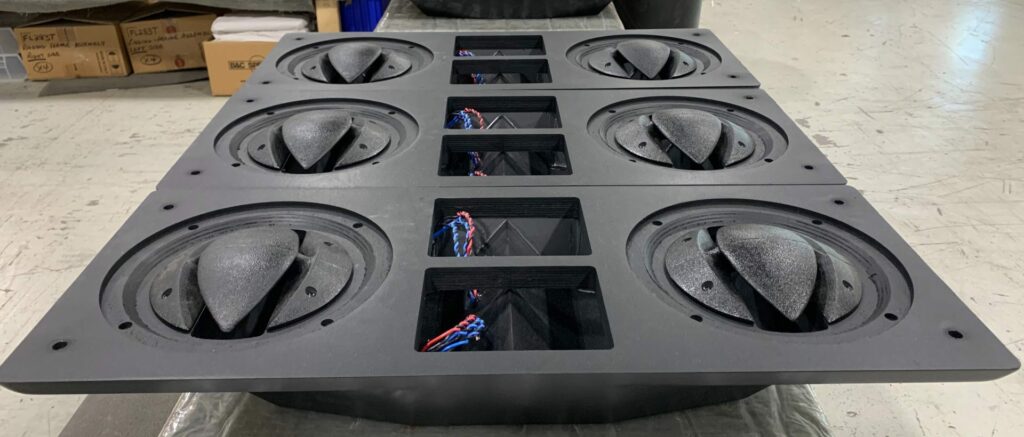 The AHS horn-style loudspeakers make use of Fulcrum's clever TQ (Temporal Equalization) processing and beam-forming algorithms to deliver excellent pattern control and accurately-defined coverage for long-throw applications. TQ processing incorporates Fulcrum's paradigm shift in the way loudspeakers and audio systems are designed by treating both loudspeakers and DSP (digital signal processor) as one system. Normally, loudspeaker development has been an exercise in compromise, that is, purposefully designing for a favorable transient response while sacrificing coverage and using the DSP to improve performance. TQ allows Fulcrum to use the most optimal design characteristics of a loudspeaker while eliminating the natural resonances created by this design through the DSP.
Here is how Fulcrum describes a use case situation: "…with DSP we can imitate the condition that would occur if the return wave was completely absorbed. When a wave front encounters a perfectly absorptive termination, a very particular sound pressure occurs at the boundary. When it encounters a reflective termination, like a compression driver, a very different sound pressure occurs at that boundary. If however we supply a delayed and modified version of the original signal to the compression driver, then we can mimic the sound pressure that would occur if the compression driver were absorptive. If we do this precisely enough the compression driver diaphragm will have the same velocity that the air molecules would have had when they encountered an absorptive boundary. The sound pressure at the diaphragm will be the same as it would have been at an absorptive boundary. In fact, to the reflected wave, there is no difference between the compression driver and an absorptive boundary. In both cases, the returned wave is absorbed and the resonance is eliminated."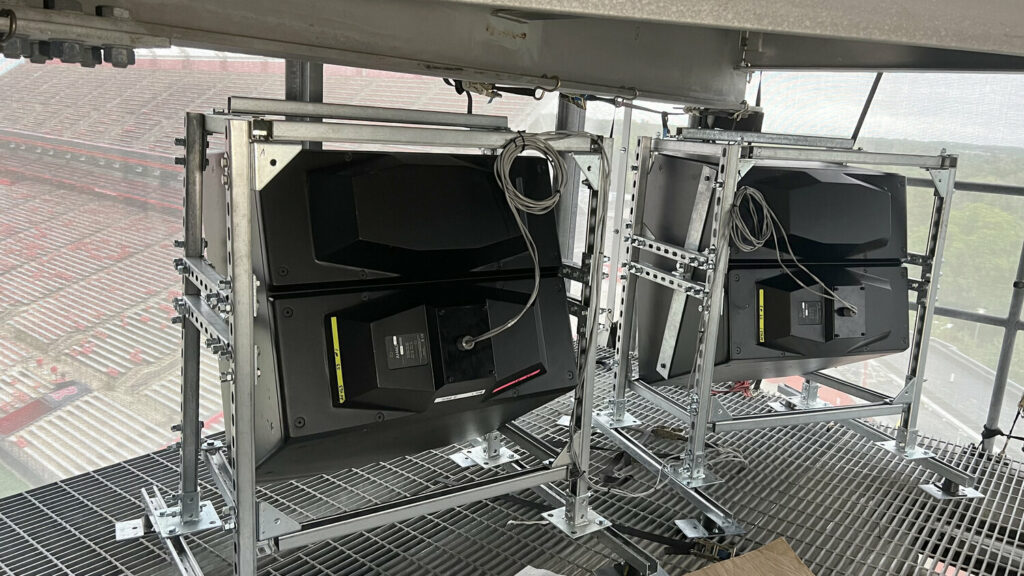 Why you should care:
AHS-Series loudspeakers give system designers the best of both worlds: excellent coverage and pattern control for long-range applications in compact enclosures
Designed specifically for use in system designs where the space and/or architecture is sub-optimal for installation
Available with five (AHS460) to six (AHS440) channels of processing and amplification
Coverage patterns from 45° horizontal x +15° to -15° vertical (AHS440) to 60° horizontal x +10° to -30° vertical (AHS460)
Utilizes TQ processing (Level 1 and Level 2) with beam-forming algorithms that can be tuned via a DSP to provide balance between transient sources (percussion instruments vs. vocals) or provide more precise temporal filters
Stackable up to eight-high columns to deliver greater coverage
Service-in-place construction allows for easy access to the drivers
If you would like more information on Fulcrum's state-of-the-art AHS-Series loudspeakers or would like help with your next audio system project, send a message below: