WHAT IS IT?
Since its reveal in 2015, NewTek has been hard at work developing NDI (Network Device Interface), expanding its capabilities with supporting toolsets, and building a synergistic ecosystem. The investment has paid off for NewTek as more manufacturers adopt the protocol into their product lines and organizations continue building out their production workflows with NDI-enabled devices.
Today, NDI is in its 14th iteration with NDI 5.5 and is one of the most widely used IP-based video protocols in the world. Expanding on that momentum, NewTek recently introduced Flex, a new control panel designed specifically for use with NDI connectivity.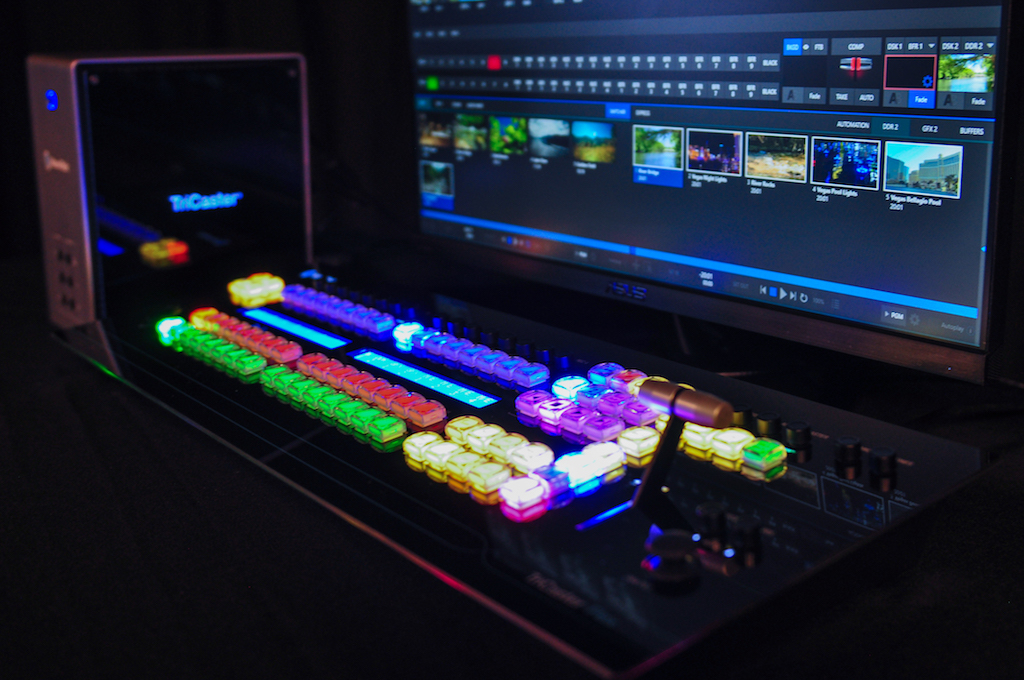 According to NewTek, Flex is now the only control surface that can control any (NDI compatible) video switcher on the network via NDI and the only control surface that is compatible with all modern TriCasters, in contrast to NewTek's other control panels that use IP-based or USB connectivity.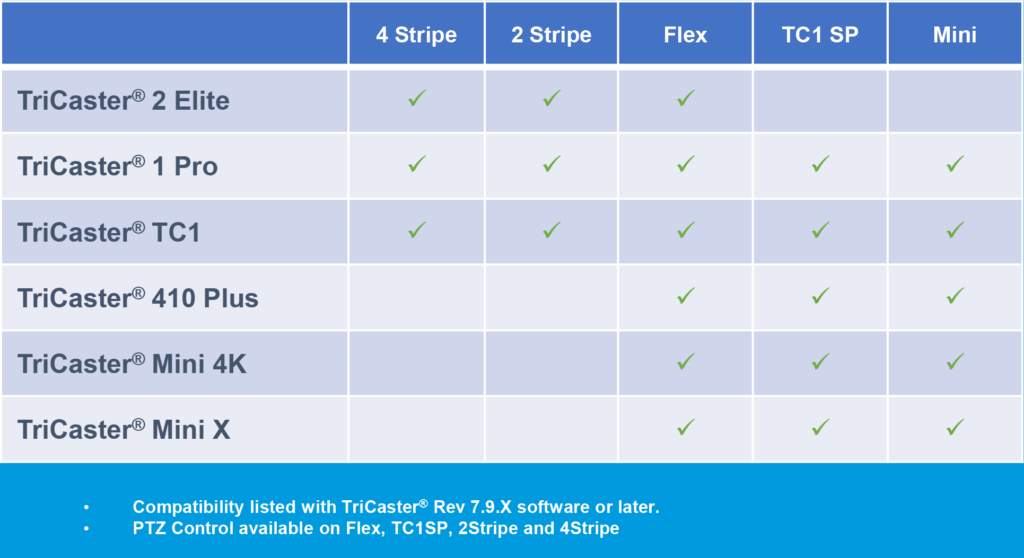 From the Flex panel, users have PTZ camera control, audio and video mixing, and talkback functions. NewTek also incorporated features from its other control boards, including RGB lighting, variable T-Bar illumination, and two 40-character 2-row LED configuration screens.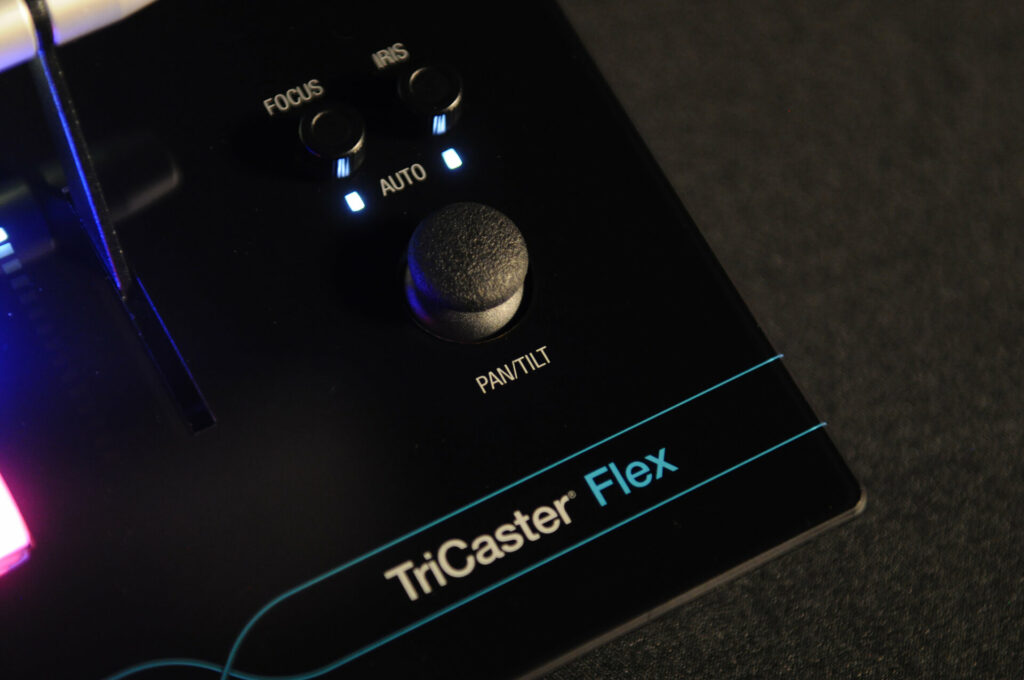 All good things, but there's a handful of new features that sets Flex apart from NewTek's other control panels.
AUDIO I/O
Flex introduces audio I/O (2 pair of 1/4″ balanced line level inputs, 2 pair of 1/4″ balanced line level outputs) and features a native NDI encoder that can allow for external audio sources to enter the NDI network and expand the onboard I/O of any TriCaster on the network instantly. Using Flex, operators can manage and monitor incoming or outgoing NDI sources from any of the connected TriCasters. The two line level outputs are for MASTER and AUX giving operators the ability to drive audio monitors from the outputs directly from the control panel.

We can already see plenty of use cases with this addition, including (the obvious) expanding of audio sources in a distributed production environment and adding non-NDI sources to the NDI network.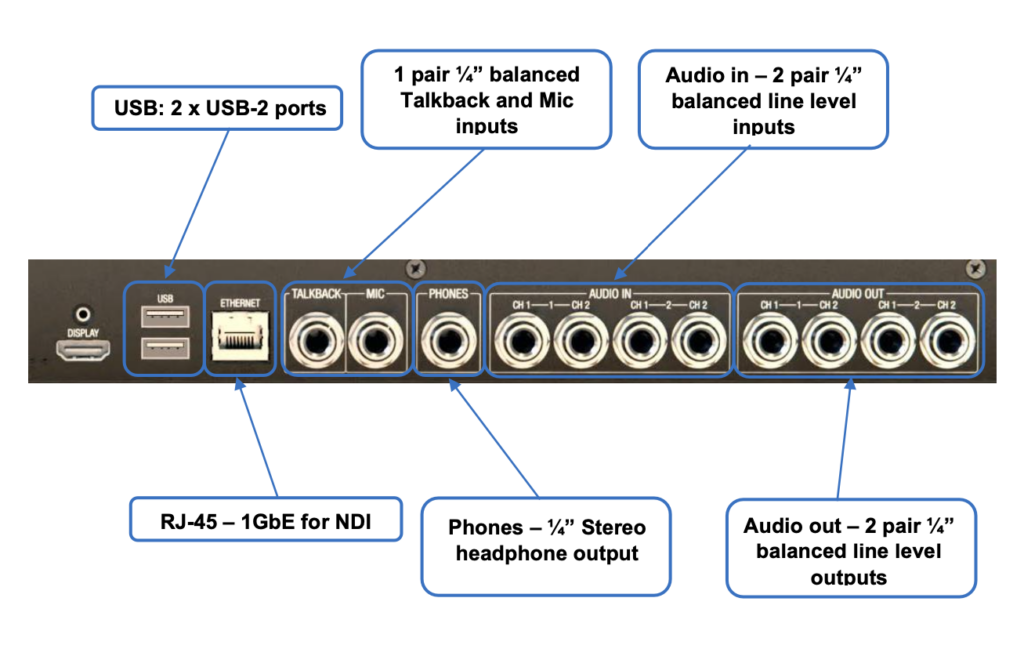 IMPROVED AUDIO CONTROL
For the first time, NewTek has added Vu line level meters to the audio level adjustment knobs for Audio 1-8, Talkback, DDR 1-2, Sound, Rec 1-4 as well as Stream 1-2, Aux, and Master out. The adjustment knobs also feature push to mute/unmute with an alternate mode for solo. The mic and phones level adjustment knobs don't have the Vu meters, but still retain the push to mute/unmute function.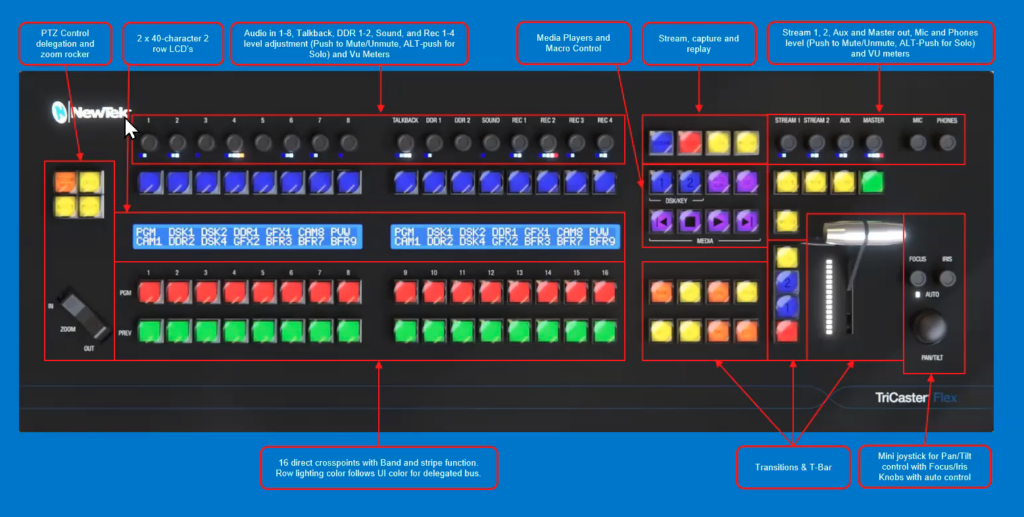 WHAT WE'D LIKE TO SEE
Throughout the presentation and press releases for Flex, NewTek did not mention compatibility with one of NDI's more exciting tools: NDI Bridge. Bridge gives operators the ability to connect ("bridge") or share any NDI network, whether it's internal or external. Bridge is seen as a gamechanger for studios and content producers since they won't be limited to location or a single network to access sources or devices.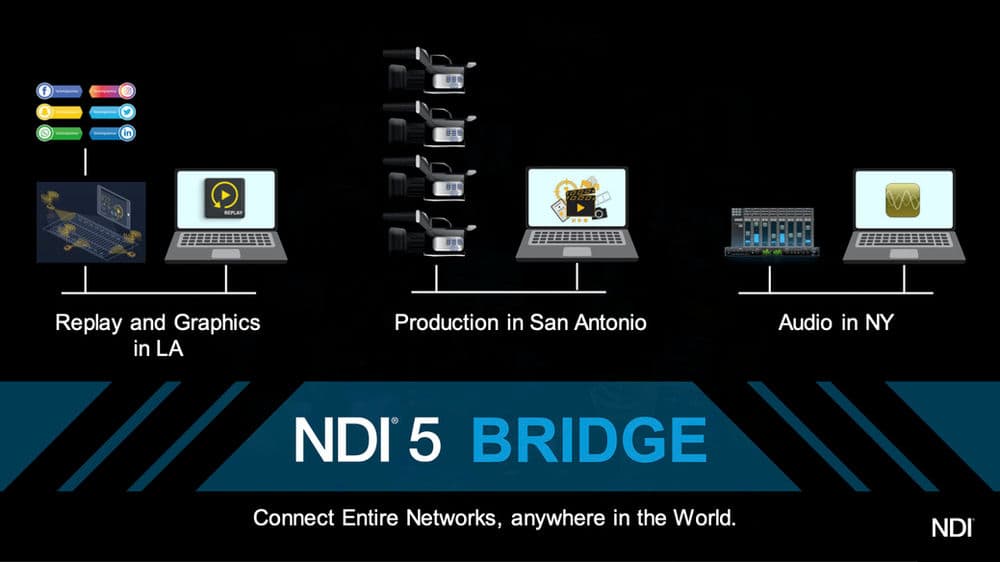 We anticipate that NewTek will make the Flex control surface compatible with NDI Bridge soon and once it does, Flex could have a dramatic impact in how productions are planned and executed. We mentioned before that NDI 5 has the potential to democratize the world of broadcasting by untethering talent and creating a truly distributed production team.
OUR THOUGHTS
It's clear that NewTek is leveraging the popularity of its NDI protocol and implementing compatibility across most (if not all) of its product line. What is interesting is that the Flex control panel is designed from the get-go with NDI connectivity and targeting customers that have made the leap work mostly within the NDI ecosystem. One could potentially view this as a risk, but with the mass adoption of NDI by manufacturers, it would seem that this risk is mostly unwarranted.
We like Flex's ability to encode non-NDI sources to NDI and essentially expand a TriCasters I/O without additional equipment. We also like the new audio control design, particularly the addition of the Vu meters for the audio sources.
We *really* like the overall surface design and it's clear that NewTek took lessons learned from past designs and incorporated them into Flex. The entire layout is more ergonomic and thoughtfully designed, with controls appearing to fall in hand logically.
We do wish that NewTek had mentioned compatibility with NDI Bridge, but we expect this functionality to be announced soon, and be available with a simple update.
We'll have to wait until we can get our hands on one, but surface level impressions (no pun intended) of the Flex are quite good. NewTek had a clear mission when designing and developing the Flex and it appears that they've nailed it.