NDI 5 has been announced with exciting new features and promises to democratize broadcasting as we know it, but what did NDI 5 introduce over previous versions and why should we care?
What Is NDI?
NDI is a royalty-free standard developed and supported by NewTek (Vizrt) that allows any network-connected product with a video output to communicate with each other over IP to transmit, encode and receive multiple streams that are high quality, low latency, and frame-accurate.
Because NDI is freely available, developers can easily integrate the protocol into their devices, applications, or existing systems.
What Are the New Features of NDI 5?
NDI Bridge
Bridge allows users to any NDI network securely from anywhere in the world and share or work with sources seamlessly. This opens up the ability for remote teams or studios across locations to produce content with multiple sources.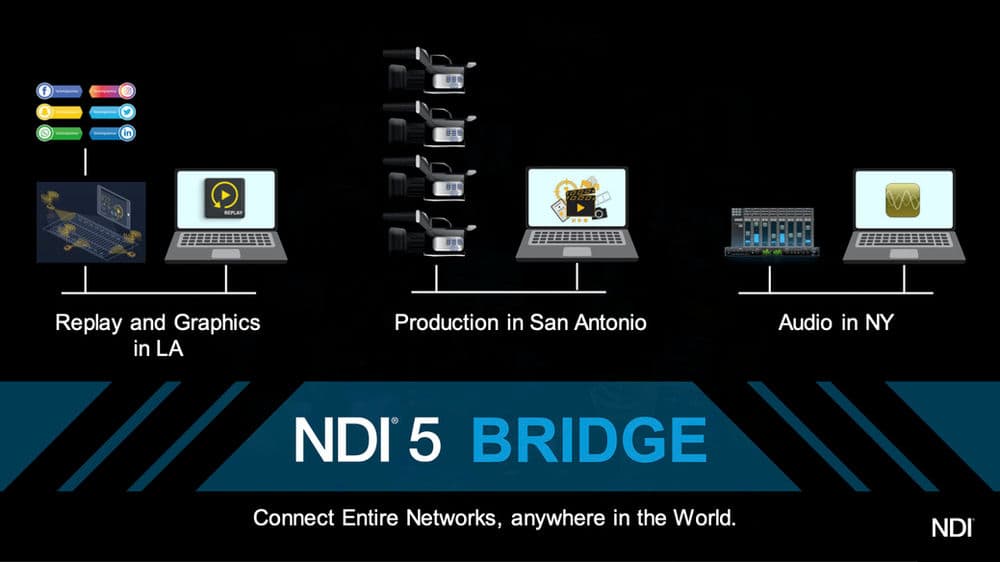 What This Means
With NDI Bridge, your teams now have the ability to produce content with sources on the network from any location.
Why This Is Important
Scaling up (or down) based on the needs of the event or production is now much easier and opens up the opportunity for broadcasting professionals to offer their services ad-hoc and remotely.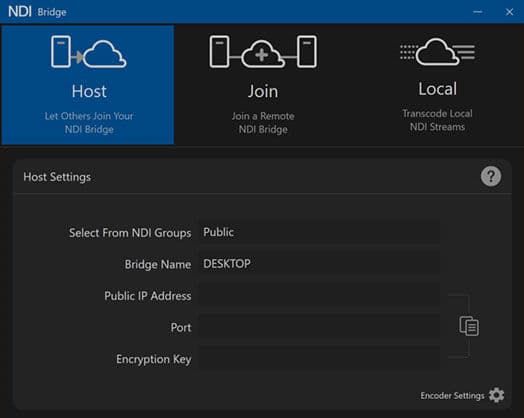 NDI Remote
Remote allows remote contributors to share audio and video securely over the internet through a URL. Regardless of location, producers can now bring in additional sources to live productions quickly and easily.
What This Means
Let's say you have contributors from different parts of the world you'd like to bring into a live production. Now you only have to provide a link so they can share their video and sound without being locked to a specific platform like Zoom or Teams.
Why This Is Important
This gives producers an enormous amount of flexibility and creative freedom to create content with fewer hardware or software limitations. NDI Remote can receive video from any mobile device anywhere in the world.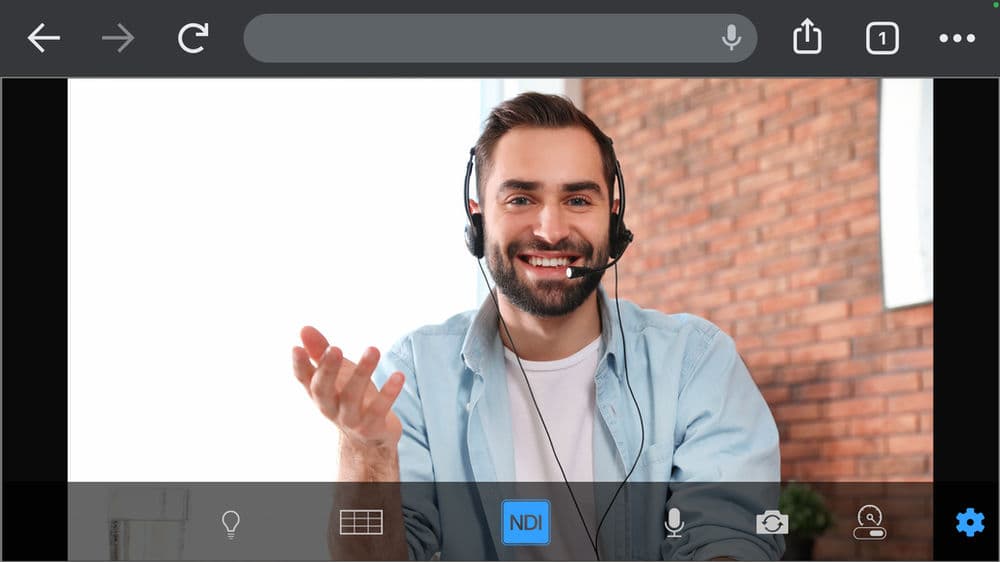 NDI Audio Direct
Audio Direct is a group of plugins that enables audio software apps to integrate via NDI across a LAN (local area network) or the cloud allowing applications to take advantage of audio-over-IP. Users will now be able to select, receive, or create multichannel audio with extremely high quality and almost zero latency without the limitations of hardware audio mixers.
What This Means
Developers will now be able to seamlessly incorporate multichannel audio sources into their applications and share these sources across networks or virtually. Developers will no longer be constrained with brand/hardware limitations and can scale according to the specific needs of the production.
Why This Is Important
Producers will now have multiple options on how they'll receive high quality/low latency audio sources for live productions and depending on their needs, will no longer have to rely on specific brand/hardware to bring in audio from multiple sources. This will reduce complexity, production costs, and give producers much more flexibility when planning content development or events.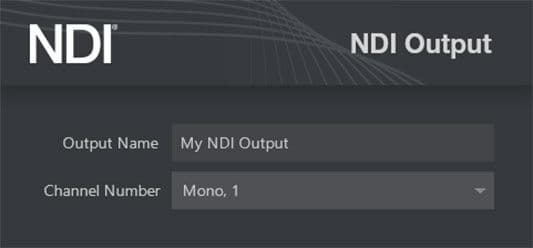 Reliable UDP
Reliable UDP is a new transmission protocol that is designed to simplify the configuration of network interfaces and improve the stability of video, audio, or metadata transfers over any network including LANs, in the cloud, or over the internet. Reliable UDP aims to increase the resilience of data transfers and network connections by utilizing congestion control and loss recovery even in high latency environments like WiFi networks or WAN.
What This Means
Video, audio, and metadata transfers will be much more reliable across Wifi or WAN which are becoming increasingly common. Network configurations will be less complex and as a result, more reliable with less overhead (as compared to TCP).
Why This Is Important
Producers, mixers, and editors now have a much more reliable way of transferring video, audio, and metadata across networks with a lot less emphasis on the capabilities of the network hardware itself. This will lower the hardware requirement threshold and improve the overall faith in the system.
Other NDI 5 Features Worth Mentioning
Not all NDI 5 features are as revolutionary as those mentioned above, but these "evolutionary" additions are welcomed by many.
NIC Selection
Users will now be able to designate which NIC (network interface controller) will be used by NDI. This streamlines configuration and decreases network resource conflicts with other protocols or applications.
Redundant Discovery Service
The Discovery Service tool is designed to manage NDI discovery and registration in situations where mDNS can't be used. This allows NDI to work across a variety of networks in a redundant setup.
Easier Private Networks
NDI 5 makes configuring a private NDI network easier by allowing users to select a privacy option when creating a new group. This privacy option prevents inputs and streams from being viewed by anyone else on the network or outside of the group.
Adobe Creative Cloud Plugin
NDI 5 now has an all-new plugin for Adobe Creative Cloud allowing audio outputs to both the soundcard and the NDI output. This means that Adobe Video Production users will hear the exact same audio that is going to NDI.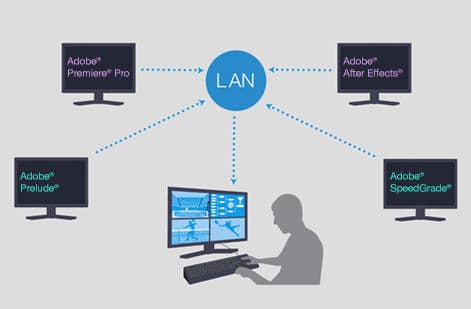 FinalCut Pro Plugin
This new plugin allows NDI output for FinalCut Pro from the timeline playout real-time audio and video frame buffer output.
Full Support for Apple Silicon
NDI 5 introduces full ARM support and that includes Apple Silicon. Developers will now have the ability to create applications for ARM-based equipment including some of the world's most popular devices such as Macbooks, Raspberry Pi, iOS, tvOS, and iPadOS devices.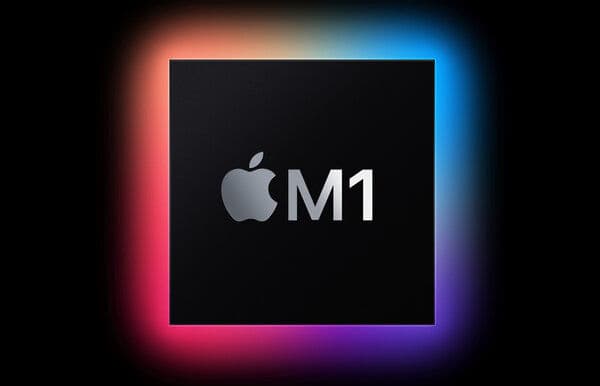 Why This Is a Big Deal for the Industry
Broadcasting and streaming have been increasing in popularity over the last few years. During the 2020 pandemic, broadcast production was seen as essential. The problem is that production costs have continued to rise and that high barrier means that new players have a difficult time entering the marketplace.
NDI 5 is a way democratizing broadcasting and content development by leveling the playing field and dramatically reducing the cost of producing events or delivering content. Producers now have the option to use many more sources of video, regardless of location or hardware. Contributors can easily share streams and remote teams can work seamlessly to produce live content.
NewTek (Vizrt) has made NDI 5 free to use in applications, allowing developers and manufactures to continue building on the AVoIP standard with low risk. This gives the consumers more options and helps drive down prices of equipment further lowering the barriers to entry.
In Conclusion
NDI 5's release will help bridge the gap between on-site and remote teams, allowing for rapid scalability, connectivity, and collaboration regardless of distance or equipment. At its core, the mission of NDI 5 is to make broadcasting more accessible to more people, and we believe NDI 5 will achieve that goal.
The team at WPS is excited to start working on NDI 5 implementations. If you'd like to learn more about NDI 5's feature-set and how it could be applied to your studio, organization, or production, contact our broadcasting experts today by calling 301-942-6800 or by clicking here.