Wheaton, MD – December 22, 2022 – WPS | Washington Professional Systems, a national broadcasting systems integrator, has signed a distributor agreement with AudioPressBox, an EU-based manufacturer of audio distribution amplifiers for the broadcasting industry. The agreement allows WPS to offer one of the most complete lines of press boxes designed specifically for the growing briefing and press conferencing market.
"The partnership between WPS and AudioPressBox not only expands our diverse product line, but also allows us to expand our broadcast system offerings" stated Richard Kessler, General Manager of WPS. "Our customers will now have the ability to integrate one of the industry's most innovative and reliable press conferencing solutions."
AudioPressBox, a division of Slovakian-based (EU) MediaTech, manufacturers a variety of portable and fixed installation audio distribution amplifiers designed for use in indoor or outdoor mobile press conferences. The press boxes serve as the central junction for multiple audio sources, including wireless microphones, lectern mics, or mixing consoles, and output these signals seamlessly to recorders, speakers, cameras, or OB (outside broadcasting) vehicles. The main benefit of AudioPressBox's product line is the streamlining and simplification of audio distribution for events with limited space or infrastructure.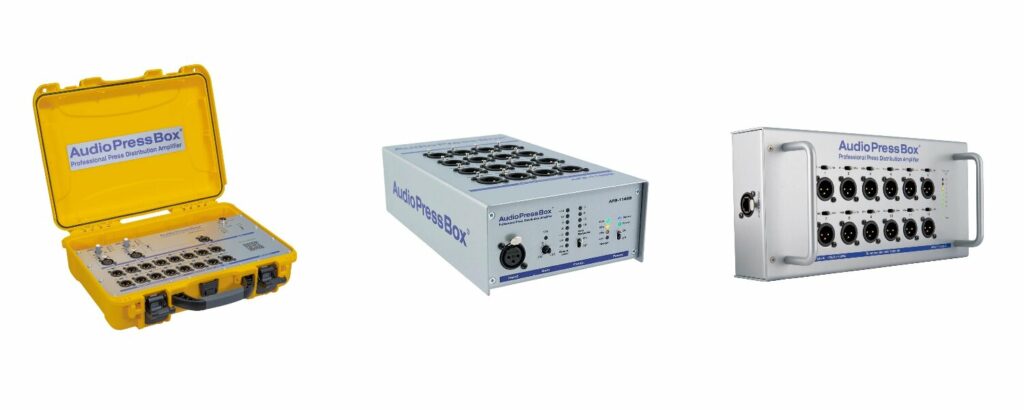 Mehdi Alister, Operations Manager of AudioPressBox US, notes that "WPS has an undisputed leadership position in developing system integration products and services for its worldwide clients that combine proven technology solutions backed by total customer commitment."
Michaela Tonkovicova, Director of Worldwide Marketing for AudioPressBox commented that "WPS' three generation commitment to providing numerous government organization and leading corporate and education institutions with world-class audio and video solutions combined with unmatched client support matches the mission and operating practices of AudioPressBox."
About AudioPressBox
AudioPressBox, a division of MediaTech Central Europe, is an EU-based manufacturer of professional press boxes for audio distribution at press conferences, presentations and other events where audio signal have to be transmitted or recorded by multiple TVs, cameras, audio recorders, reporters and/or journalists.
About WPS
WPS | Washington Professional Systems is a family-owned and operated commercial audio-video technology integrator. For over 35 years, WPS has specialized in the design, engineering, and integration of sound reinforcement, studio recording, conferencing systems, classroom and training facilities, command & control, and broadcast video systems for some of the world's most recognizable organizations. Our dedicated team brings a depth of knowledge and experience necessary to achieve and exceed project goals, while building the next generation of world-class venues.
Contact
Vero Tabares, Marketing Director
EMAIL ME
301-942-6800