Wireless media sharing technology has been steadily developed over the last two decades to allow users to connect their devices to displays or projectors wirelessly in a seamless manner. Since Intel's release of Wireless Display and Apple's AirPlay in 2010, manufacturers have sped up the rate of advancement in wireless media sharing technology as the demand from organizations transitioning to a mobile and hybrid office paradigm remains strong. COVID, not surprisingly, drove many companies to do more with less, including reducing office space and prioritizing small-to-medium sized conference rooms with BYOD-capable (bring your own device) sharing and meeting systems.
Differences in Technology

There are three distinctly different types of wireless sharing technologies; screen mirroring, screen casting (or casting), and desktop sharing. Each technology allows users to share media from one device to another, but their differences lie in their method of operation, feature sets, and capabilities.
Screen mirroring
Screen mirroring enables you to wirelessly mirror your device's screen onto another display, such as a TV or projector. When you mirror your screen, everything that appears on your device's screen is displayed on the external display in real-time. This is often used for presentations or to share videos and photos on a larger screen. Screen mirroring is typically wireless and uses technologies like Wi-Fi Direct or Bluetooth to establish a connection between the two devices.
Screencasting
Screencasting is similar to screen mirroring, but it involves wirelessly streaming your device's screen to another device, such as a Chromecast or Apple TV. When you screencast, your device's screen is streamed to the other device, which then displays the content on its own screen. This allows you to use your device for other tasks while the content is being displayed on the other device.
Desktop sharing
Desktop sharing allows one user to share their entire desktop screen or a specific application window with another user. This is typically done over a network or the internet and requires software or an application to establish the connection. Desktop sharing is often used in remote collaboration scenarios, where one user needs to provide technical support or give a presentation to another user or group of users.
Generally speaking, most enterprise-level systems will employ a combination of wireless sharing methods to allow for the broadest use cases in most settings.
Considerations When Choosing the Right Solution
With so many options available on the market, organizations should determine a variety of use cases and consider the following criteria:
1. Compatibility

Organizations normally adopt core technology standards for their teams, from communication platforms (Microsoft 365) to device platforms (Windows/MacOS). Some organizations that cater to a large group of users, like universities, may have specific standards for their staff, but still provide access to a broader user group with non-standard equipment. Because of these opposing use cases, organizations should ensure that the wireless collaboration system is compatible with their user's platforms.

For universities in the US, 40% of students own or use a MacOS device vs. 60% owning or using a Microsoft device. This statistic is in stark contrast with the corporate world where Windows OS has over 70% of the market share. Interestingly, MacOS' share is growing in the enterprise market, reaching 23% in 2021.
2. Security

As data breaches and ransom attacks become more and more common, organizations should consider the security implications of any new technology implementation within its network. Because wireless presentation systems utilize an organizations wireless network, IT departments should review how each manufacturer secures its devices and protects data as they broadcast to devices.

Organizations should consider the following questions:
How is the solution managed and enrolled?
What type of encryption does the solution employ?
What type of authentication (whether user or network) does the solution use?
Can the solution be locked down with a password?
Does the solution save any data onto the devices?
Does the solution offer the ability to connect via guest networks?
3. Range

If your organization is implementing a wireless sharing solution in a smaller meeting space, range will likely not be an issue, but if the system is being integrated into a larger space like a boardroom or training room, range limitations could create problems. Some solutions offer dual frequency bands, 2.4 GHz and 5 GHz and it's important to understand the advantage and disadvantages of each. Generally, 2.4 GHz bands can reach up to 150 feet while 5 GHz bands are generally not going to reach as far.
Since most wireless presentation solutions act as an access point for the internal network, attention should be given to the network's available bandwidth to ensure that connected devices don't suffer for excessive input lag or stuttering.
4. Ease-of-Use

Many wireless presentation solutions claim that their systems are easy-to-use and, in some cases, only requiring a single press of a button to connect and start presenting. Because each system has their own standards and workflows, it's important for organizations to understand what "ease-of-use" means in a product brochure vs. the real world.
If possible, request an on-premise demonstration of the solution and test its operation with a variety of users, including the IT team to ensure that remote management of the device is seamless and easy.
5. On-Going Support

When you buy a smartphone, you expect the manufacturer to support that device for several years by providing on-going updates, parts, and accessories. After all, if anything happened to that device, you'd want to be confident that your investment wasn't lost due to circumstances outside of your control. Likewise, when your organization makes an investment in a new technology, they want to ensure that the investment provides the greatest value for as long as possible. This means that the solution needs to be supported by the manufacturer in a variety of ways, including:
Up-to-date knowledgebase and user documentation for self-support
Configuration and management documentation for technical and IT departments
Available technical support to assist in diagnosing issues
On-going software updates to improve functionality and provide security patches
Robust dealer network that can provide on-site technical support and guidance
To gain additional datapoints on whether the solution is well supported, you can search though the manufacturer's website to check for:
Date of last product update
Contents of update (bug fixes, security patches, additional features)
Date of product release and average product lifecycle (comparing end-of-life announcements)
Date of last document updates
These datapoints will give you a good idea of how well and how often the manufacturer is supporting the solution. Understanding where the solution falls in the product lifecycle will allow you to gauge how long you can expect continued product support.
6. Value

There's no denying that cost will be one of the most important factors when choosing a wireless presentation system, but organizations should also focus on the value offered by each solution. When all things are equal (features, security, support, etc.), the differentiating component will be cost, but if each solution separates itself clearly, you may have a difficult time making a confident decision.
A great way of maintaining momentum and simplifying the decision process is to use a decision matrix to outline the criteria of a solution that are valued by users and stakeholders. A decision matrix also allows decision makers to view the options in an objective manner, removing emotion and biases from the purchasing process. As a result, performing a decision matrix analysis can reduce decision making time, establish unbiased criteria, and allow decision makers to evaluate multiple options simultaneously.
You can build out a weighted decision matrix by identifying a few pieces of information, including:
A list of criteria to evaluate (cost, ease-of-use, feature set, security, compatibility, etc.)
List of solutions to evaluate
A scale to use for ranking criteria (1-5, 1-10, 1-20, etc.)
A scale to use for weighing criteria
Using the information above, you can start building your matrix using a modified template that we borrowed from Smartsheet.com.
Click here to get the template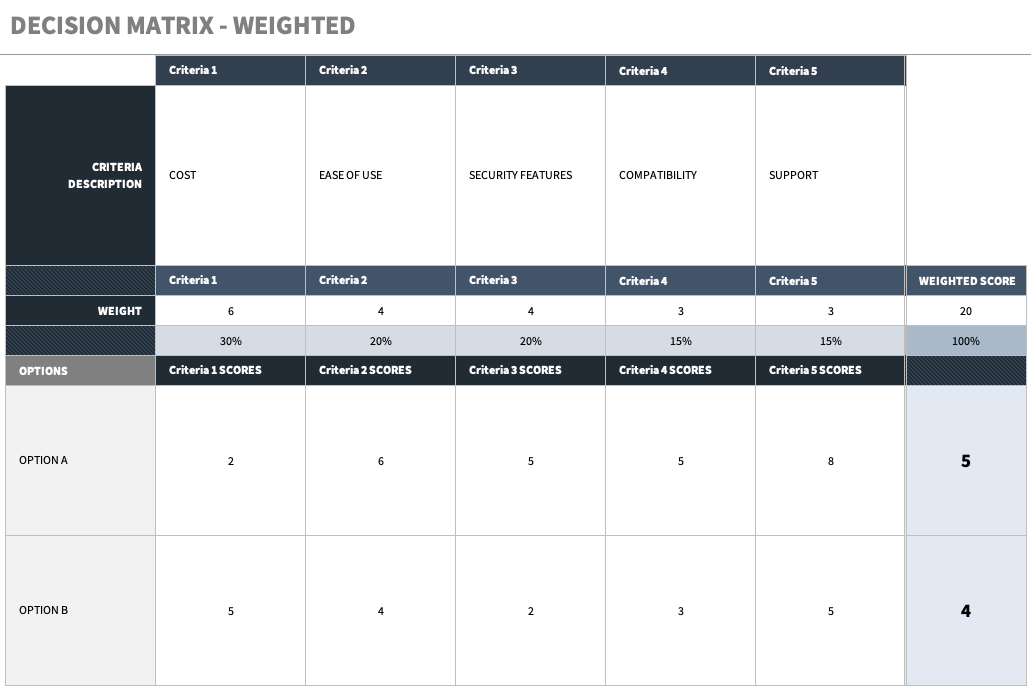 Available Enterprise-Grade Solutions
There are so many solutions on the market that it can be a little overwhelming when researching for wireless presentation systems. We've put together a list of solutions from a variety of manufacturers that offer a range of features and options.
This list includes:
Barco ClickShare
Barco's ClickShare wireless presentation systems are designed to streamline the process of sharing content, eliminating the need for cables and adapters, and making it easier for users to collaborate and engage in meetings. One of ClickShare's biggest advantages is its compatibility with different devices and operating systems. Likewise, ClickShare is "tech-agnostic" and doesn't require ecosystem lock-in. This means that if you're using Shure speakerphones, Huddly cameras, using Cisco WebEx with a mix of Windows and MacOS devices, ClickShare will integrate as a middleman without the need for expensive software or programming. ClickShare actively supports over 400 third-party devices from over 80 manufacturers.
Benefits
Easy-to-use, "one click" operation – connects wirelessly to USB cameras, mics, and speakers
BYOD (bring-you-own-device) capability, including Windows and MacOS laptops or Android and iOS devices
Works with any conferencing or collaboration platform, including Microsoft Teams, Zoom, Cisco Webex, or Google Meet
Works with common screen casting protocols, including AirPlay, Google Cast, and Miracast
Technology agnostic – compatible with hundreds of 3rd party devices from the most popular brands
Create intent-based meeting workflows for rooms allowing you to see availability at a glance, automatically connect to ClickShare as the host, and advanced sharing settings
Cloud or on-premise device management – monitor, manage, and maintain ClickShare devices remotely or on-prem via Barco's XMS Management Platform or XMS Virtual Edge
Supports video output of up to 4K
Biamp Modena
Biamp's Modena is a hybrid wireless presentation and collaboration system designed for spaces of all sizes, from huddle rooms to large training room. Modena has true BYOD capabilities and is compatible with multiple operating systems (Windows and MacOS) and mobile devices like tablets or smartphones (Android and iOS). Modena also supports multiple users and devices simultaneously, so users can switch between presenters seamlessly without the need for cables or adapters. One of Modena's advantages is the ability for the system to interact wirelessly with in-room video conferencing peripherals and equipment via virtual drivers.
Benefits
Client-free experience – create collaborative meetings directly from a browser
BYOD capabilities – use your device of choice, including Windows or MacOS laptop and iOS or Android mobile devices
Compatible with the most popular collaboration and conferencing platforms, including Microsoft Teams, Cisco Webex, Zoom, GoToMeeting, and Google Meet
Multicam functionality – group up to 4 cameras from user devices into a single feed for a video call
Host up to 7 virtual meeting spaces with up to 12 users each with Modena Server
Wirelessly share 1080p video
Crestron AirMedia
Crestron's AirMedia is a wireless presentation solution designed for small-to-medium sized conference rooms and integrates natively with the Crestron ecosystem. AirMedia's receivers use the latest Wi-Fi 6 standard that allow for faster and more reliable wireless connections with devices in high-density areas (like offices or classrooms). AirMedia is compatible with Windows and MacOS devices with simultaneous sharing of many windows for multiple presenters, but can also support Android and iOS mobile devices with some caveats. Some of these caveats include lack of audio streaming when screen mirroring with an Android device.
Benefits
Wireless 4K30 content sharing
No need for additional software or drivers
Built-in Wi-Fi 6 ensures a more reliable wireless connection, can also be setup with dual LAN to support guest networks
Integrates with Microsoft Exchange, Google Calendar, and Crestron's own Fusion room scheduling software to indicate room availability, scheduled meetings, and duration
Integrates natively with Crestron touch screens for additional meeting, room, and schedule controls
Compatible with XiO Cloud management software to deploy and manage AirMedia remotely
Multi-layer security, includes AES encryption, 802.1x access control, and Active Directory authentication
Kramer VIA
Kramer's VIA wireless presentation solutions are designed for meeting spaces large and small, offering a variety of systems that accommodate a variety of room, each with specific feature-sets. There feature-sets include whiteboarding, filesharing, chat, and more. Kramer VIA is compatible with most operating systems, including Microsoft and MacOS, and is also compatible with Android and iOS. VIA is also compatible with a large variety of conferencing cameras from Logitech, Huddly, Lumens, Biamp, and more. It should be noted that these cameras were only tested with both Microsoft Teams and Zoom platforms. The VIA also allows clientless connectivity using the most popular methods, including Apple Airplay, Miracast, or directly from a browser.
Benefits
Supports up to 4K60 video streaming through VIA's Multimedia feature
Clientless connectivity – connect directly from your device through Apple Airplay, Miracast, or browser
Up to four participants can display content on a main screen simultaneously
Use RTMP (Real-Time Messaging Protocol) to stream videos from YouTube or platforms like Kaltura and Panopto
Integrates with Microsoft Teams and Zoom
Built-in collaboration tools like whiteboards, filesharing, chat, and more
Enterprise-grade security features, including 1020-but encryption, 802.1x user authentication, and dynamic room code
Cloud-based management with VIA Site Management (VSM)
Wolfvision Cynap
Wolfvision's Cynap wireless collaboration and presentation systems are neatly tiered to offer functionality based on the needs and size of a particular space. For smaller, huddle room-style spaces, the Cynap system offers more basic features like touch capabilities (Windows devices on compatible displays), wireless peripheral controls (via Bluetooth), and out-of-the-box room management APIs. For larger spaces, Cynap offers whiteboard and annotation tools, document and media player, and IP-based streaming. Because Cynap Pure (and above) uses the "BYOM" or bring-you-own-meeting paradigm, the system is conferencing client agnostic allowing users to use any platform, including Microsoft Teams, Zoom, Google Meet, WebEx, and more. Wolfvision offers their remote device management software, vSolution Link Pro, for free allowing for the remote monitoring, management, and updating of systems.
Benefits
Available collaborations tools, including whiteboarding and annotation
Up to 4K UHD video output
Supports innovative touch controls with Windows devices on compatible displays
Full-featured APIs allow for additional system customization
Supports Apple AirPlay, Miracast, and Chromecast screen mirroring for mobile devices like iOS, Android, Windows, and MacOS smartphones, tablets, or laptops
Clientless connection – works with any conferencing platform like Microsoft Teams, Zoom, or Google Meet
Digital signage function
Enterprise-grade security features, including encryption and access control
We Can Help
We've been helping organizations of all sizes navigate through the process of specifying and integrating AV systems for a really long time. We work with many manufacturers and can be your advocate to help you get the best solution for your space.
If you're in the stages of researching wireless presentation systems, let us know. We'll be glad to be your guide.