RH Consulting (RHC), a UK-based audio design consultancy, released a report outlining the most prolific protocols in use in networked AV products. In the report, RHC shows that the leading protocols are running away from their competing standards and only a few have reached mass adoption by manufacturers.
Networked Audio
In the audio space, Dante dominates the majority of the product market share when compared to well-known standards AVB, Livewire, Milan, RAVENNA, Wheatnet, ST2110-30, and ST2110-31. In total, Dante is supported in 3711 products from 397 manufacturers. Not surprisingly, Dante has seen the greatest adoption and growth of all the protocols combined with a 12% YOY increase in supported products. RAVENNA posted the second highest increase in growth, but the delta between RAVENNA and Dante is quite large and growing.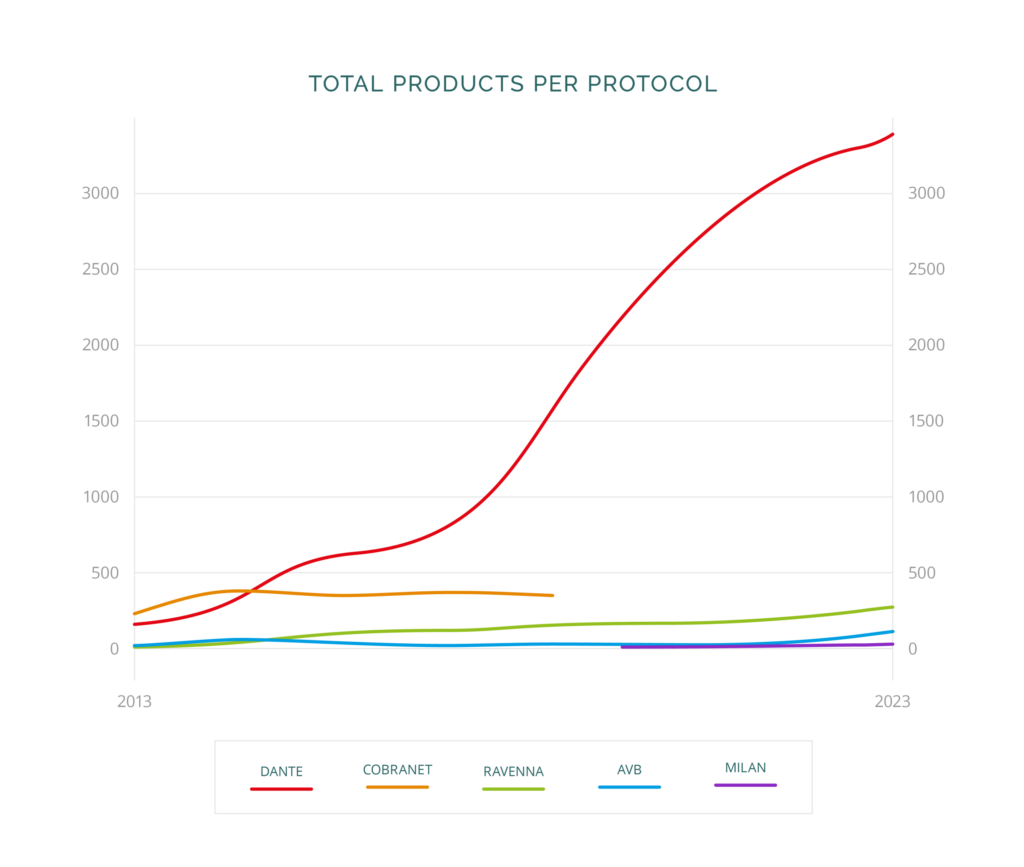 Dante (audio) – 3714
AES67 – 3921
ST2110-30 – 955
ST2110-31 – 120
RAVENNA – 302
AVB – 105
Livewire+ – 29
Wheatnet – 58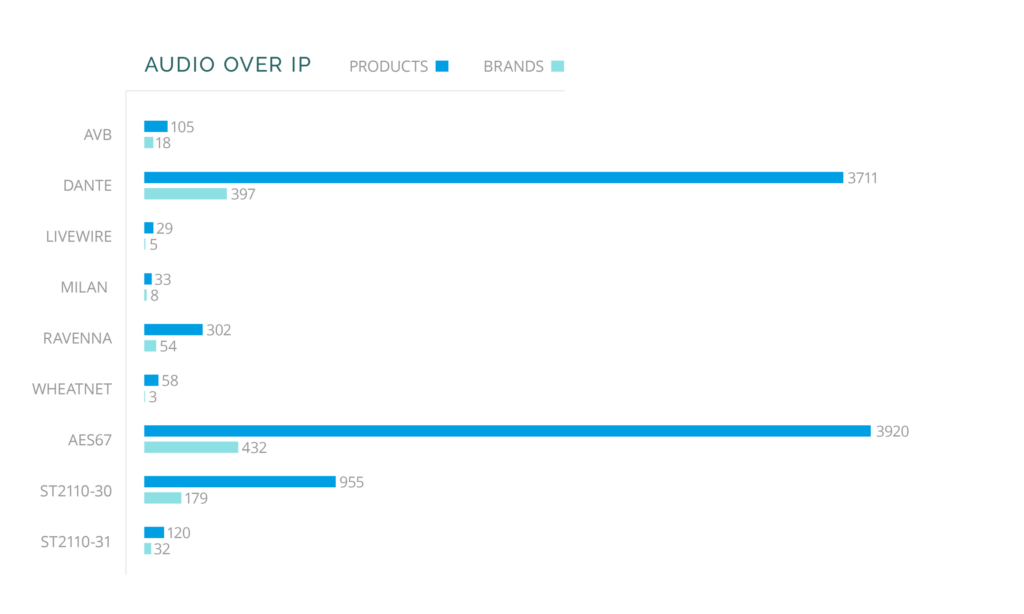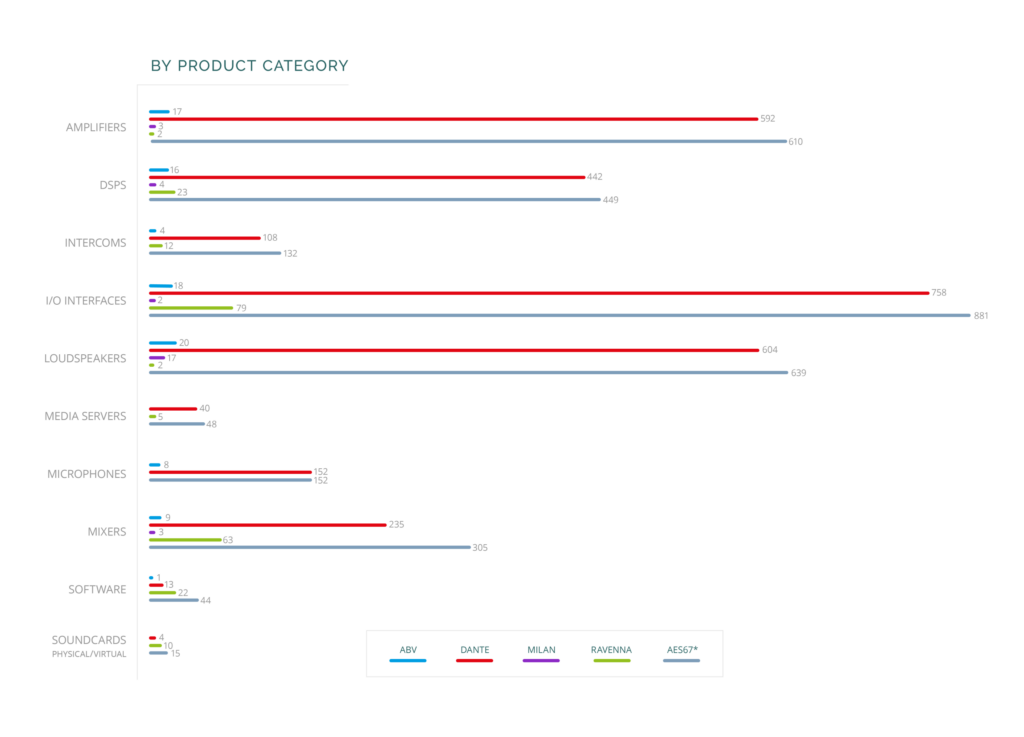 Networked Video
In the video space, the results are more interesting and varied, with multiple networking standards vying for market share, including AVB, Dante AV, IPMX, NDI, SDVoE, and ST2110. The clear front runners are NDI, SDVoE, and ST2110, but RHC makes an important distinction: the largest proportion of networked video products are encoders and decoders, so while the numbers for SDVoE look impressive, most of the supported products are encoder/decoders with minor variations (single mode, multimode, USB, copper, etc.). For this reason, RHC includes the number of encoders/decoders in parentheses when comparing the total product offerings. RHC also mentions that certain products sold under different brand names are identical to one another.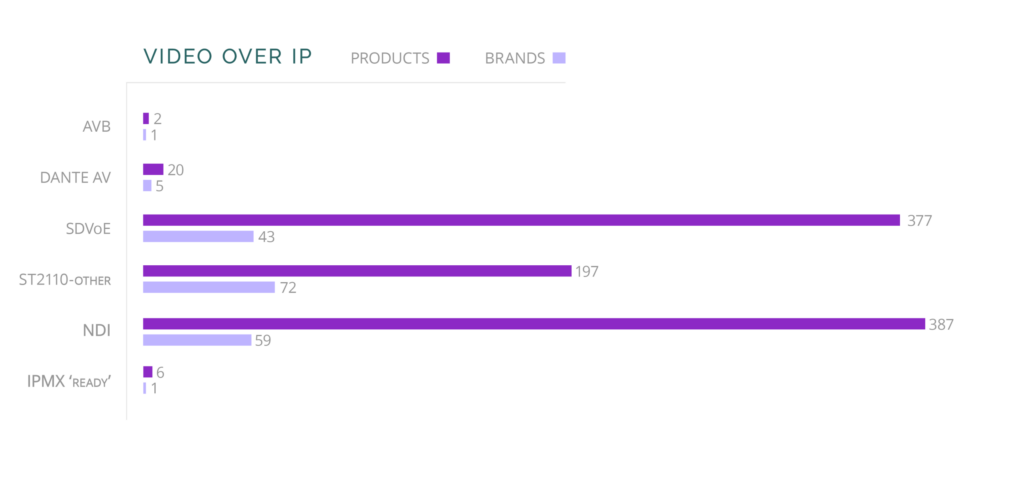 NDI – 387 products (37 encoder/decoders)
SDVoE – 377 products (295 encoders/decoders)
ST2110 (video) – 197 products (34 encoders/decoders)
DanteAV – 20 products (6 encoders/decoders)
IPMX 'ready' – 6 products (6 encoders/decoders)
AVB (video) – 2 products (2 encoders/decoders)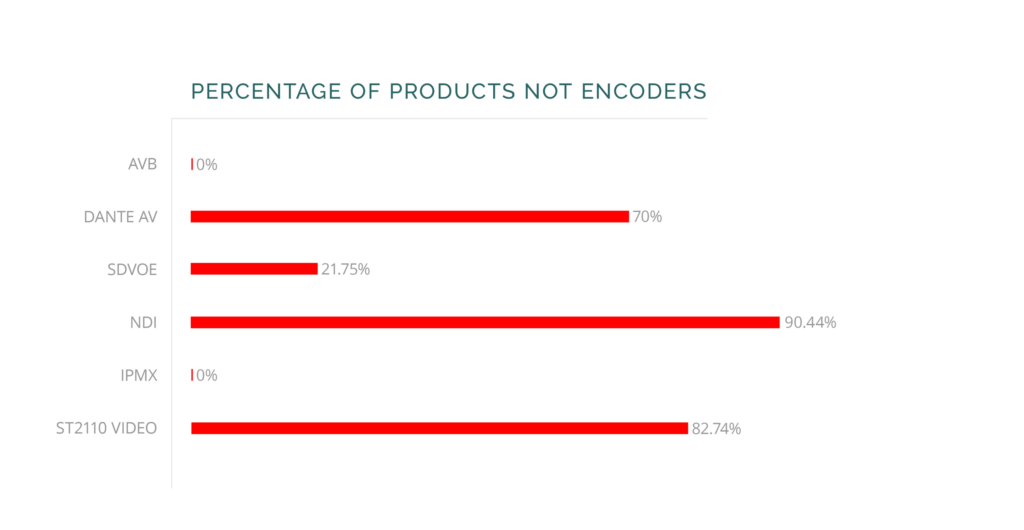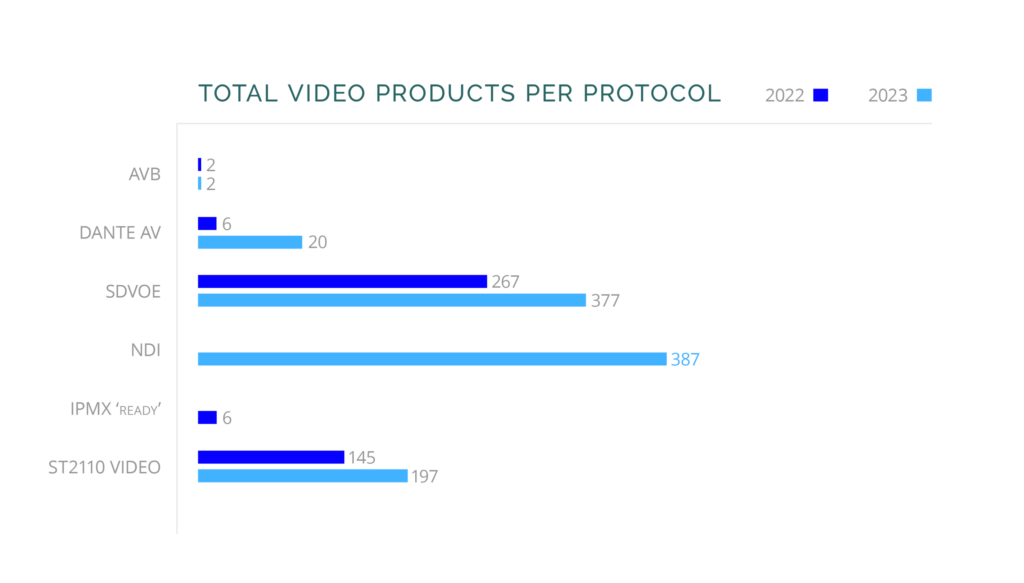 NDI
Since its introduction in 2015, NDI has grown at a meteoric pace and has seen considerable adoption by manufacturers. NDI is fully integrated into products and a much smaller percentage of the offerings are encoders/decoders, unlike SDVoE where almost 80% of compatible products are encoders/decoders.
DanteAV
Audinate's entrance to video in 2022 with DanteAV is the elephant in the room, but it's clear that they see substantial upside in their investment. It'll be exciting to watch Dante's growth in the video space and we're curious if its dominant position within audio will help capture market share from other, more mature protocols.
IPMX
IPMX is a relatively new standard and so far, has had weak adoption by manufacturers. This could change as more productions move to IP-based workflows.
In its conclusion, RHC makes some interesting points:
Networked video is still very much in its infancy when compared to networked audio
Video quality is still improving from HD to 4K to 8K, but we're approaching the bandwidth limits of most networks
Lack of interoperability amongst manufacturers ("walled garden") is creating an unsustainable future for the world of networked video
Our Take
We've been watching the rise of networked AV for a while and one thing is abundantly clear, the pace of growth, particularly in video, will not slow down anytime soon. Just like networked audio saw mass adoption by users and manufacturers alike, we expect to see more organizations take advantage of networked video, but challenges still remain, namely:
Latency: By far the biggest challenge to networked video has been the inherent latency issues caused by a combination of unreliable networks, bandwidth limits, and technological limitations. Compared to audio, video data streams are significantly larger and grow dramatically as quality increases.
Bandwidth: Networked video requires a lot of bandwidth to ensure high-quality transmission. However, limited bandwidth can result in degraded video quality, frame drops, and latency. Bandwidth issues can be alleviated with dedicated, high-end networks (10G+), but can be expensive to setup and maintain.
Complexity and Compatibility: Establishing reliable networks for video is a complex task that requires people with IT and broadcast engineering skillsets to complete. Migrating to an IP-only workflow can be expensive up front. Equipment interoperability adds another layer of complexity that can create transport issues that are not easily solved.
To view RH Consultings findings in more detail, read their comprehensive Networked Audio Products 2023 report.
A big thank you to RH Consulting for giving us permission to use their research data for this article.
For more information on RH Consulting's services, please visit their website rhconsulting.uk or send them an email.