Wheaton, MD – June 15, 2022 – WPS | Washington Professional Systems, an award-winning audio-video technology integrator, has recently been recognized by NewTek, a leader in IP-based video technology, as one of the Top 10 Channel Partners of 2021. This award recognizes firms that demonstrate a high standard of performance, including sales, and year-over-year growth. WPS has been presented the Top Channel Partner Award for over 12 consecutive years as a Platinum and Elite Partner.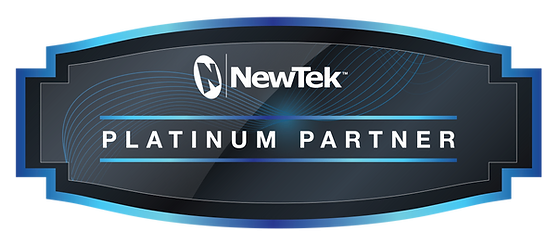 This effort was driven by Dominic Cappelletti, Director of Broadcasting Sales, and the WPS broadcasting team, including Mary Jo Lyle, Govt. Account Executive, Mike Gerry, Video Sales Manager, Paul Rinaldi, Sr. Account Manager, and Mike Ross, Director of Broadcast Engineering. The team was responsible for installing many NewTek systems in a variety of environments including K-12 and university studios, government briefing rooms, and legislative councils.
NewTek has been the leader in live video and post-production imaging hardware, but known for their TriCaster product line. TriCaster combines video editing software with live hardware switching for multiple inputs including cameras, streaming feeds, and audio. NewTek is also the developer of NDI, Network Device Interface, an open-source, IP-based standard that allows for connected devices to share low-latency, high-definition video across the network and output to either TriCasters or directly to popular streaming platforms like YouTube, Facebook, or Twitch.
"The broadcasting design team at WPS did a great job designing some incredible systems that our customers love" said Dominic Cappelletti. "We thank NewTek for recognizing the efforts of our team and as a longstanding partner, we'll continue to deliver meaningful broadcasting solutions that bring value to our clients."
About WPS
WPS | Washington Professional Systems is a family-owned and operated commercial audio-video technology integrator. For over 35 years, WPS has specialized in the design, engineering, and integration of sound reinforcement, studio recording, conferencing systems, classroom and training facilities, command & control, and broadcast video systems for some of the world's most recognizable organizations. Our dedicated team brings a depth of knowledge and experience necessary to achieve and exceed project goals, while building lasting world-class venues.
Contact
Vero Tabares, Marketing Director
Email
301-942-6800