Several workplace trends that had been slowly gaining traction in recent years expanded rapidly over the course of the pandemic. Specifically, a growing number of remote and hybrid employees and the rise of video conferencing platforms.
Whether it's part of a company facility or a remote/home workstation, solutions for individuals need all the functionality of any space, no matter the purpose. It's imperative that a remote worker feels as connected to a collaborative meeting as those occupying the same physical space. This means that clear audio-video are essential regardless if sound is delivered via speakers or headphones, and the ability to share content quickly and easily with the team should be a top priority. Organizations should standardize hardware and software solutions to create an ecosystem that delivers consistency, equity, and engagement.
SMALL CONFERENCE AND HUDDLE ROOMS
Small-sized conference rooms may also be referred to as huddle rooms. These meeting spaces allow for one to five employees to collaborate, and are often used for brainstorming or strategic sessions. Functionality for wireless presentations and the option to collaborate and edit materials are often important in these spaces. The need for a guest to BYOD, "bring your own device", for a presentation enters the equation here, too. As a result, your ecosystem can't be completely walled-off from these applications, and your collaboration tools should be ready to communicate with third-party devices.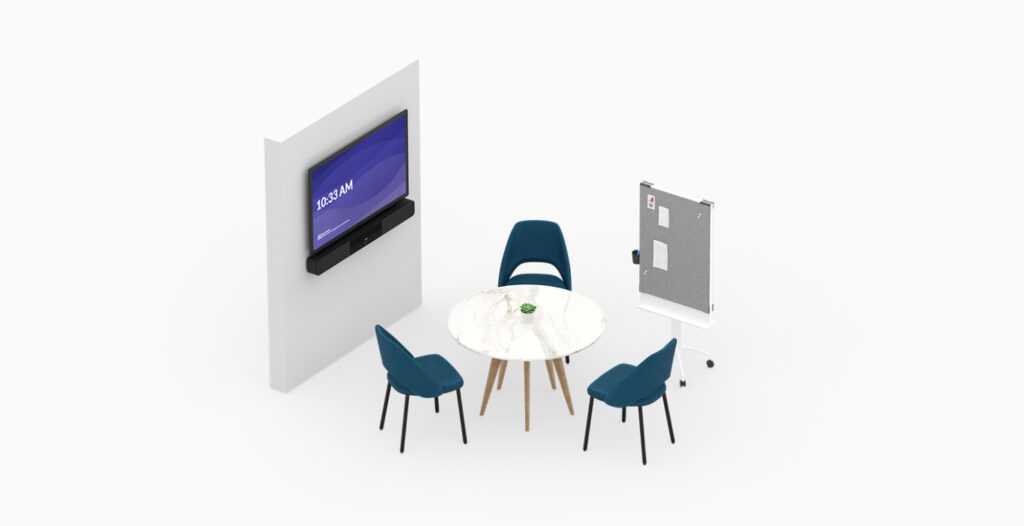 MEDIUM CONFERENCE ROOMS
Medium-sized rooms require all of the functionality of a smaller room, but need to comfortably seat up to 10 people and have a video display that's large enough to be clearly viewed by everyone in the room. In medium-sized rooms, audio and video need special attention to ensure that the mic array completely covers the available space. An intelligent video system gives all virtual participants an "equal seat at the table", particularly if meetings include sidebars or soft-spoken team members.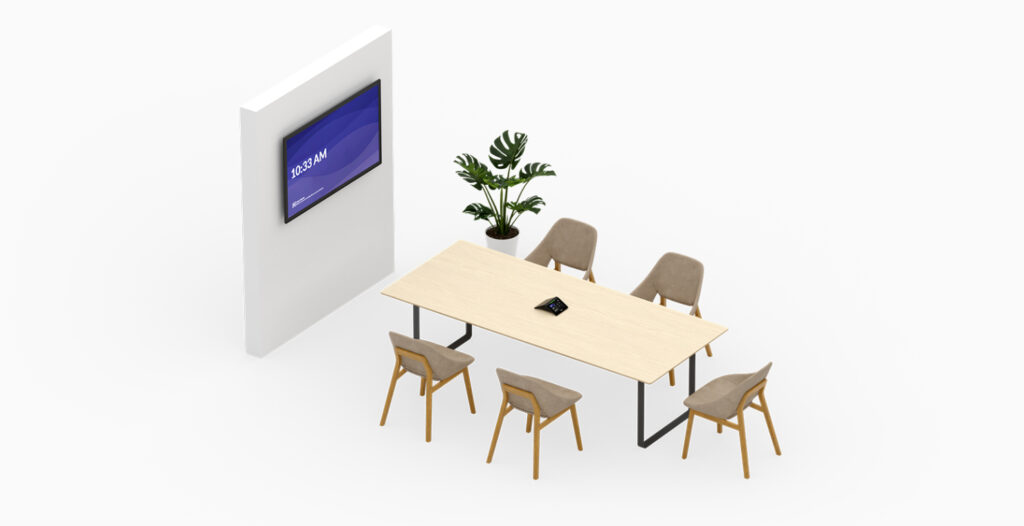 LARGE CONFERENCE ROOMS
Large rooms, those that seat 10 to 20 people, may need multiple displays so that each attendee has clear visual access to content or remote attendees. Cameras will need to effectively capture all the participants, while mic solutions may need to amplify the participants within the room, as well as those attending remotely. Tabletop mics can do double duty providing amplification for both physical and digital attendees. Any speaker solution will need enough power and headroom to avoid distortion.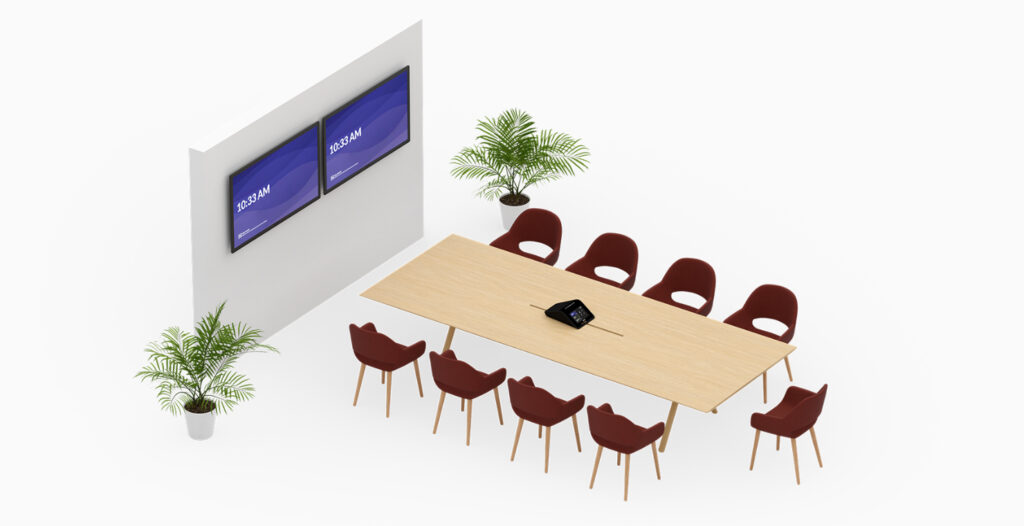 MULTI-USE AND TRAINING ROOMS
Custom and multi-use rooms, like bigger training rooms, can require large displays, presentation mics, and podiums/lecterns. You also need to consider if the presenter needs to move around and if some attendees will be remote. Again, guest speakers or instructors may BYOD, and seamless connectivity is critical. Dual projection systems may be vital for rooms of this size and for divisible rooms, it's important to remember that mics, speakers, displays, and connectivity must be appropriately positioned to accommodate the full open space, as well as multiple configurations, including each smaller space.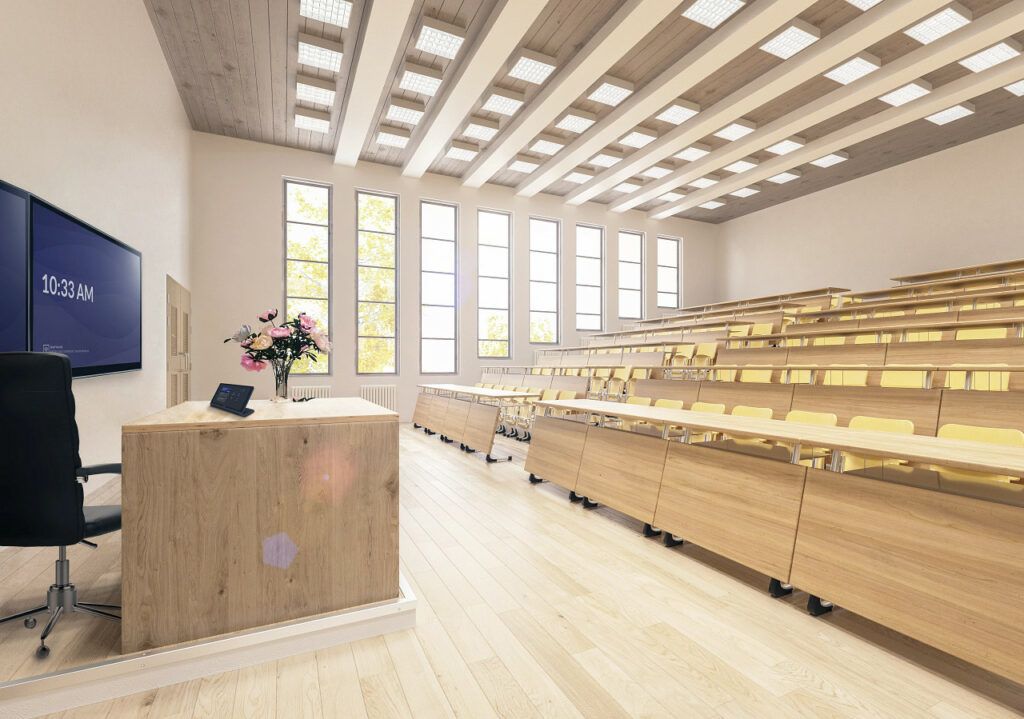 CONCLUSION
While spaces, and their intended purposes, will vary, organizations should consider the importance of maintaining a consistent user experience for everyone, no matter their location, while still tailoring the solution to the space. Well-designed rooms can provide the medium to boost productivity and help firms lower the barriers of collaboration for all teams, in-person and remote.