AV #TechTuesday is a WPS-curated column showcasing innovative technologies in the audio-video-lighting industry that we think you'll find interesting. These posts are NOT sponsored.
As far as video walls go, the options are endless. One would be forgiven in thinking that displays only differ slightly from one brand to another, but the devil really is in the details. When searching for a video panel, there are many considerations to examine from pixel pitch, weight, power requirements, lifespan, and maintenance. As the technology improves, organizations will have fewer tradeoffs to deal with. Barco, in particular, has been improving imaging and video technology for most of its history and has been working to reduce or eliminate existing tradeoffs in displays with the release of the TruePix line of LED panels.
Barco has incorporated some clever innovations into the TruePix panels with the goal of delivering high-quality video and simplifying both installation and maintenance. TruePix also uses the second generation of the Infinipix (Gen2) for image processing to improve content quality from all input sources.
INSTALLATION & MAINTENANCE
One of the largest costs associated with a video wall is not only the initial installation, but the on-going maintenance, particularly for large-scale displays. Barco's TruePix has simplified installation with the use of a camera-based guiding system that reduces the risk of panel damage by eliminating panel bumps during the installation process. This process is practically contactless and the panels achieve an even, balanced installation by using a clever mechanical auto-balancing mounting system which can automatically align each panel, absorbing imperfections of the surrounding framework. The result is a seamless arrangement of LED panels that will always remain even and never require adjustment.
Servicing the panels is just as simple and TruePix employs a motorize carriage to push the LED panel away from the array allowing for fast and easy replacements or repairs. If a panel needs to be removed from the rear, the panel can simply slide out on a sliding mount for easy repairs or replacement.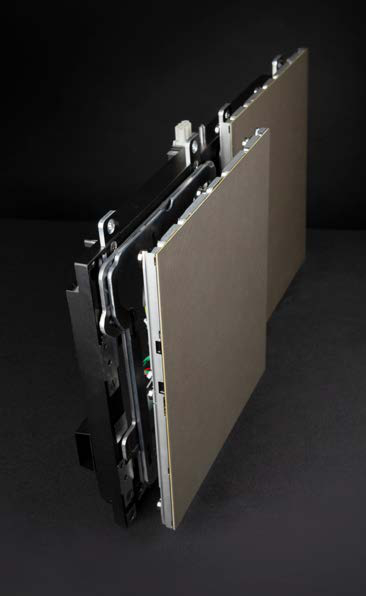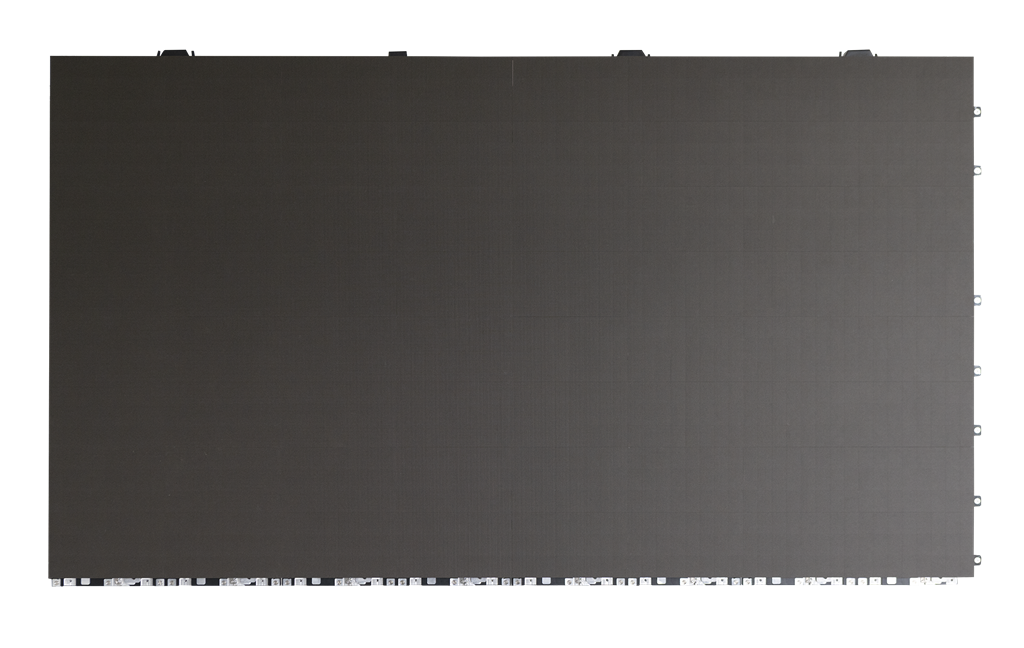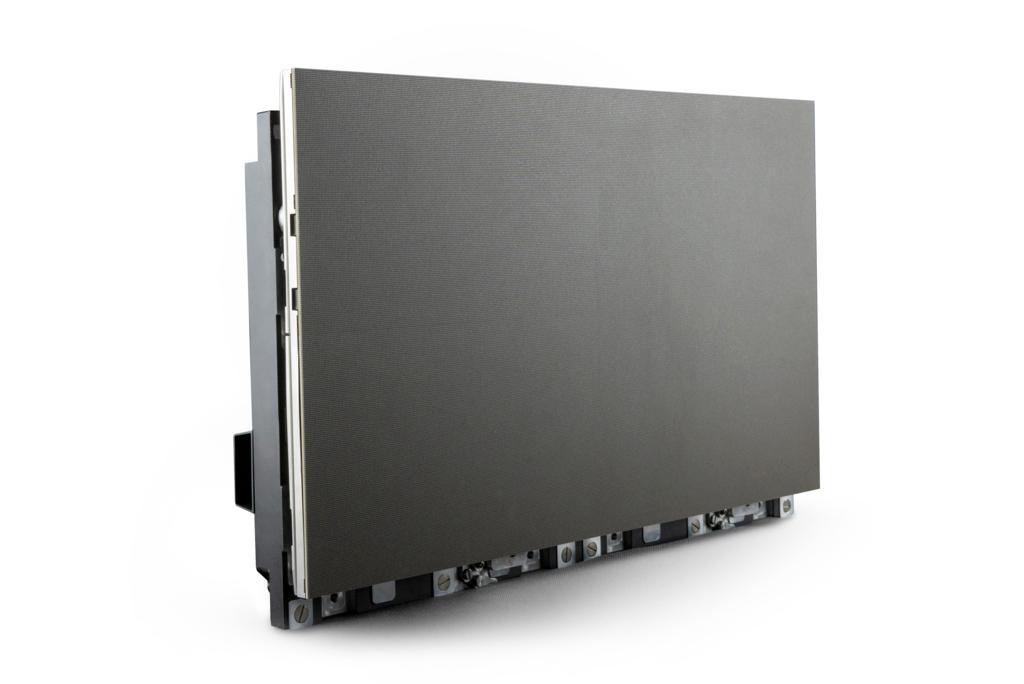 SIZE RANGE
All TruePix panels have the same 27″ screen diameter and a standard aspect ratio of 16:9 to easily accept the most common resolutions like 1080, 4K, or other HD/UHD resolutions. Pixel pitches (calculated as the amount of space between pixels) for TruePix displays range from 0.9mm to 1.9mm. Each tile is approximately 24″ in. x 13.5″ in. (610mm x 343mm) and weights around 18lbs. (8.2kg). Barco also offers curved TruePix panels for concave video wall installations.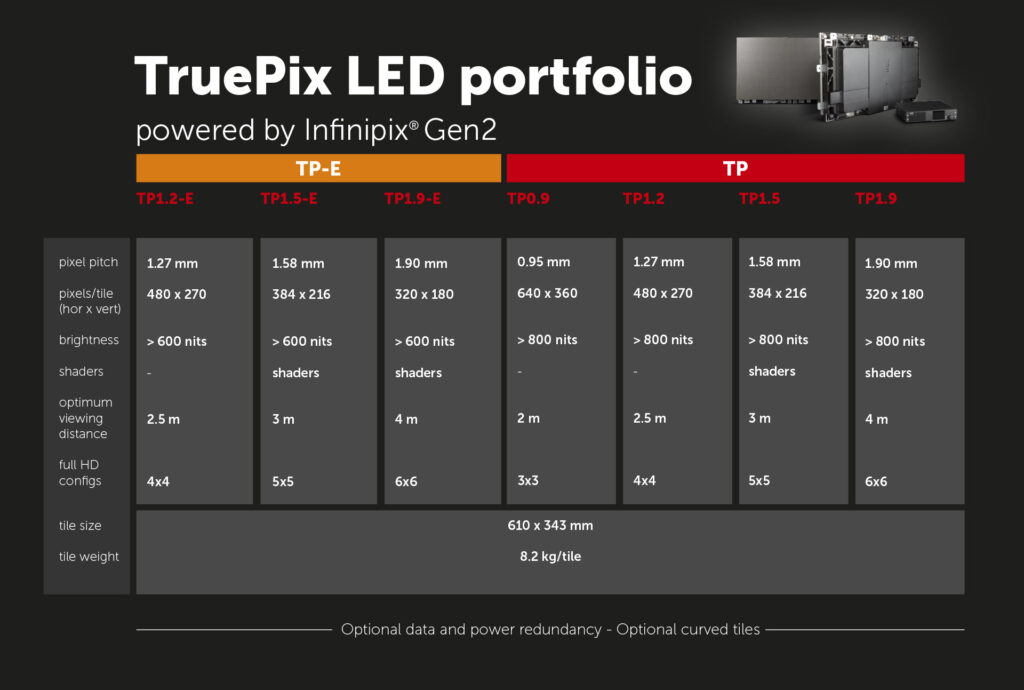 PICTURE QUALITY
Barco's TruePix panels offer brightness ranging from 600 nits to 800 nits with a 16-bit color depth (281 trillion colors). Depending on the TruePix panel, contrast ratios range from 5,000:1 to 11,000:1, but all TruePix panels have the same 3,840Hz refresh rate, and support frame rates from 24Hz to 240Hz. TruePix also supports 3D technology and can integrate into VR installations allowing for much more creative flexibility for content creators. To handle processing duties, Barco has outfitted the TruePix platform with their proprietary Infinipix Gen2, an image processor designed specifically for LED video walls. Infinipix Gen2 can process incoming signals from connected video sources and outputs them to the integrated transceiver cards of the LED panels. Barco claims that Infinipix Gen2 processor eliminates visual distortions and can dim the image without loss to the color intensity. This is a low-latency system that can work with a wide variety of video sources including served content, live video, and moving images for studio backgrounds. TruePix also incorporates Barco's SteadyView algorithmic technology that eliminates interlaced pattern video that can often times create eye-fatigue for users in mission-critical situations like command and control centers.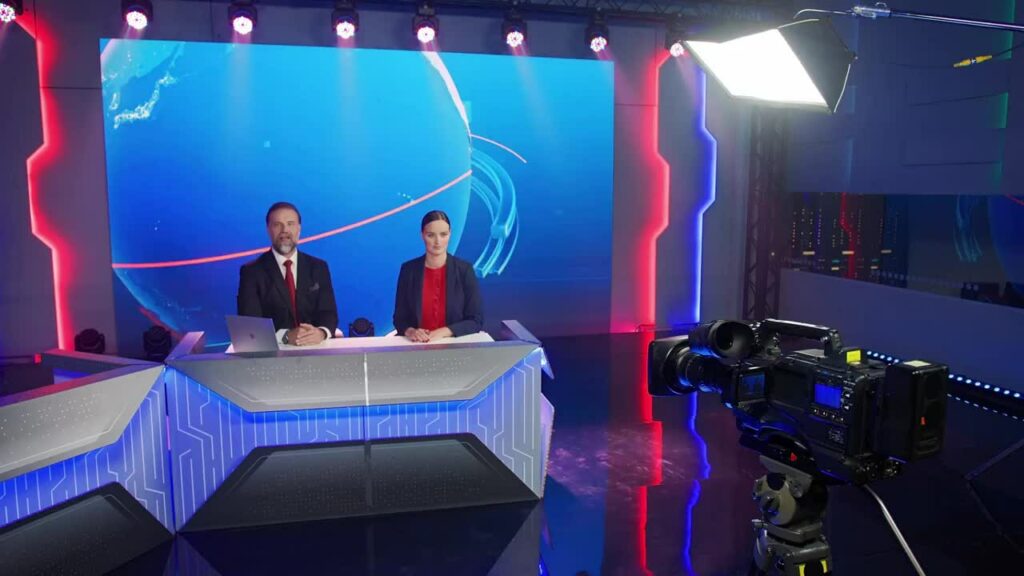 RELIABILITY
Some video walls are installed in facilities that require absolute reliability. To solve this problem, Barco incorporates redundancy throughout the TruePix and Infinipix Gen2 systems. This includes embedding signal loop redundancy and 4-way inter-tile communication to ensure uninterrupted data flow, 24/7. TruePix can also be installed with multi-level redundancy for image processors and power supplies to maintain continuity of operations.
Why you should care:
Simplified installation baked into the mount design with guarantee level and auto-balanced panels with no need for post-install adjustments
Wide range of pixel pitches with modular sizing and 16:9 aspect ratio
Designed specifically for zero-downtime environments like Command and Control Rooms or TV studios
High-quality LED panels with brightness ranging from 600 nits to 800 nits and contrast ratios from 5,000:1 up to 11,000:1
Powered by Infinipix Gen2 image processor and built-in transceiver cards to deliver consistent, low-latency content with no visual distortions or image tearing
Built-in redundancy to ensure uninterrupted data flow; Can be installed with redundant image processing and power supplies
100,000 hour expected lifespan (at 50% brightness)
If you have questions on the Barco TruePix series of LED panels or would like to install a video wall in your facility, send us a message below: