Arlington, VA – October 6, 2023 — WPS | Washington Professional Systems recently completed the successful integration of a new, state-of-the-art broadcast control system at the Pentagon's Press Briefing Room. This achievement marks the first major upgrade to the broadcast system since 2008 and was designed by WPS in concert with stakeholders from the Office of the Secretary of Defense for Public Affairs (OSD PA), the Department of Defense News (DoD News), the Defense Media Activity (DMA).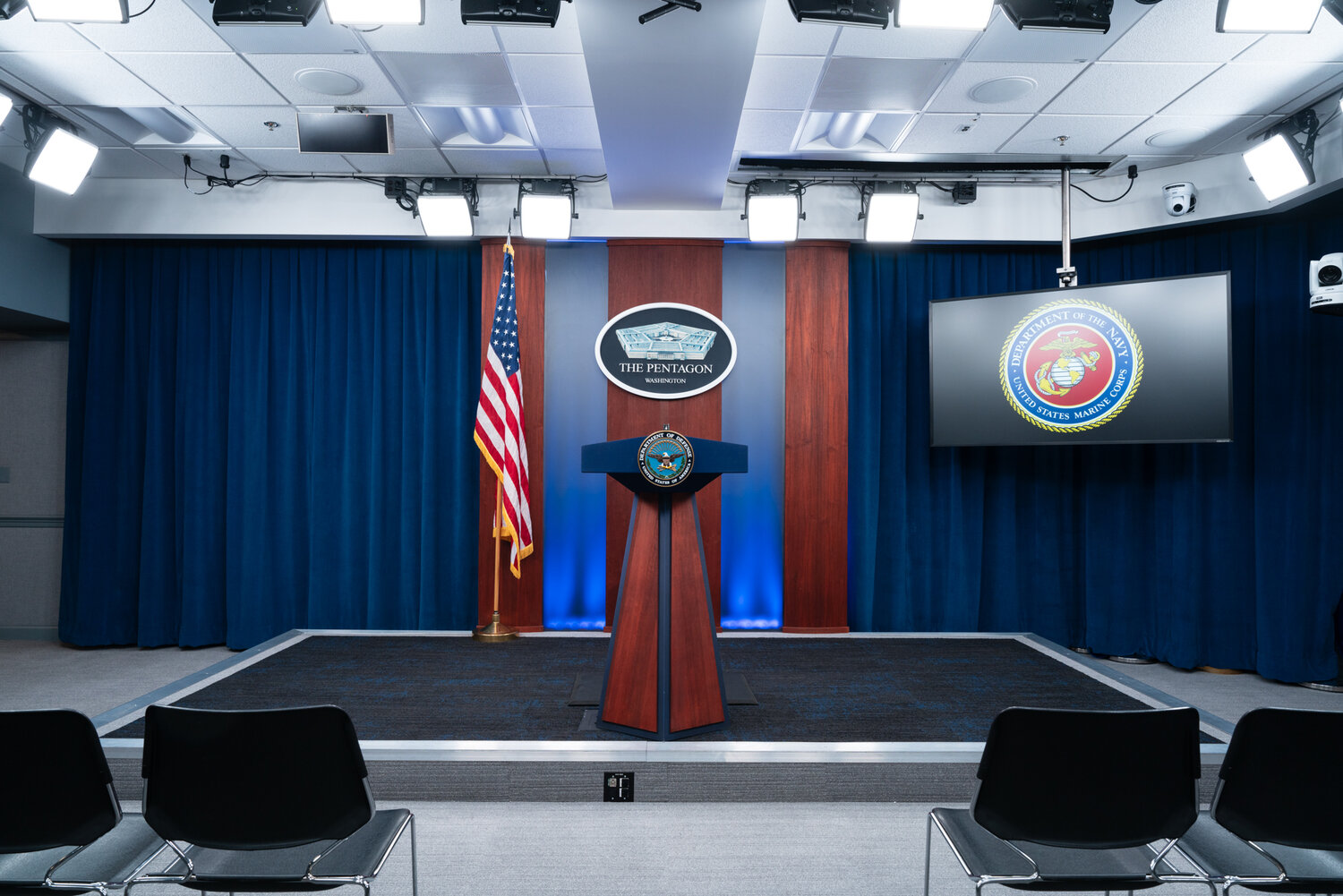 WPS focused on optimizing space efficiency, unifying the capabilities for each mission partner, enhancing lighting for operators and audiences, and future-proofing the system with 4K/UHD infrastructure for subsequent upgrades. The system features Sony's XVS6000 switcher for video production and PTZ camera management, Crestron NVX for the virtual studio's 4K content distribution, audio mixing with a Solid State Logic S300 console, real-time monitoring using a Apantac Tahoma multiviewer system, and centralized video routing from a PESA Cheetah 288XR matrix router. Shure MXA-910 microphone ceiling arrays were installed in the Briefing Room in addition to a Shure ULXD wireless microphone system. A Haivision encoding/decoding solution was selected to transmit and receive audio and video via codecs from multiple sources.
"Our goal for the Pentagon Press Briefing Room was to strike a balance between the users, infrastructure, technology, and the working environment" said Michael Ross, Director of Broadcast Engineering for WPS. "Using this design philosophy, we delivered a system that provided the proper mix of technology and supports current HD signals as well as future expansion needs at higher resolutions, like USD and 4K, while focusing on maximizing the user experience and maintaining a clutter-free work area."
Shortly after commissioning and handover, the Pentagon's Press Briefing Room successfully conducted its inaugural press briefing with Air Force Brigadier General Pat Ryder, the Pentagon Press Secretary. This event marked a significant milestone in the PBR's enhanced capabilities, and it underscored the system's reliability and performance.
To read more, click here to read the project spotlight.
About WPS:
WPS | Washington Professional Systems is a family-owned commercial audiovisual technology integrator. For over 35 years, WPS has specialized in the design, engineering, and integration of sound reinforcement, studio recording, conferencing systems, classroom and training facilities, command & control, and broadcast video systems for some of the world's most recognizable organizations. Our dedicated team brings a depth of knowledge and experience necessary to achieve and exceed project goals, while building the next generation of world-class venues.
Contact
Vero Tabares, Marketing Director
EMAIL
301-942-6800