Background
The Pentagon Briefing Room (PBR) Control Rooms are operated by Office of the Secretary of Defense Public Affairs (OSD PA) and Department of Defense News (DOD News) agencies to capture, record, and distribute content for live broadcasts, including press briefings, conferences, and various events. The PBR Control Rooms also receive and deliver digital audio and video services to and from external customers, including government agencies and commercial news outlets. Additionally, video and audio signals are delivered to and received from the House of Representatives, Senate, State Department, USIA/Voice of America, The White House, Foreign Press Center, DMA DVIDS, Army Multimedia & Visual Information Directorate (AMVID), DMA Headquarters, and multiple commercial news outlets including, but not limited to CNN, CSPAN, CBS, Fox News, and Reuters.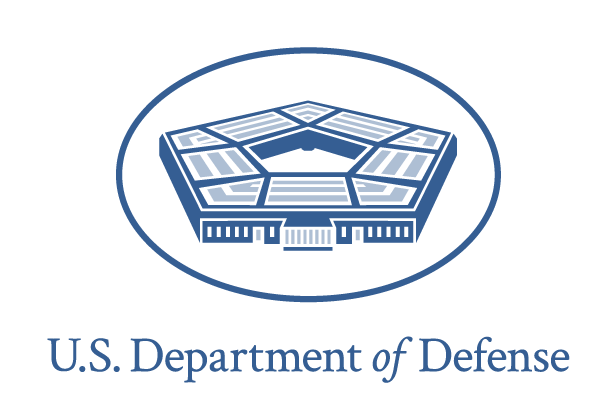 While OSD PA focuses on interfacing between government and commercial entities, DOD News primarily handles video feeds and operates the Pan-Tilt-Zoom (PTZ) cameras in the briefing room. Despite having separate missions and deliverables, their objectives can be interdependent and as a result, both agencies share some control room components to reduce costs and the overall equipment footprint. However, the original design of the PBR control room systems, installed in 2008, did not accurately reflect the current operational needs of the agencies. The control room systems, installed in 2008, contain a variety of legacy and obsolete equipment that are no longer needed and many of the systems provide duplicative capabilities or significantly restricts workspace.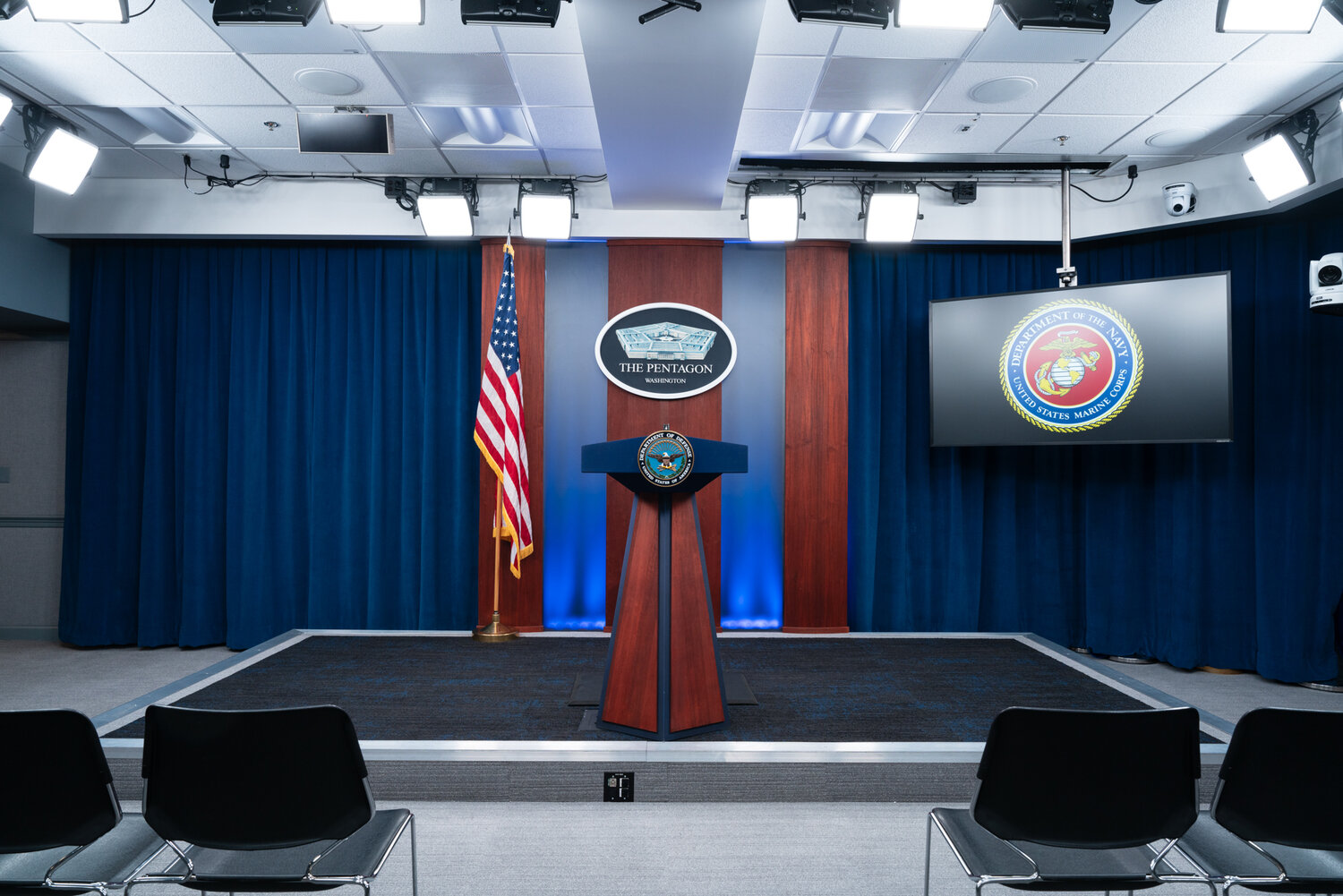 CONSIDERATIONS
WPS was selected as the sole design/build contractor to complete the technical upgrades of the Pentagon Press Briefing and Control Rooms with a commercial off-the-shelf (COTS) solution. During the needs analysis with the stakeholders, WPS discovered the use-case requirements of both OSD PA and DoD News, and designed a broadcast system centered on four core elements:
Users
Infrastructure
Technology
Environment
One of the most important considerations of this project was to redesign the system architecture to provide the required capabilities while making efficient use of the available space used for equipment, furniture, and equipment racks. Additionally, WPS also paid close attention to maximizing the amount of available floor space for operators, technicians, and other control room occupants, ensuring that the unified capabilities of all the mission partners are met.
Another key requirement, was to maintain continued operational capabilities of the space while the transition from the existing architecture to newly a developed control room design was on going. An overhaul of the lighting systems was also necessary to meet the needs of operators in the control rooms and both the audience and speakers in the press briefing room.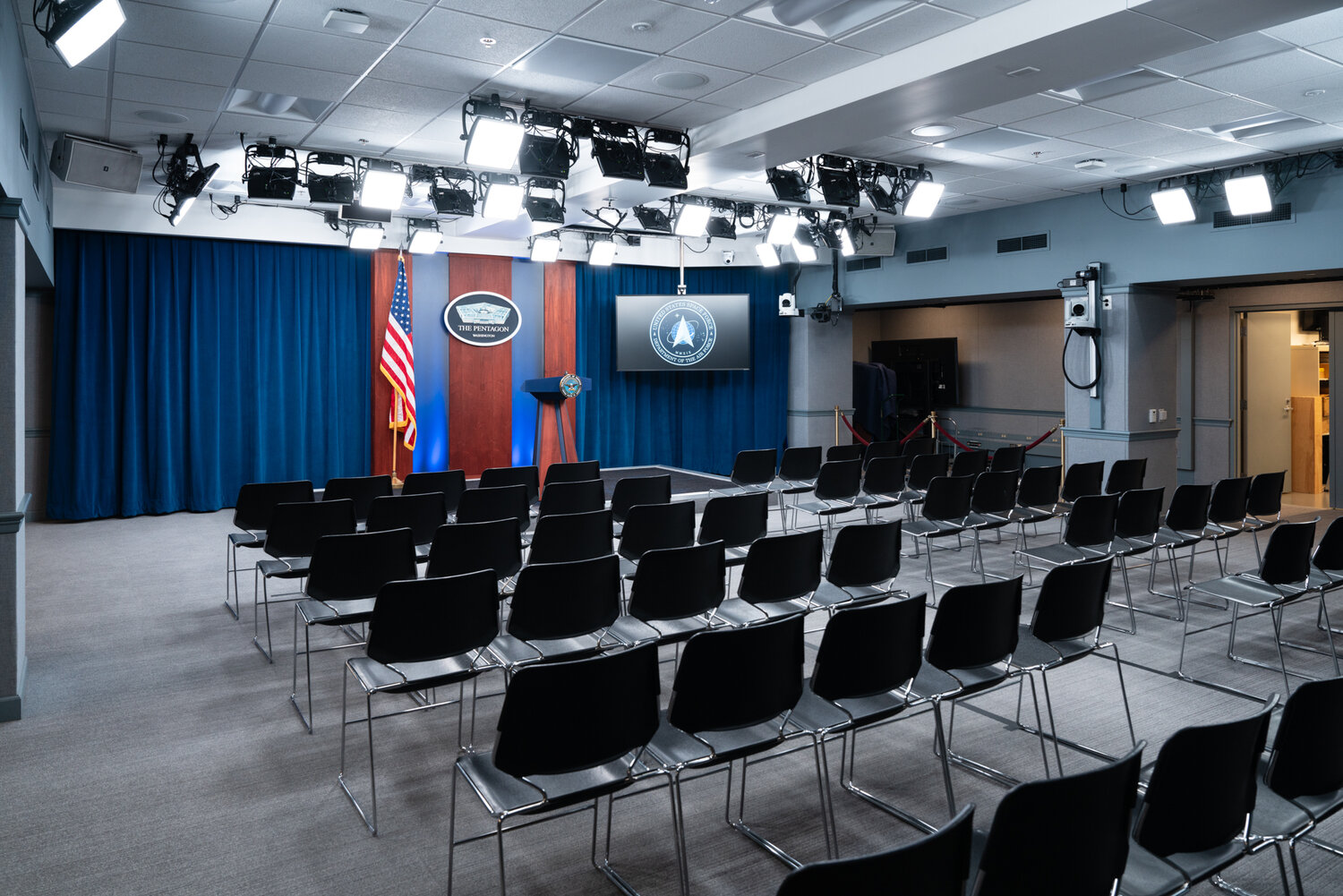 System Design
WPS designed a broadcast system with 1080i HD native format and included the necessary infrastructure to support 4K/UHD based on future expansion needs. The system supports the common broadcast video standards, including HD-SDI, 1080i, and 1080p. As per system requirements, legacy analog signals (composite and VGA) are also supported.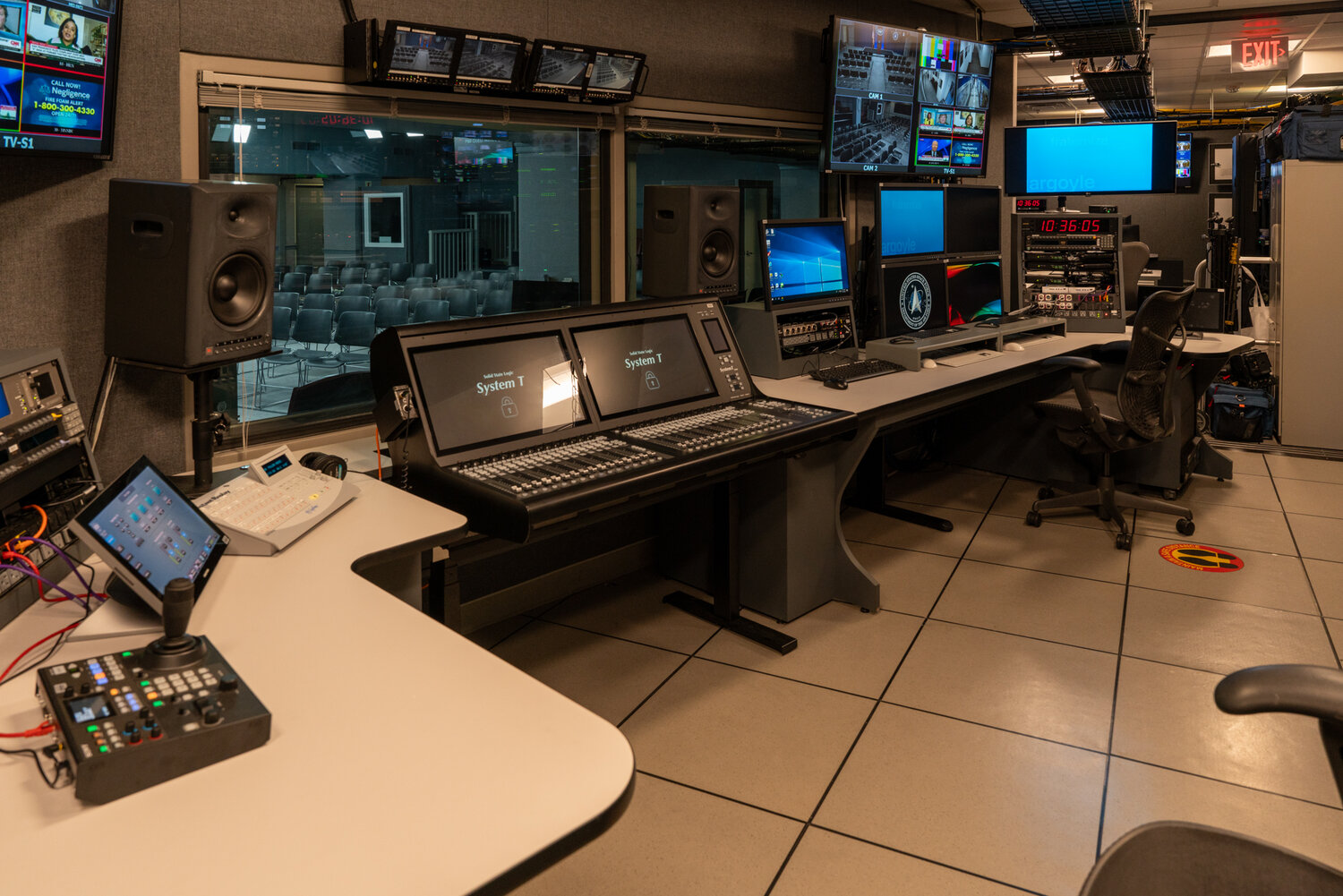 Signal Routing
All video routing and distribution is handled by a PESA Cheetah switcher, which provides 3G support, will accept 12G (4K) as 4x3G inputs and provides SMPTE 2110 support. The PESA router is housed in an 18RU frame and converts all signal types to a common format before routing. Because the Pentagon did not require 4K, but wanted the option to upgrade in the future, WPS chose PESA Cheetah for its ability to distribute 12 Gb/s payloads, allowing the system to be "future proofed" for UHD or 4K.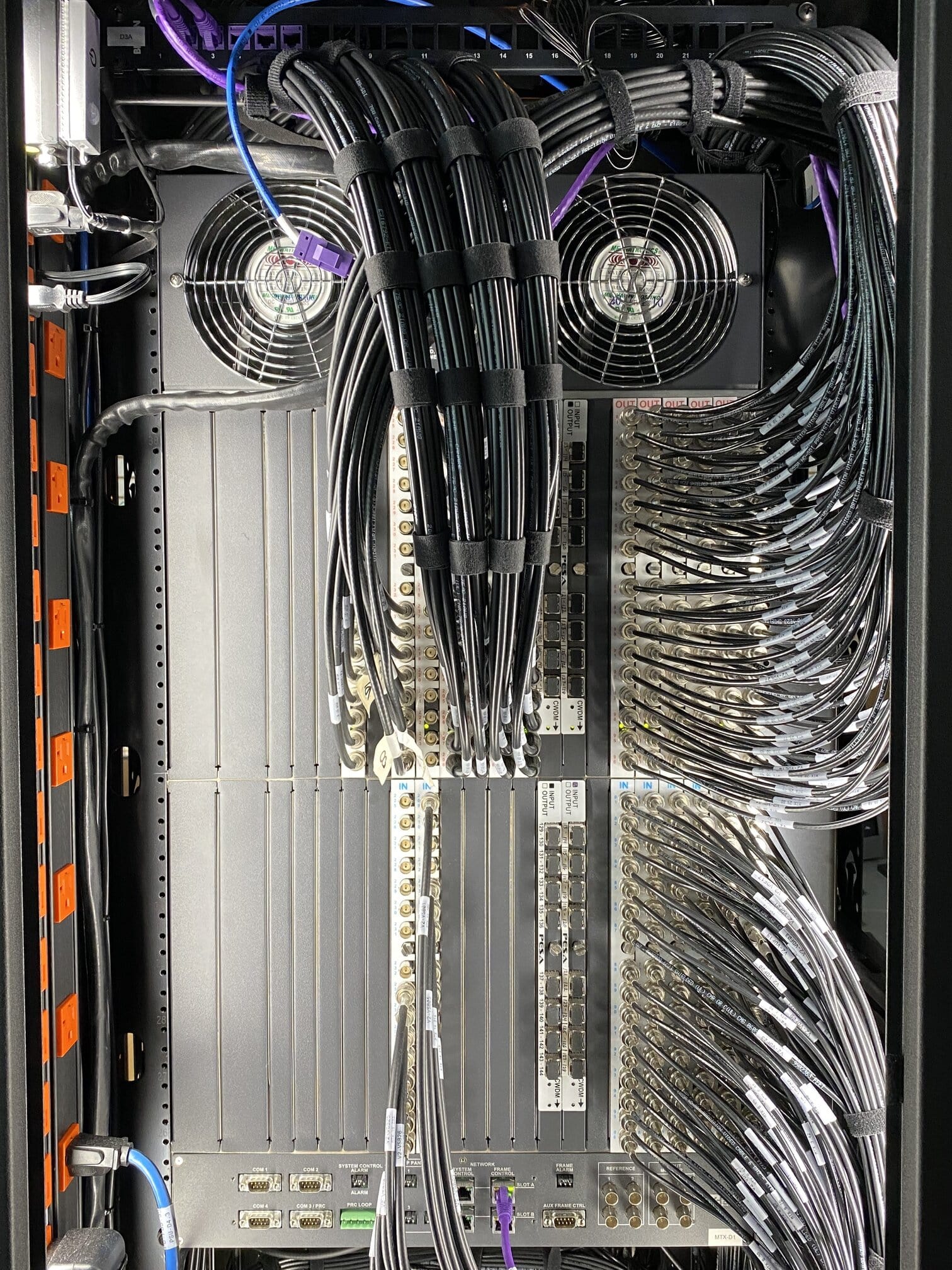 Video Switching, Control, and PTZ Cameras
Sony's XVS6000 networked live production switcher was selected to receive, route, adjust, and playback HD-SDI video signals. The XVS6000, which supports native 1080i, 12G (4K), and SMPTE 2110, interfaces with a configurable Sony ICP-X7000 control panel with several module expansions, including a MKS-X7011 menu panel, MKS-X7019 20 XPT module, MKS-X7020 standard transition module, MKS-X7026 10 key pad module, MKS-X7031TB trackball module, and an MKS-X7033 utility/shotbox module. The ICP-X7000 control panel is managed via a Sony PWS-110SC1 switcher control station and MKS-X2700 system interface unit.
The Sony production switcher receives and distributes video from a variety of PTZ cameras located throughout the briefing room. Even though 4K video was not a requirement, WPS selected the Sony BRC-X1000 and SRG-X400 PTZ cameras. Both camera models are equipped with Sony's latest Exmor R image sensors that provide excellent low-light sensitivity and were selected for their exceptional performance in a variety of lighting conditions. Based on the design requirements, the cameras are installed at different angles throughout the room with one camera installed on a motorized lift that can be remotely configured for a variety of heights.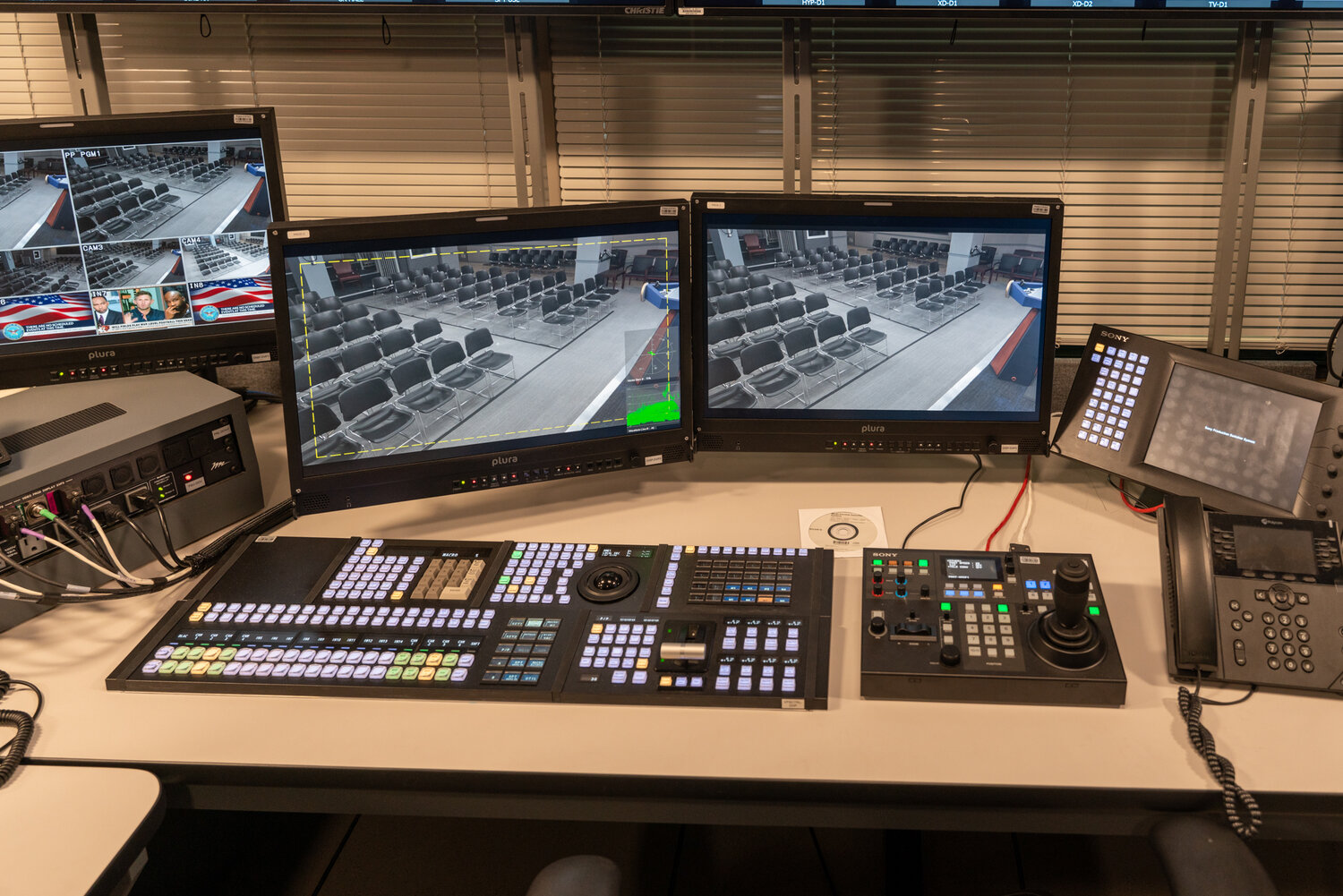 Control
WPS installed and programmed a Crestron PRO3 control system to manage and control devices via programmed macros, salvos, and presets via TS-1542-TILT-B-S touchscreens. The system also includes an array of 4K DM-NVX encoder/decoders, managed with a DM NVX Director switcher, and routes audio, video, and graphic content produced locally. Because some of these sources are generated in 4K native, the DM NVX scales down to HD-SDI for use and distribution by the OSD and DoD News partners. Additionally, the Crestron system is capable of controlling transport of playback and recording devices as well as audio volume, and the movement of the motorized monitor stand inside the briefing room. The PRO3 system is able to power on/off monitors, allow for input selection, and in situations where secured briefings are in progress, is capable of muting and preventing any and all audio from leaving the control room.
Audio Mixing and Routing
WPS installed a variety of systems and sub-systems with the ability to capture and control audio from the PBR and external sources. Within the PBR, WPS installed a series of Shure MXA-910 ceiling-mounted array microphones to capture audio from the press pool. Additionally, Sennheiser MEG 14-40 B and MKH70P48 microphones are used to capture audio from the podium and to maximize coverage capacity. A wireless lavalier mic system is also used for press briefings with multiple participants.
The PBR control room uses a Solid State Logic S300 digital console for mixing, recording, and distributing audio signals from a variety of sources, including the PBR microphones, VoIP telephone system, ISDN broadcast codecs, and the Bosch DICENTIS interpretation system. WPS selected the S300 to deliver a unified network ecosystem, a broadcast quality signal path, and the need to provide overall system redundancy. Because the S300 uses Dante, all audio sources and destinations land on a single matrix point, bridging both analog and digital, and distributing those signals within the Dante network. This allows any source to be easily routed to any destination with minimal impact. Additionally, the S300 offers exceptional audio processing quality and their signal chain provides excellent analog to digital conversions with class-leading dynamic processing and equalization. This capability allows the PBR control room operators to process eight automix groups of up to 200 mix channels and ultimately reduce their workload when balancing out microphones and maintain or improve the quality of the final audio mix, specifically with the reporter microphones in the briefing room.
Lastly, the S300 is specified in a mirrored redundant configuration that allows a "failsafe" to be implemented into the system. This capability allows a mirrored, secondary engine to immediately "transfer over" if the main processing engine fails during a press briefing, adding an extra layer of confidence.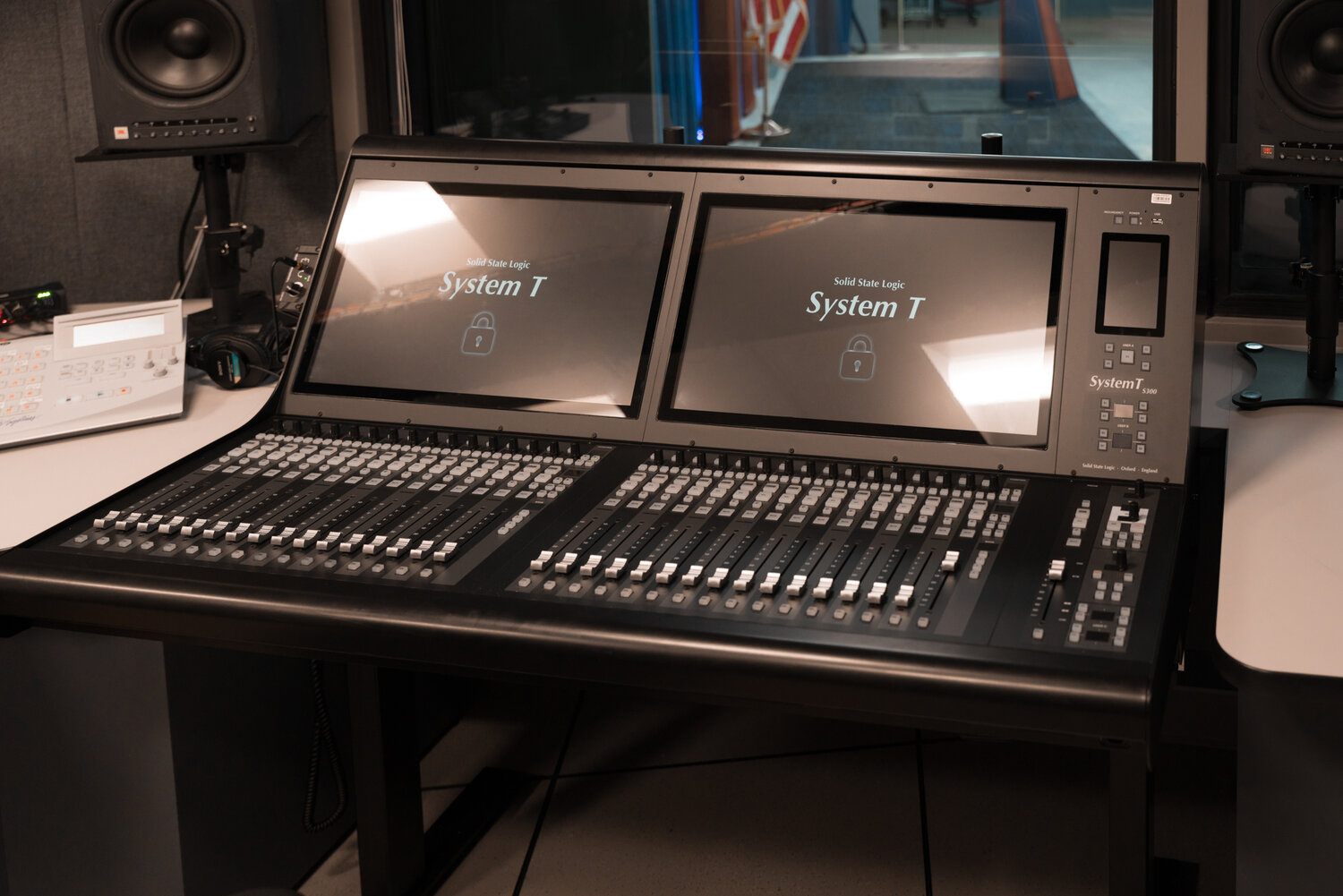 Multi-View and Monitoring
Due to the critical nature of the content produced at PBR, the OSD PA and DoD News control room operators needed a way of monitoring both audio and video signals in real time for quality assurance and confidence. An Apantac Tahoma multiviewer system was installed using a series of UHD processing modules accepting SDI sources from the video switcher and router to HDMI outputs. The system provides 64 configurable inputs of various signal types (including 12G (4K) and provides 16 configurable MVP outputs for the various Christie displays. The multi-view monitors are capable of displaying audio meters with metadata overlays, and allows the control room operates to quickly detect loss of audio, video, closed captioning, frozen or black video, and over-modulated audio.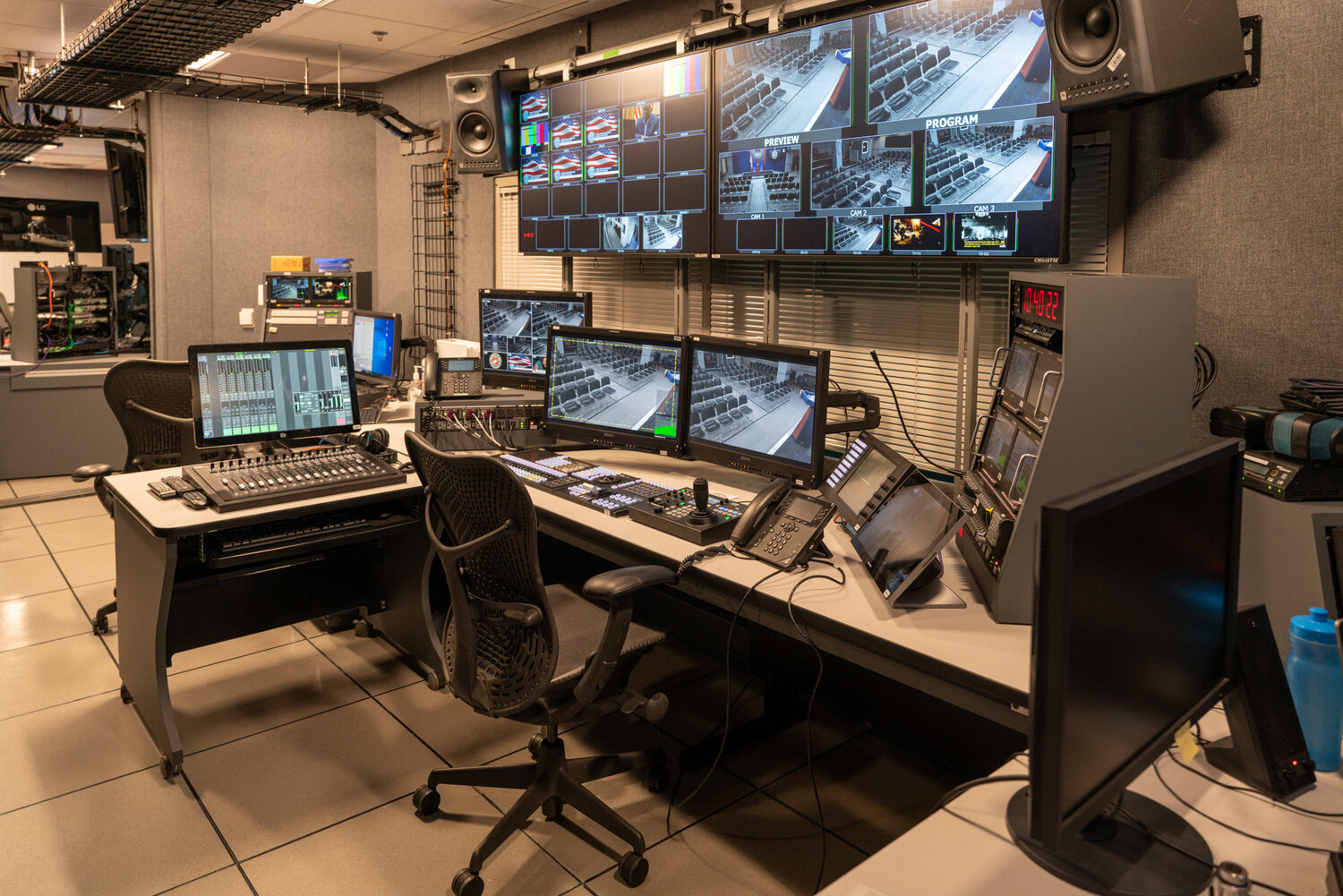 Infrastructure and Backup Power
WPS fabricated and installed a series of Middle Atlantic racks for many of the system's equipment, including routers, switchers, processors, and controllers. The racks were installed to provide easy access, superior heat management, and motion-activated lighting panels. All consecutive racks are bolted together for additional stability.
PBR requires power redundancy of the core systems, which necessitated multiple uninterrupted power supplies from Xtreme Power Conversions, including Xtreme Power P91-series UPS in a variety of outputs, from 1000VA/800W to 3000VA/2880W. The UPS system is capable of carrying the rated load for the equipment it is powering for a minimum of 20 minutes and Auto-Voltage Regulation (AVR) to actively correct for brownouts and over voltages back to usable levels while maintaining a full battery charge in case of power failure. The P91 units feature field-replaceable, hot-swappable battery modules and provide remote monitoring of load and battery status.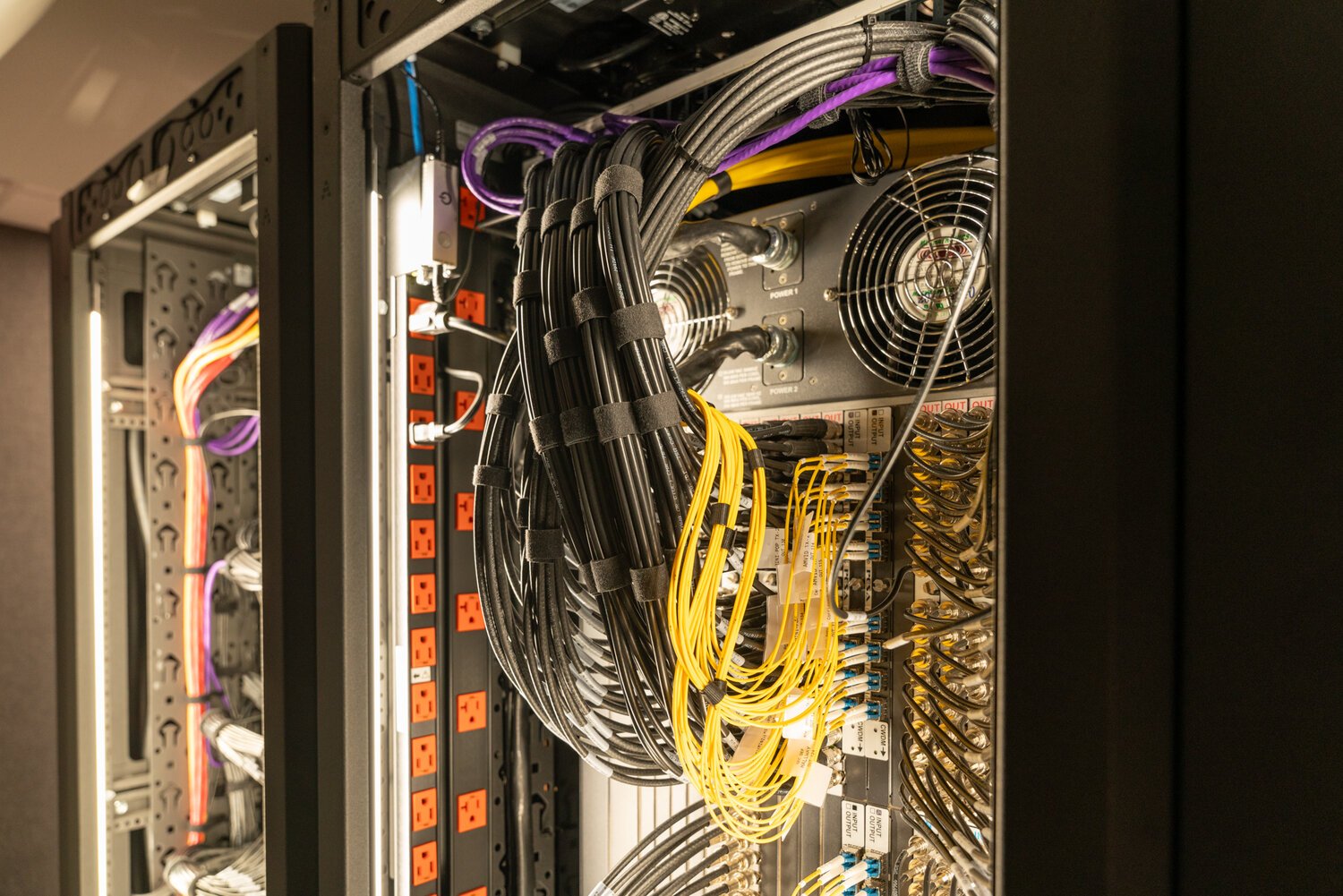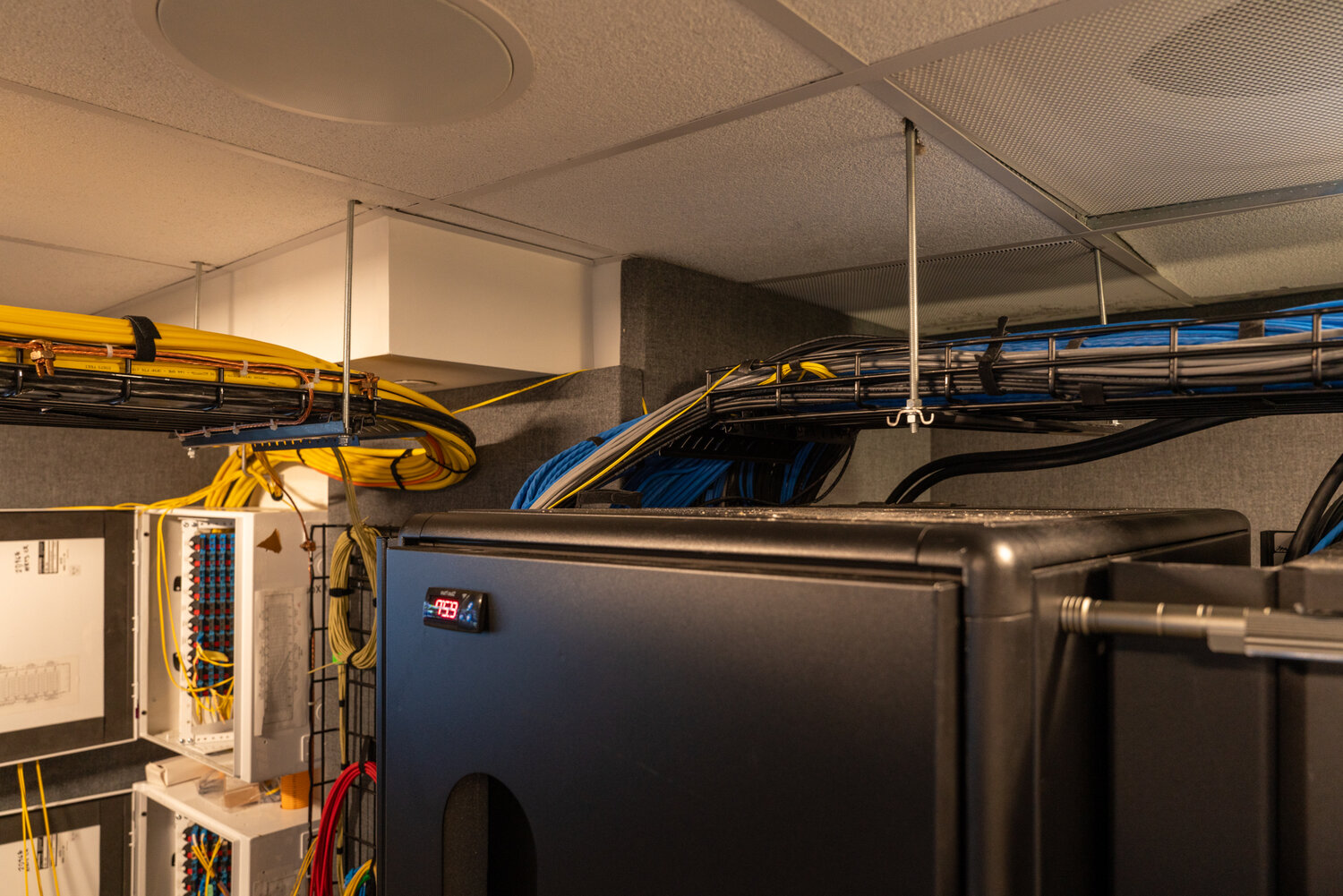 Control Room, Studio, and Briefing Room Lighting System
For the lighting requirements, WPS brought in Daniel McKenrick as part of the design team to consult, specify, and design a complete broadcast lighting system for each of the core spaces, including the Press Briefing Room, OSD PA studio, and DoD News control room. Daniel is a broadcast lighting expert with over 40 years of experience in the industry and owner of TVLD, Inc., a television lighting design consultancy. After surveying each room, Daniel recommended replacing the current video lighting fixtures with the latest technology and proposed:
Replacing the current video lighting fixtures with Astra and BB&S
Replacing the current 2×2 overhead task lights with Astra 6X Daylight LED based units in the PBR press area to provide the needed light source at the intensity and color quality the is in balance with the platform.
Eliminating the majority of the current video lighting fixtures in the OSD PA studio and replacing select units with BB&S Reflect 5600K units. This arrangement will simplify the lighting setup and provide a substantial reduction in the visually congested look of the studio.
Integrating and programming an ETC ColorSource console to control the lighting system in the PBR to allow improved flexibility in the lighting setup.
Replacing the ceiling 2×2 troffers in the control room with Astra 6X Daylight color-correct LED 2×2 ceiling troffers. The addition of level-adjustable and color-correct lighting fixtures to provide specific operational area task lighting.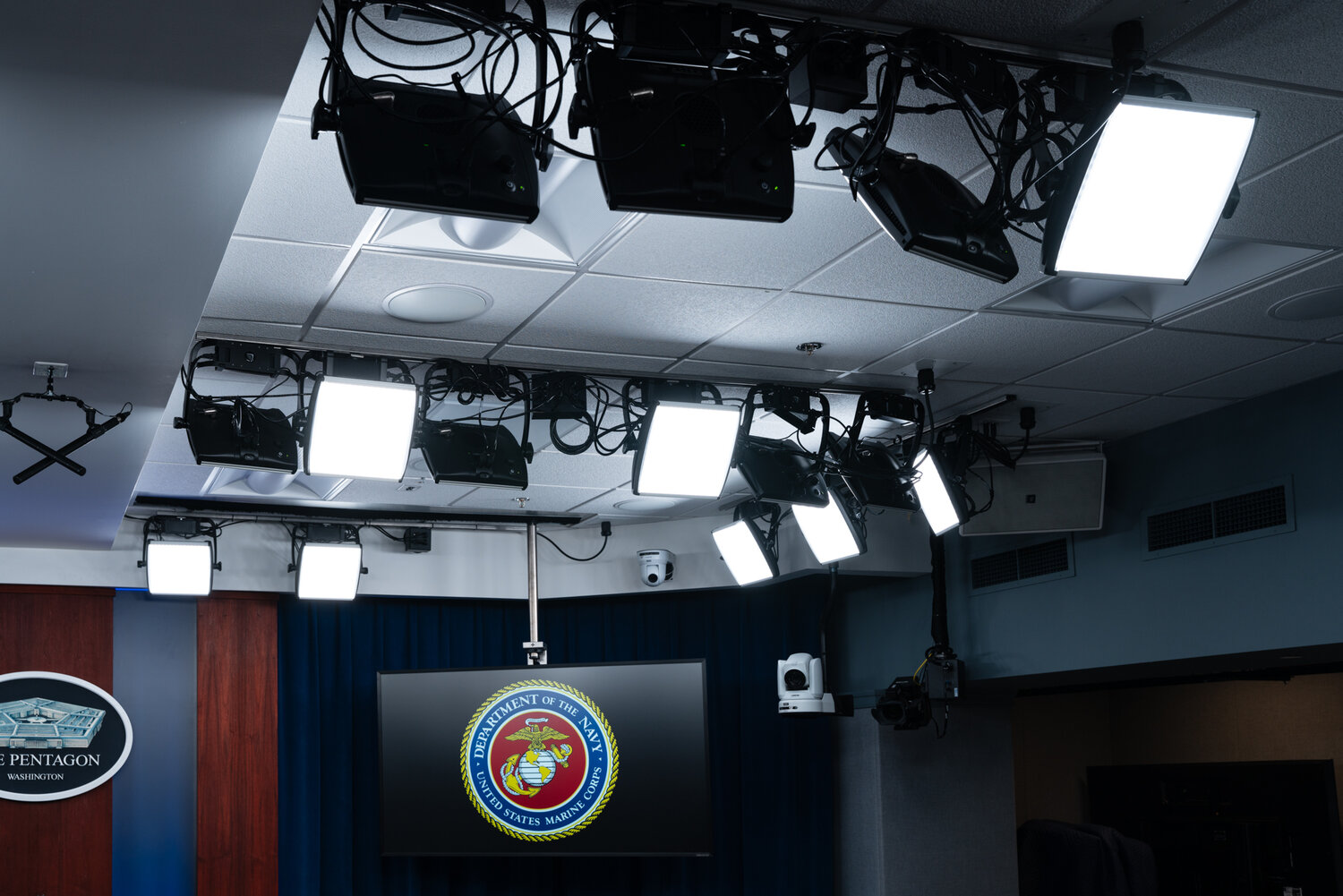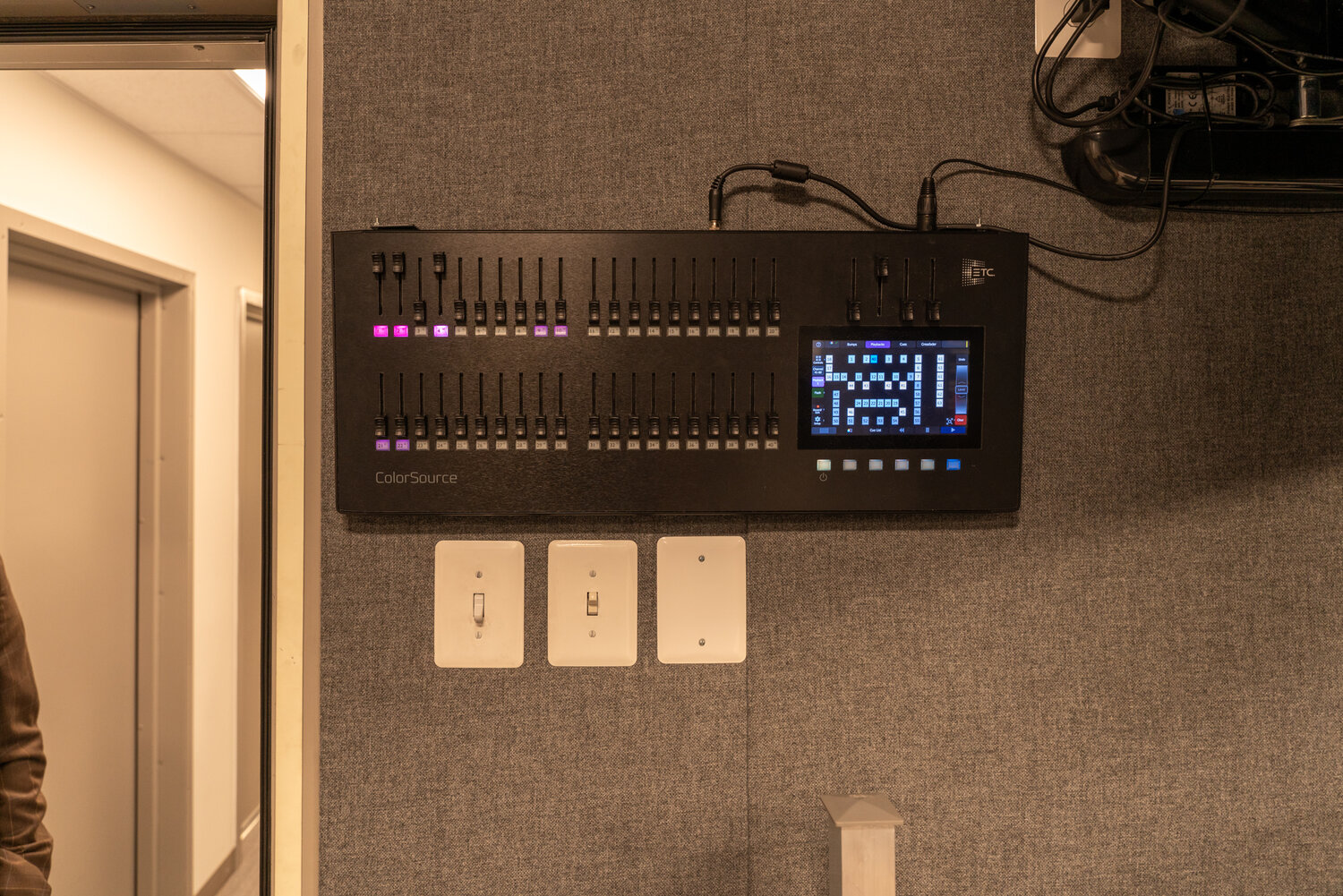 CHALLENGEs
Originally due to be completed in late 2020, the COVID-19 pandemic forced the closure of many areas of the Pentagon and severely restricted access to the project site. During this time, the WPS team worked with the Pentagon to finalize the system design, begin rack fabrication, and start securing equipment and materials. Unfortunately, the on-going pandemic caused unexpected supply chain issues that impacted the availability of equipment and required certain specified equipment to be replaced.
Additionally, the Pentagon required WPS to build a completely functional system off-site for pre-commissioning and training. To meet this requirement, the WPS team began developing a fully-operational 1:1 system in the fabrication facility and created an overlapping schedule between fabricators and technicians that allowed the completed racks to be properly terminated, tested, and pre-commissioned to specifications. This strategy ensured minimal downtime between teams, allowing engineers and technicians to test equipment and develop the necessary training documentation.
When the off-site system was completed, tested, and approved by Pentagon personnel, installation was scheduled on site. To minimize downtime, the WPS team worked quickly to demolish the existing system, including cabling, server racks, equipment, and furniture. WPS prepared the spaces by installing all new cabling infrastructure, pre-fabricated equipment racks, and constructing the new custom control room furniture from Interpretive Woodwork.
OUTCOME
WPS completed the installation and technical upgrades of the broadcast control system at the Pentagon Briefing Room in early 2023 with the aim to enhance functionality and expand the capabilities for both OSD PA and DoD News. By focusing on four core design elements, including Users, Infrastructure, Technology, and Environment, the WPS team effectively delivered a future-proofed system with a high degree of headroom, expandability, and interoperability. Shortly after commissioning and hand over, the PBR successfully conducted its first press briefing using the new system with Air Force Brigadier General Pat Ryder, the Pentagon Press Secretary.
Project Highlights
Space Efficiency and Unified Capabilities
By redesigning the system architecture to maximize available space for equipment, furniture, and operators, WPS balanced the need for operational capabilities with the mission partners' unified requirements, ensuring seamless collaboration.
Continued Operational Capabilities
WPS maintained operational capabilities during the transition from the existing architecture to the new control room system, ensuring that ongoing activities were not disrupted while the transformation took place.
Enhanced Lighting and Audience Experience
WPS addressed the overhaul of the lighting systems to cater to the needs of both control room operators and press briefing participants. The outcome was an optimized lighting setup that improved visibility and communication, enhancing both production quality and audience engagement.
Future-Ready Broadcast System
The broadcast system currently operates in 1080i HD, but was designed the capacity to upgrade to a 4K/UHD signal architecture with minimal changes. By building in expansion flexibility into the infrastructure, WPS ensured that the system could adapt to emerging technologies and minimize the need for costly future overhauls.
Seamless Camera Management
The choice of Sony's XVS6000 networked live production switcher provided a central hub for managing HD-SDI video signals from the suite of Sony PTZ cameras. With exceptional low-light sensitivity and remote configuration capabilities, the camera system offers reassuring performance, impressive resolution, and reliability in a wide variety of situations.
Comprehensive Control System
The integration of a Crestron PRO3 control system simplified device management, room controls, and added KVM capabilities. The system's ability to handle 4K native sources, audio, video, and graphic content, along with source routing, substantially expanded the video editing capabilities for operators and enhanced the PBR's ease-of-use during presentations.
Audio Mixing & Redundancy
The mirrored configuration acting as a "failsafe" of the Solid State Logic S300 digital console added an extra layer redundancy and reliability that provides a high level of confidence in maintaining operational readiness and capabilities during critical moments.
Real-time Multi-View Monitoring
The installation of the Apantac Tahoma multiviewer system enhanced real-time monitoring capabilities by providing the ability to detect audio and video issues at a glance with audio meters and metadata overlays.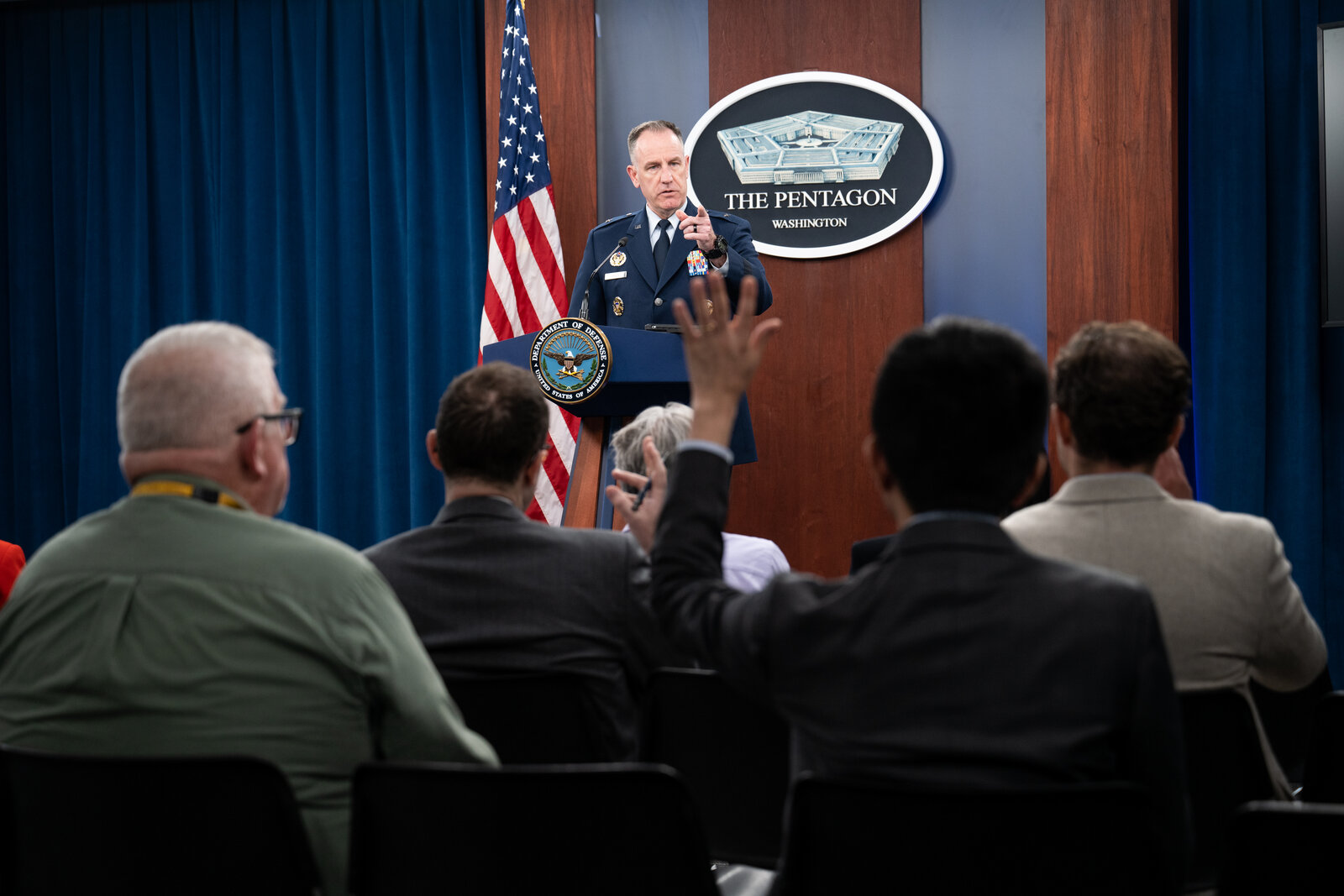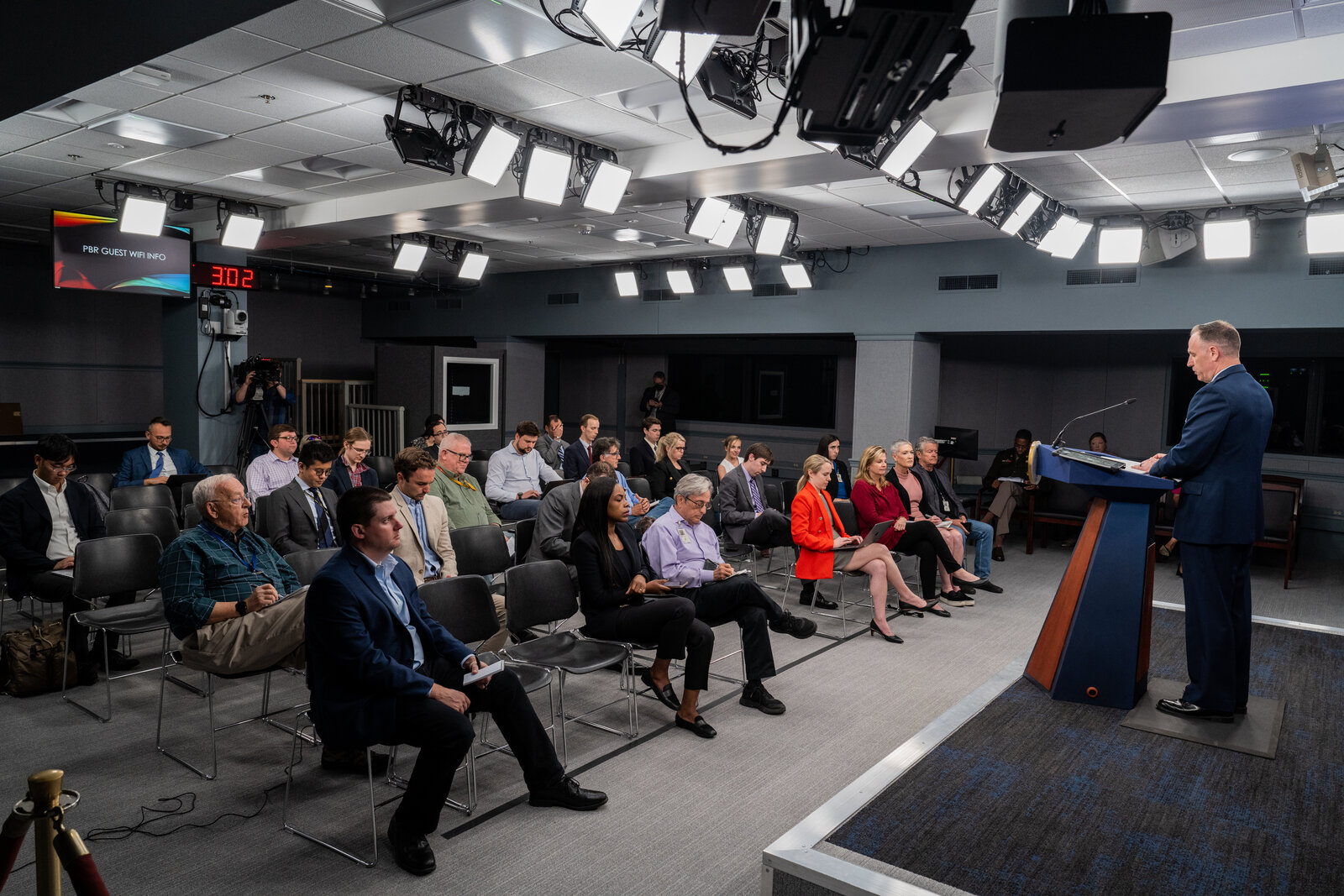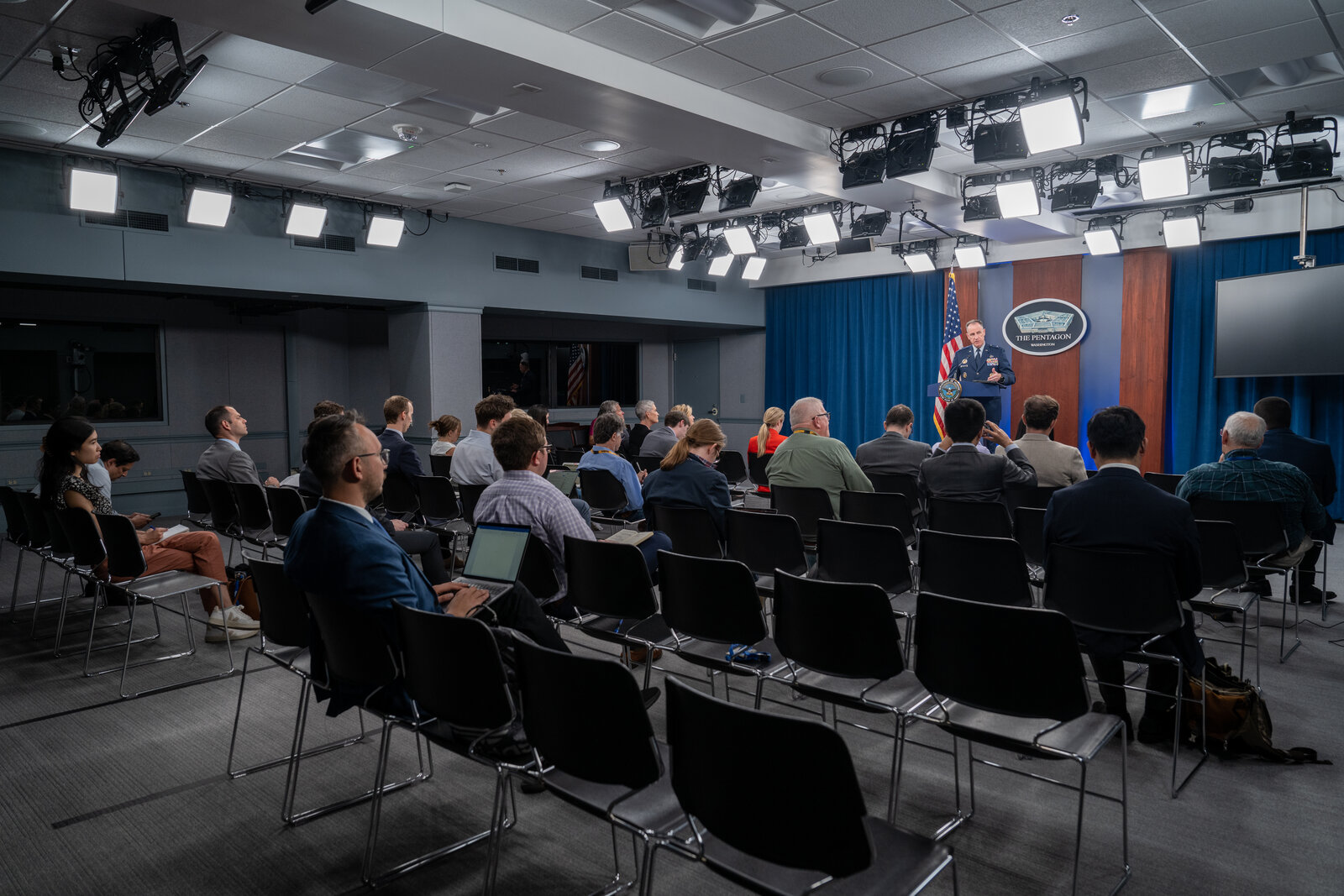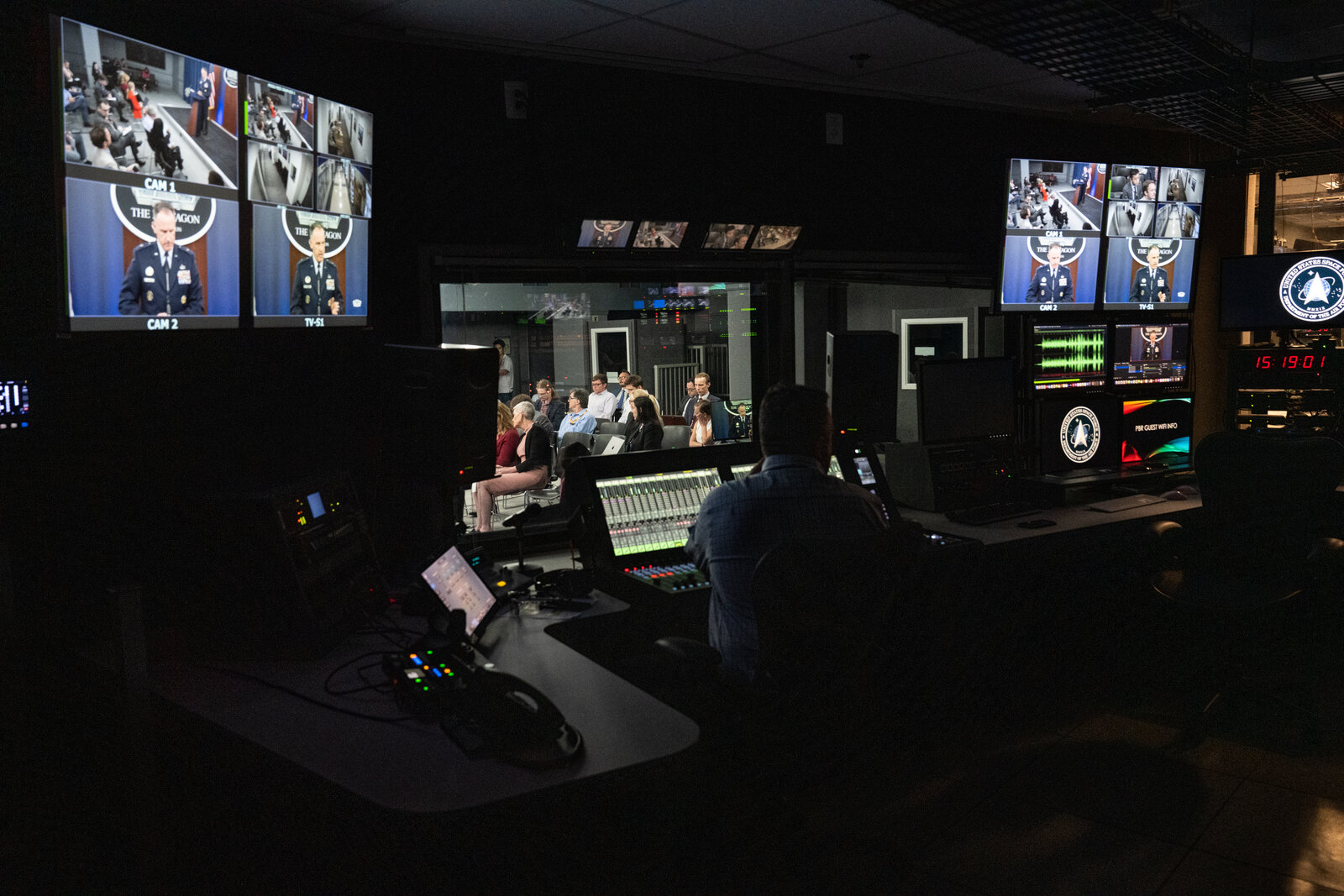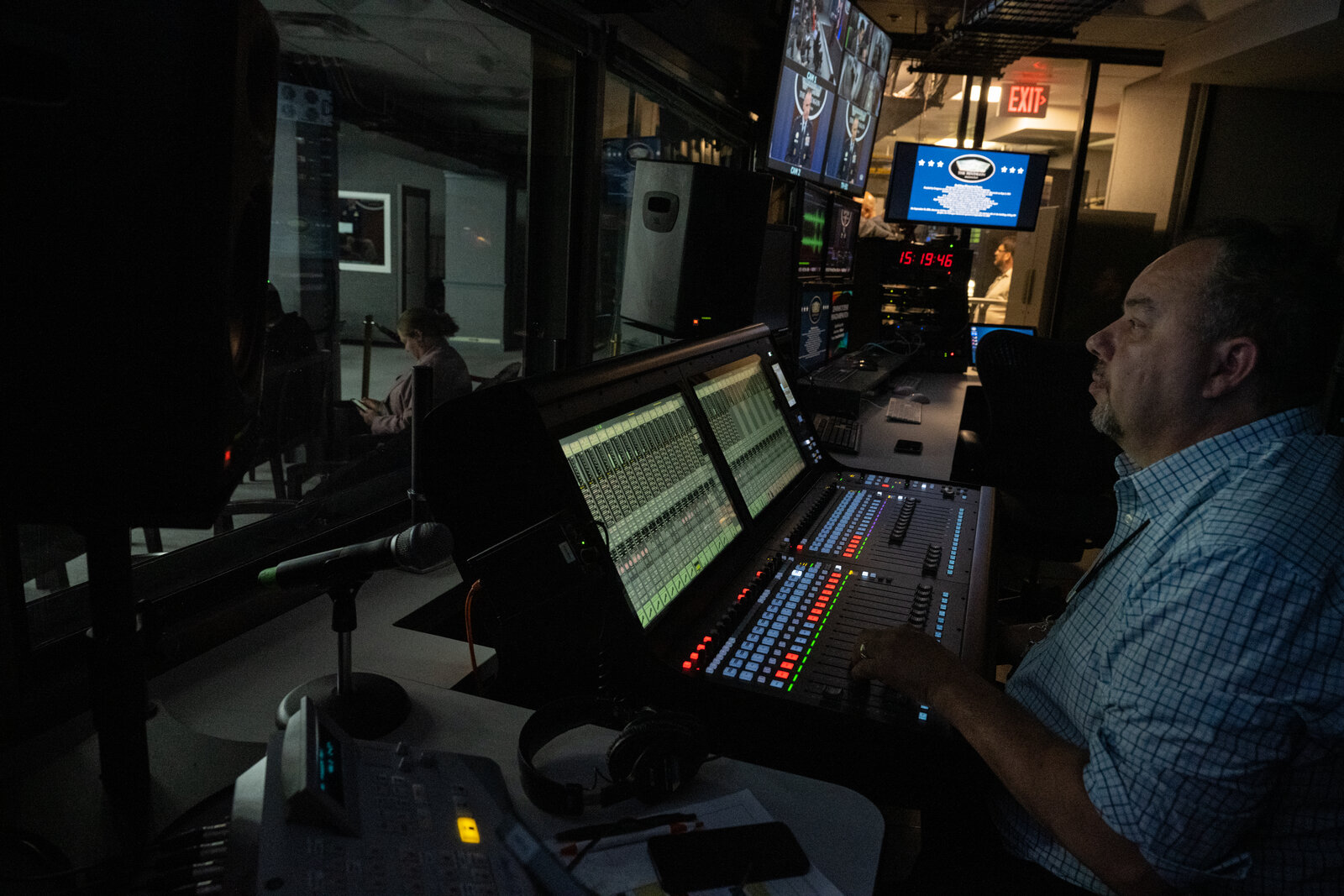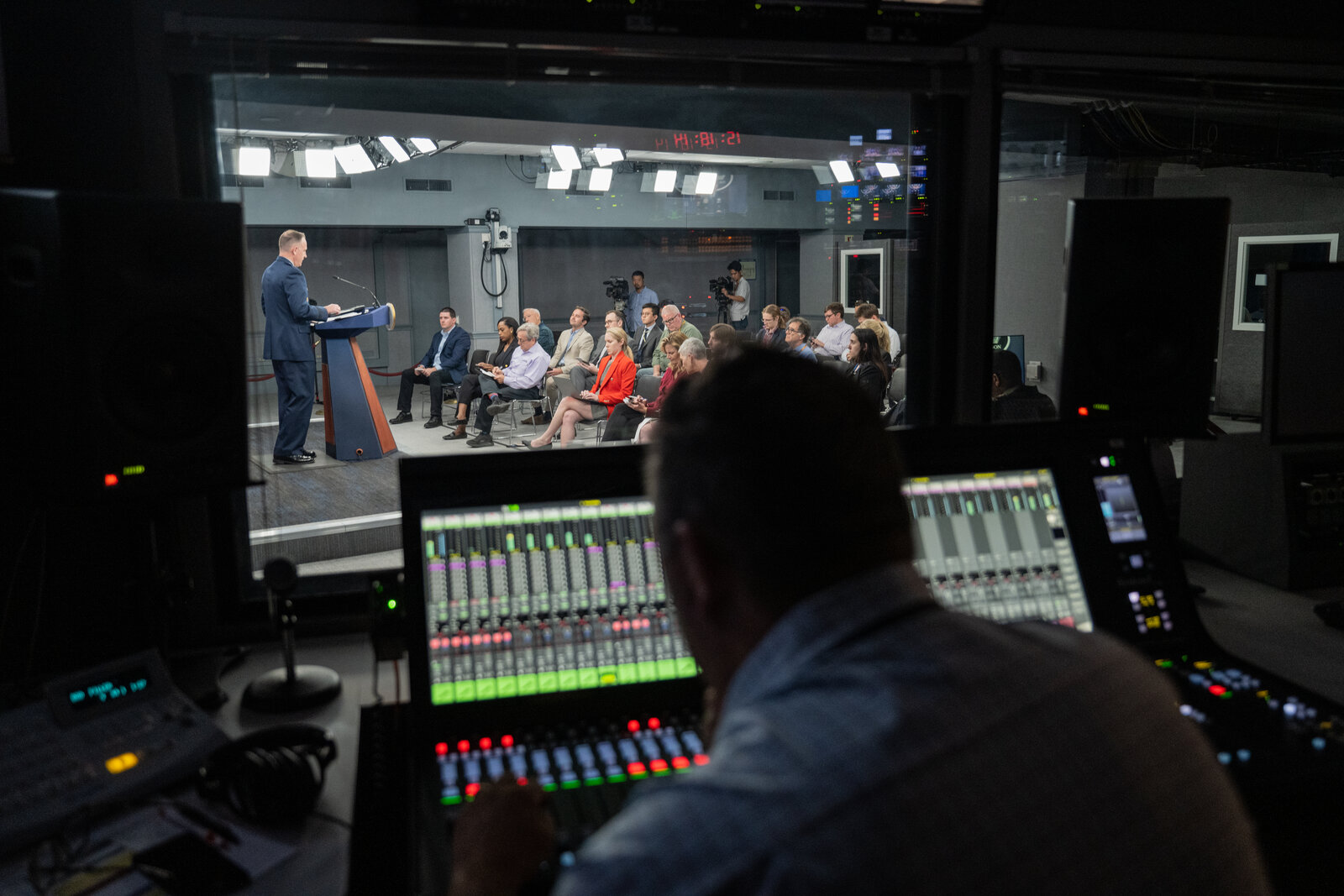 Special thanks to the staff of OSD PA and DoD News for being excellent partners throughout the project.