AV #TechTuesday is a WPS-curated column showcasing innovative technologies in the audio-video-lighting industry that we think you'll find interesting. These posts are NOT sponsored.
Hybrid instruction is not a new concept for schools and universities, but the mass adoption of remote learning has forced many organizations to rethink the way content is presented and distributed. Instructors were forced to assume dual roles of teacher and content producer to ensure students remained engaged while at home, but technology bottlenecks made immersive learning difficult or impossible. Moreover, many institutions struggled to adapt new technologies into easy-to-use workflows or discovered that technologies simply could not be integrated into their learning management systems (LMS).
In the past year and a half, attitudes have shifted and many companies have invested in expanding integrations to allow organizations to use the platforms of their choice. There are now significantly more options to create and distribute engaging instruction content to remote students including NewTek's CaptureCast, an IP-based recording and streaming platform designed specifically with education in mind.


By leveraging NewTek's open-source NDI suite, CaptureCast operates entirely on the network and can discover multiple sources from PTZ cameras, webcams, cell phones, laptops, or smart displays. Content can include live video feeds from cameras (PTZ, webcams, or cellphones), presentation/screen captures from computers or laptops, documents from intelligent overhead projectors, or whiteboard content from smart displays. This content can be shared or streamed to both livestreaming and video education platforms like YouTube, Facebook, Kaltura, or Panopto.
Adding the flexibility of combining and merging multiple sources, instructors can develop an educational lecture that includes a variety of angles, remote speakers, and a presentation document all on the same stream, simultaneously.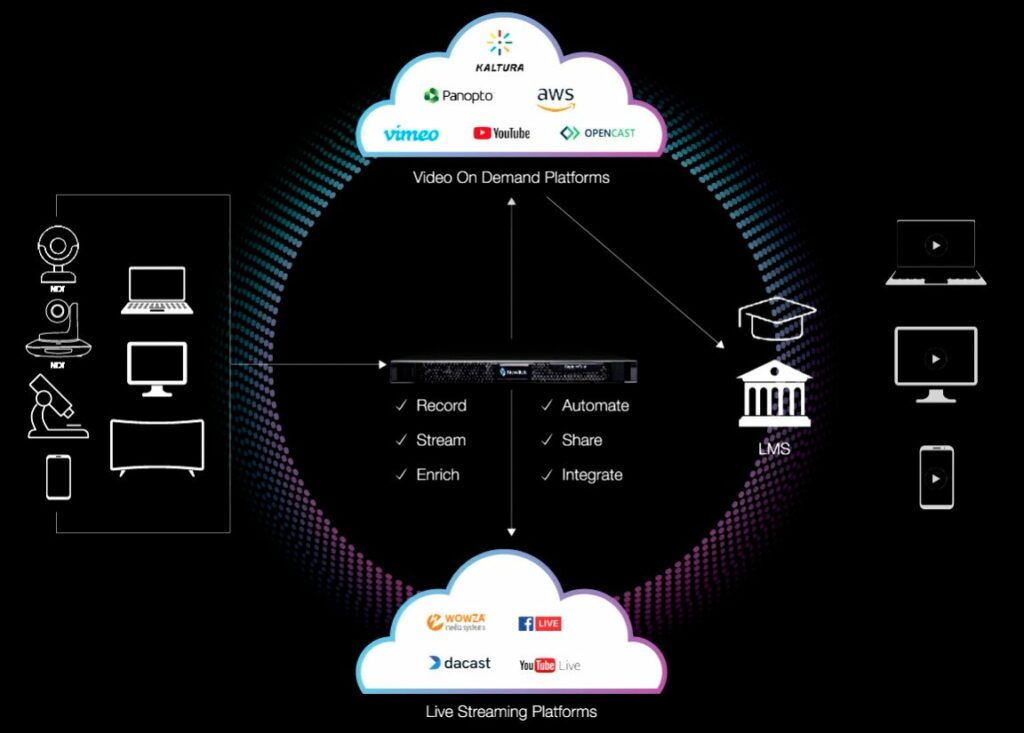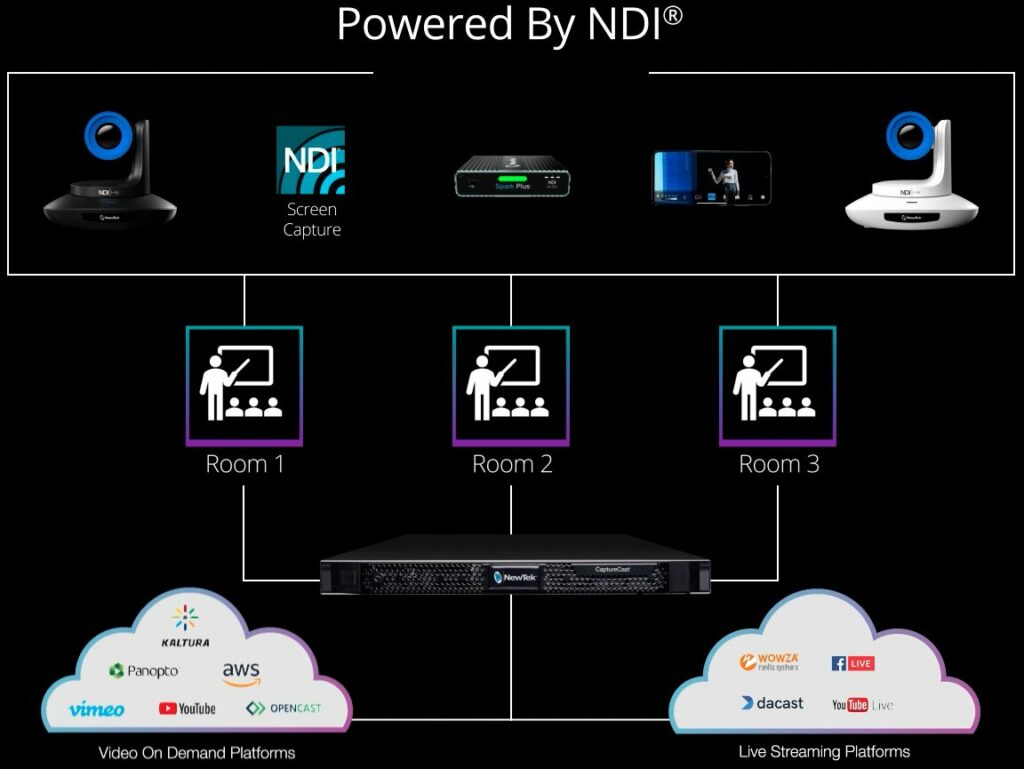 SMART FEATURES
CaptureCast features some very intelligent tools that help enhance the experience for students and instructors alike.
PRESENTATION EXTRACTION
When sharing presentations (like a PowerPoint), CaptureCast can detect and extract text from slides and convert the data into indexable objects that can be searched or replayed at a later time. This searchable content makes it easy for students to find specific information or segments of a lecture long after a stream has finished.
SCHEDULING
CaptureCast features a built-in calendar that can be integrated with the on-board automation tools allowing instructors to build workflows for repeating tasks based on a specific schedule. When used in conjunction with the automated workflows, the scheduling tool can automatically activate specific sources and start/stop recording or streaming. If videos were prerecorded, CaptureCast can take that source and stream it automatically to specific video sources at an exact start/stop time.
WORKFLOWS
Automated workflows are integrated throughout CaptureCast and NDI, allowing you to automate a variety of tasks including record, encode, stream, connect with sources, and distribute to platforms. These workflows can cut production time significantly and make lecture broadcasts as breeze.
METADATA
CaptureCast automatically generates metadata from all sources into a timeline-based index that can be easily searched by students. This clever feature can convert speech-to-text, text from images, and text from presentations. Metadata also includes, speakers, events, courses, lectures, users, and dates. Students can quickly search tagged keywords to discover information from recordings for research or study purposes.
WEB-BASED CONTROL
Like NDI that powers it, CaptureCast is controlled via a web-based GUI directly from a browser. The controls allow instructors to set up sources, schedules, workflows, and distribution destinations from any laptop, computer, or cellphone/tablet.
COMMAND CENTER
For admins, having visibility and control of devices on the network is integral. With CaptureCast's Command Center, network admins can configure, monitor, or control every CaptureCast unit deployed within the network. Also included is real-time audio and video monitoring to check the quality of each of the CaptureCast's inputs at a glance. Command Center also features top-down view of schedules for every CaptureCast on the network allowing admins to observe which units are actively recording, or completed. This simple tool can prevent streaming issues by catching any distribution errors at the source.

Why you should care:
IP-based and designed from the ground up to integrate natively with NDI allowing classrooms to connect wirelessly or via network to a variety of inputs
Leverage both the on-board tools and feature-set from NDI to create engaging and effective lectures
Automated workflows handle the time-consuming, repetitive tasks allowing you to focus on teaching
Record up to 8 NDI inputs simultaneously. Inputs can include cameras, laptops, document readers or smart displays.
Configure and control the CaptureCast via a web/browser-based GUI
Clever metadata and text indexing for timeline-based searching of every presentation, video, or lecture
Manage, administer, and monitor multiple deployments of CaptureCast via Command Center
Scheduling calendar can automatically start or stop lectures
Integrates natively with the top livestreaming platforms, including YouTube, Facebook, Kaltura, Panopto, and OpenCast
If you'd like to learn more about CaptureCast or adding enhanced capturing and streaming capabilities to your classrooms, send us a message below.