AV #TechTuesday is a WPS-curated column showcasing innovative technologies in the audio-video-lighting industry that we think you'll find interesting. These posts are NOT sponsored.
As more content is distributed through to IP-based networks, the ability to transport HD video and audio reliably is more important than ever. Plenty of technologies have been developed to make AVoIP more efficient and allow more devices operate on the network. But not everyone can take advantage of IP video, especially environments with deep SDI infrastructure and this is exactly why AJA developed the Bridge NDI 3G.
Taking full advantage of NDI and its large feature-set, AJA's Bridge NDI 3G gateway allows you to take 3G-SDI inputs and convert to NDI outputs and likewise, take NDI and convert to 3G-SDI video in either HD or 4K/UltraHD. The Bridge NDI 3G also supports YCbCr, 4:2:2 10-bit video up to HD and 4K/UltraHD 60p and up to 16 embedded channels of audio. The Bridge allows SDI facilities to take full advantage of AVoIP and NDI allowing production engineers to simultaneously receive video and audio, mix/edit the content, and push production-ready content on the network to a wide range of destinations. This integration lowers the cost of SDI environments to integrate with IP-based production infrastructure without needing to invest in expensive hardware.

ENCODING
The Bridge NDI 3G can convert all SDI inputs to NDI outputs (NDI UYVY, 4:2:2, 8-bit, or P216, 4:2:2, 16-bit via 10gig ethernet). When configured in this mode, Bridge can support:
16 simultaneous 3G-SDI inputs up to 60p YCbCr 4:2:2 10-bit video
16 simultaneous encodes for individual HD (1080p) channels at up to 60p
8 simultaneous encodes for HD video (1080p) and key pairs at up to 60p
4 simultaneous encodes for 4K/UltraHD groups (2160p) at up to 60p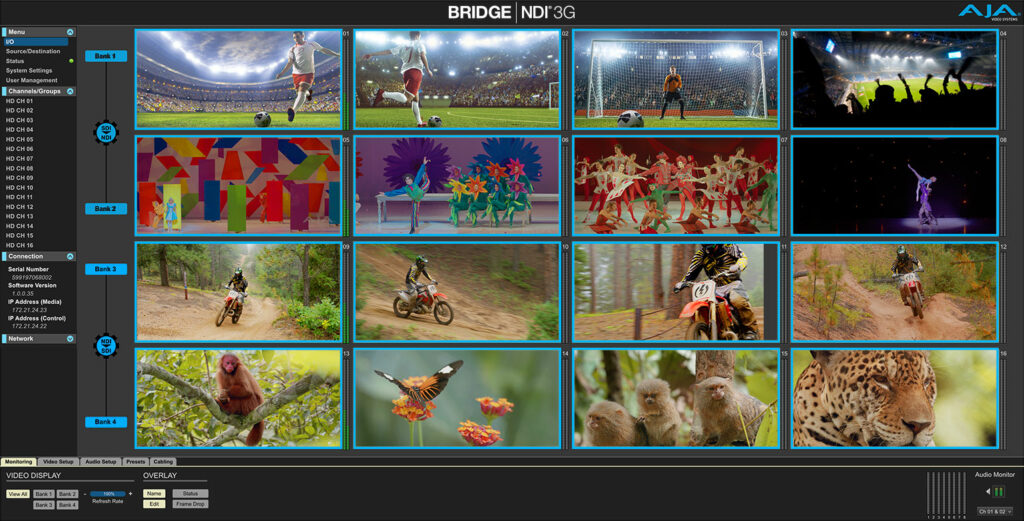 DECODING
Like the encoding configuration, the Bridge NDI 3G can decode all NDI inputs to SDI outputs (YCbCr 4:2:2 10-bit) including:
Up to 16 simultaneous NDI/NDI HX inputs at up to 60p, UYVY, 4:2:2 8-bit
16 simultaneous decodes for HD (1080p) at up to 60p
8 simultaneous HD video and key decode pairs (1080p) at up to 60p
4 simultaneous decodes for 4K/UltraHD (2160p) at up to 60p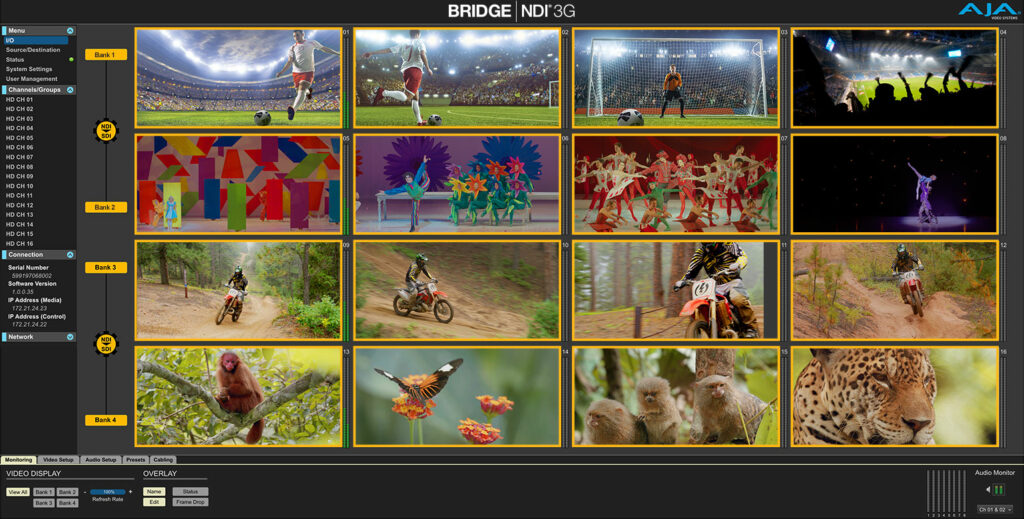 CONTROL
The Bridge NDI 3G can be configured and controlled locally (mouse+keyboard+monitor) or remotely via network. Both options utilize the build-in GUI for configuration, administration, and control.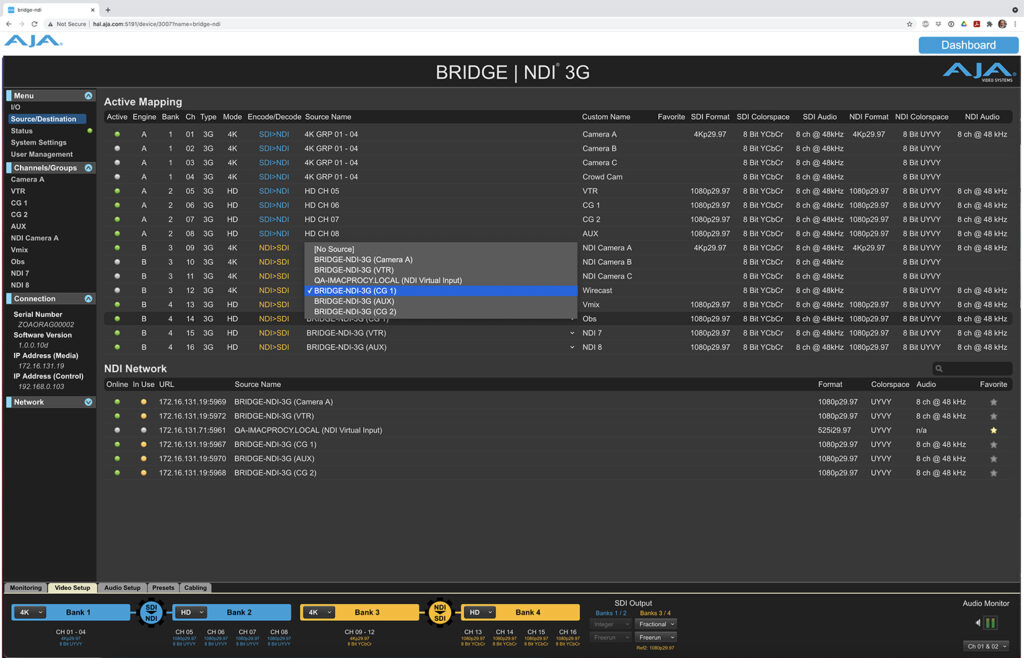 PORT AND CONNECTIONS
The Bridge NDI 3G is housed in a standard 1RU form factor and is compatible with most server racks. Ports include 18x BNC connectors (din 1.0/2.3, 3G/1.5G-SDI compatible), two 10gig ethernet ports, and one VGA and USB port for local administration. The Bridge NDI 3G also features dual redundant power supplies for critical environments.

Why you should care:
Bridge NDI 3G can help production environments take advantage of IP video by bridging the gap between SDI and NDI.
Low cost approach to integrate with IP-based production capabilities without the need to upgrade existing SDI hardware and infrastructure
HD (1080p) and 4K/Ultra HD (2160p) encoding/decoding capabilities with ability to encode/decode simultaneously
Plug and play – drops into any existing NDI or SDI workflow
Remote or local application administration
Dual, redundant power supplies
3 year warranty protection
Click here to view the AJA Video Bridge NDI 3G data sheet.
If you have questions on the Bridge NDI 3G or would like help integrating NDI workflows to your SDI environment, send us a message below.