AV #TechTuesday is a WPS-curated column showcasing innovative technologies in the audio-video-lighting industry that we think you'll find interesting. These posts are NOT sponsored.
Video production switchers have been in use in studios since the late 1960s and many were crude, expensive devices that only supported black and white video with minimal features. Through the 1970s and 1980s, manufacturers like Grass Valley, RCA, and Ross had introduced their own versions with more effects, quality improvements, inputs, and capabilities. Switchers became standard equipment in TV production studios through the late 80s and through the 90s, and by the 00s, switchers had transitioned from analog to digital, allowing for even more features. With the introduction of HD video and expanding consumer demands, video switchers have spread outside of the traditional studio and into venues like houses of worship, lecture halls, and concert halls.
Taking advantage of this market is Blackmagic Design with the introduction of the ATEM Constellation HD series, a video switcher designed to be an all-in-one production hub for live event broadcasting. The ATEM Constellation HD 4 M/E (Constellation 4 M/E) is packed with features for both audio and video including 40 video inputs, 156 channel audio mixer, and a built-in 5″ HD LCD monitor.
SDI AS STANDARD
The Constellation 4 M/E includes 40 independent 3G-SDI inputs, each with their own dedicated frame rate and format converter. This gives producers the ability to use different standards (720p, 1080i, 1080p) for the inputs and automatically convert them to the video standard of the switcher. This large array of inputs gives producers extensive versatility of coverage options with different camera angles. The Constellation 4 M/E can also loop out audio channels from SDI inputs to the two MADI digital audio outputs allowing the switcher audio inputs to be mixed externally.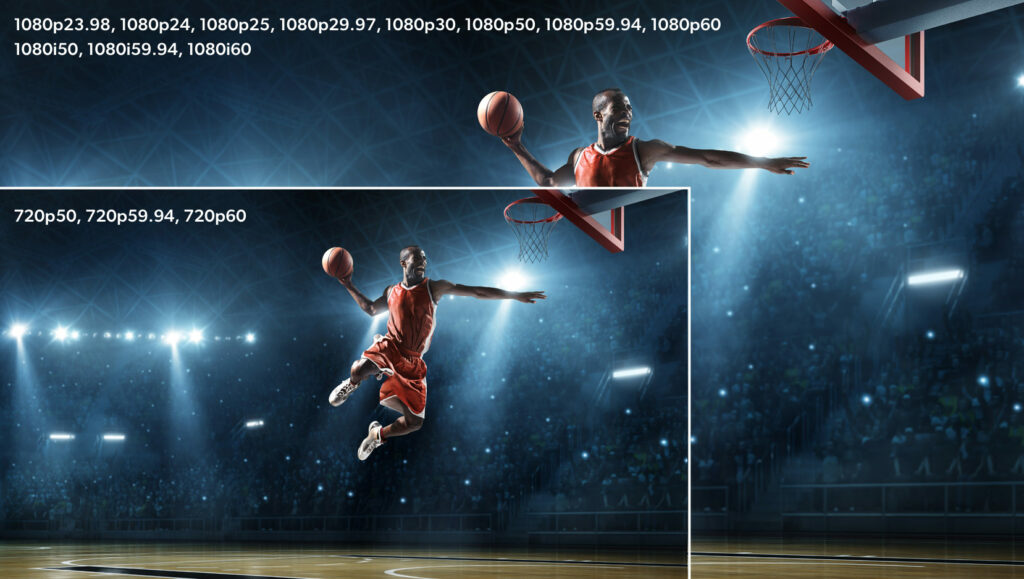 The Constellation 4 M/E also features 24 independent 3G-SDI outputs and allows for independent routing of any of the SDI inputs or internal source to each SDI output. Outputs can be used for ISO recorders, streaming processors, or for running independent feeds to stage screens. All SDI outputs contain RP-188 timecode, program audio, SDI camera control, tally, and talkback.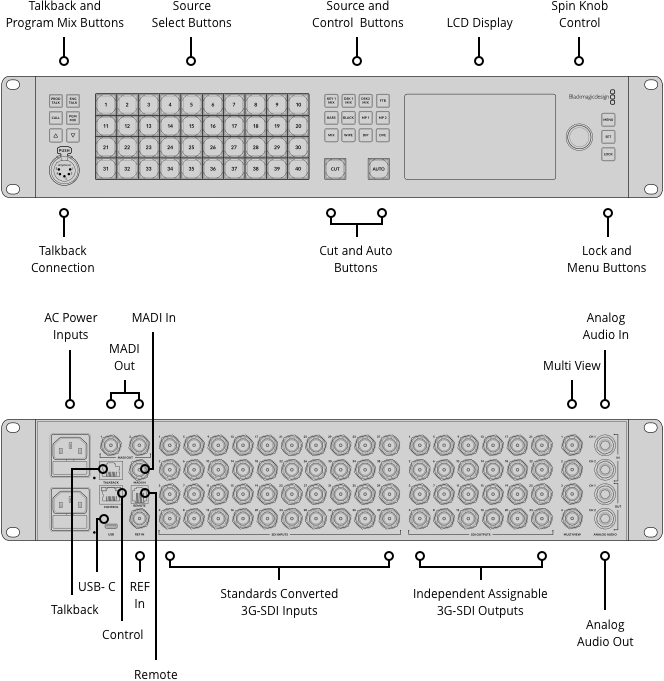 TRANSITIONS AND EFFECTS
The Constellation 4 M/E includes a powerful built-in digital video effects processor and includes a range of native transitions like mix, dip, wipe, and more. Transitions can be customized within the on-board system control menu and include adjustments for border color, border width, position, direction, and more. Transitions can also be previewed in real time before switching on air to allow for on-the-fly customizations.
The Constellation 4 M/E also features up to four independent DVEs with the ability to create picture-in-picture arrangements or reposition, resize, and scale graphics in real time. DVEs can even be customized with different types of borders, lighting, and shadows. Producers can combine DVE transitions with their own custom graphics to create unique wipe transitions.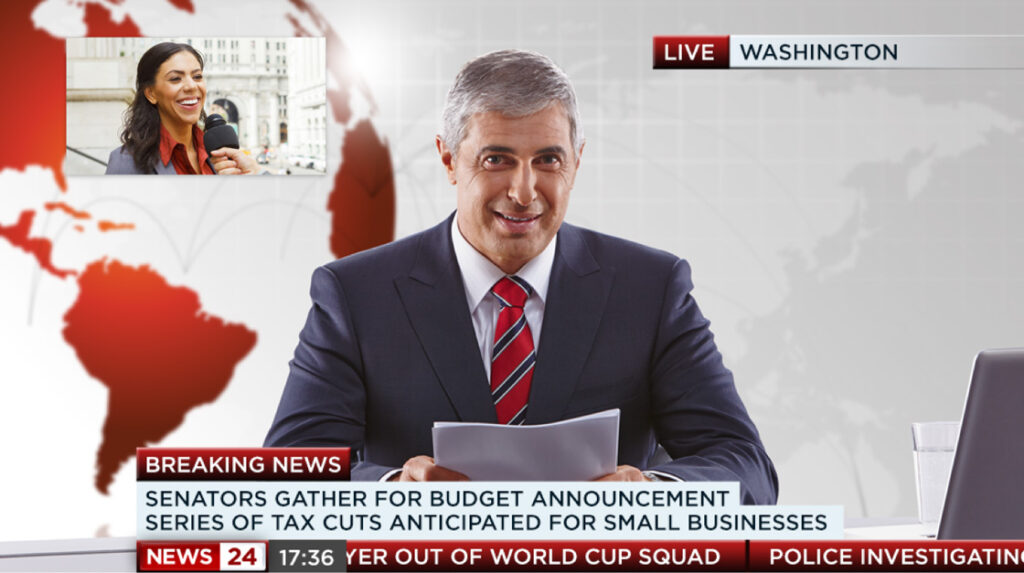 TALKBACK
Constellation 4 M/E features built-in talkback with full control including program and engineering loops and connect via standard 5-pin XLR connector or RJ12 when using industry-standard talkback systems like ClearCom or RTS. Constellation 4 M/E also supports SDI talkback for 2-way communication with Blackmagic's cameras. Talkback audio can also be mixed into program audio for voiceovers.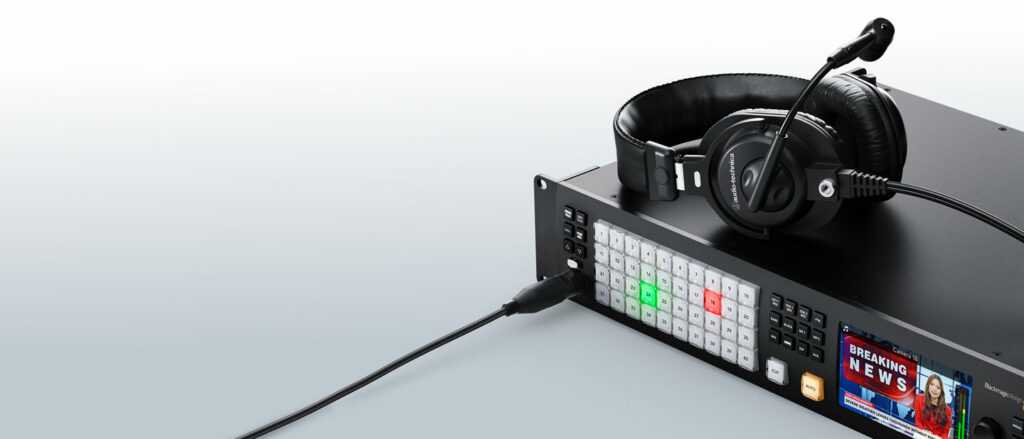 MEDIA POOL
The Constellation 4 M/E's four built-in media players can store up to 60 RGBA-quality stills and 600 frame animations and can be managed with ATEM Software Control or downloaded from Photoshop via the ATEM Photoshop plug-in. Media players appear as an additional input source rather than using an extra SDI input for graphics.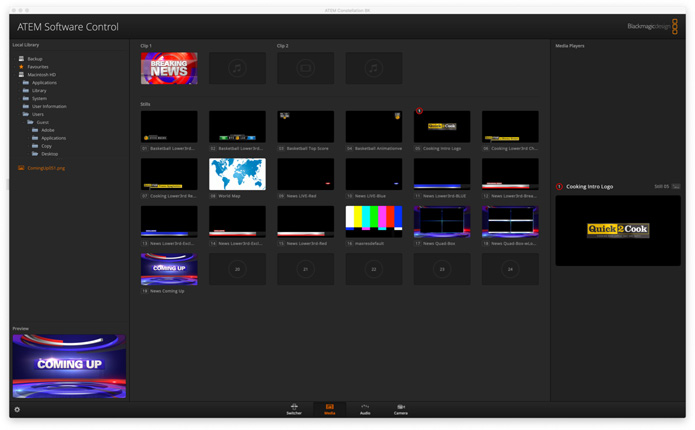 VIRTUAL SETS & BACKGROUNDS
The Constellation 4 M/E introduced advanced keyers for chroma or luminance keying. The chroma keyer uses a color picker to sample background colors and automatically generates key parameters for virtual sets or backgrounds. Producers can color correct the foreground to match the background layer and control for edge and flare. The Constellation 4 M/E features 16 total advanced keyers, or four upstream chroma keyers per M/E row (four M/E rows total). This level of variety means that producers can create customized keyers based on camera sources or macros that pull specific graphics from the media pool.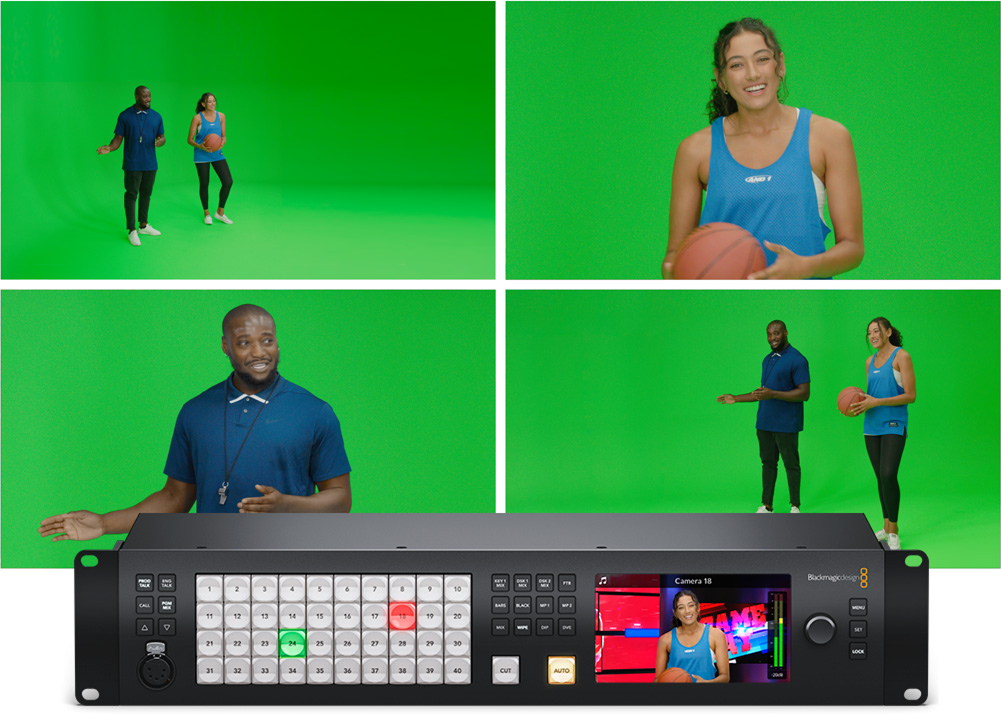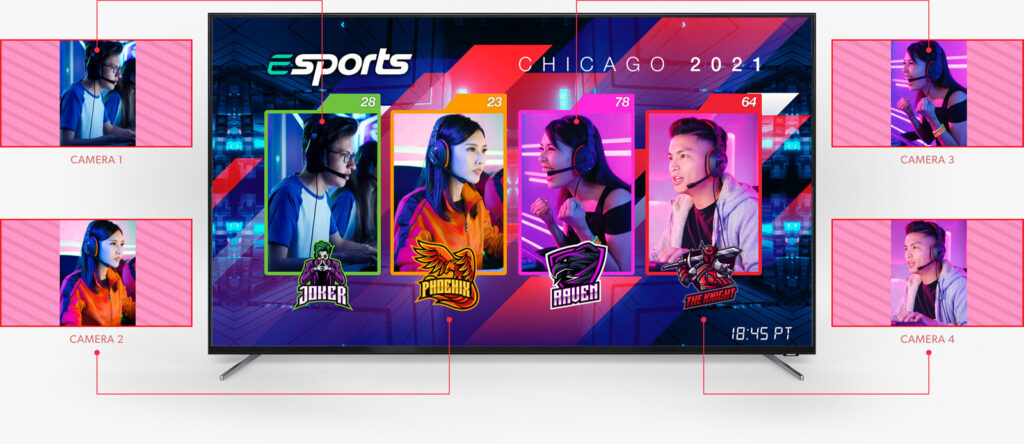 SOFTWARE
All ATEM Constellation switchers include the ATEM Software Control Panel which incorporates an intuitive digital interface with visual switcher controls and parameter palettes. From the ATEM Software Control Panel, users have access to audio mixing, macro programming, and camera control. When connected via ethernet, multiple users can access the switcher and work concurrently during a production. Configuration states can be saved as XML files and the software is designed to operate on both Windows and MacOS operating systems.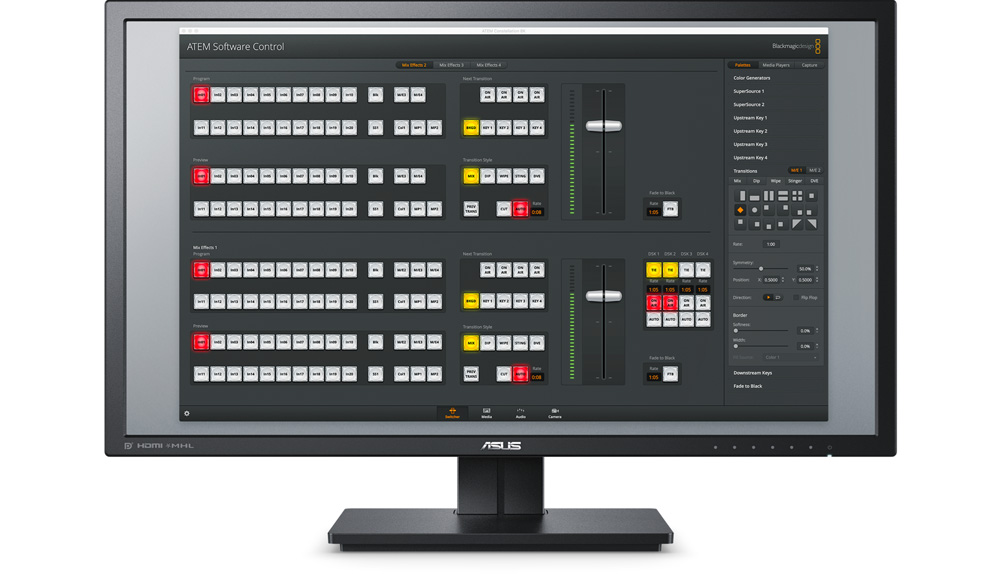 BLACKMAGIC COMPATIBILITY
Like with most Blackmagic products, the Constellation 4 M/E was designed to be compatible with Blackmagic's long line of production equipment including cameras, switcher controls, converters, recorders, and monitors. For studios already using Blackmagic equipment, the Constellation 4 M/E will drop into existing workflows seamlessly and help expand your production capabilities.
Why you should care:
40 independent 3G-SDI inputs with dedicated up and cross converter for each input
Automatically convert any 720, 1080i, or 1080p video source automatically
24 3G-SDI independent outputs with routing for SDI inputs or internal sources
All SDI outputs push program audio, RP-188 timecode, SDI camera control, tally, and talkback
Powerful DVE processor for high quality effects, transitions, or picture-in-picture compositions
Built-in media pool supporting up to 60 RGBA stills and 600 frame animations
16 ATEM advanced chroma keyers (four keyers per M/E row) with individual programming
Compatible with a full-range of Blackmagic equipment
Includes ATEM Software Control Panel with digital visual switcher and multi-user switcher access via Ethernet
To view the ATEM Contellation HD's datasheet, click here.
If you have any questions or you'd like to expand your live production capabilities, send us a message below: