Background and Scope of Work
With 91 stations, 117 miles of track, 1278 railcars, and 33.9 million trips, the Washington Metro Area Transit Authority (WMATA or Metro) has the responsibility of ensuring the continued safety of its riders and operators, 24 hours a day, 365 days a year. This task is only possible with reliable and immediate access to data from train, platform, and station monitoring systems throughout the rail network.
WMATA's Rail Operations Control Center (ROCC) is the nerve center of Metro's rail network operations and needs to accommodate the needs of both the controllers and supervisors.
Washington Professional Systems (WPS) was selected to design and integrate a video system to project onto a 50ft x 20ft concave screen that could simultaneously display up to 13 windows of content from a variety of sources including cameras, media feeds, and train/track data.
This project required the system to provide:
High resolution, brightness, and clarity even in a well-lit environment
24/7 "always on" reliability and high performance
Low operating costs and minimal maintenance
Support for multiple computers and integration to various data feeds
Low ambient noise and low heat output
Challenges
Because WMATA wanted the ROCC to operate in a well-lit, but low ambient noise environment with minimal downtime, WPS had to design a solution that provided a combination of high lumen output with a long service life. Additionally, the solution needed to generate as little noise without sacrificing the required airflow for heat dissipation.
Another design challenge was overcoming the quality and resolution differences from each data source so that each content window would display on screen with the highest clarity and resolution possible with little to no image distortion.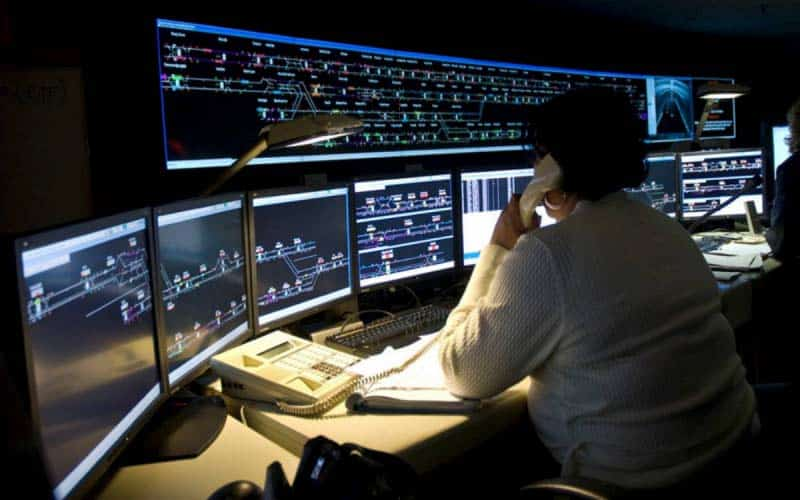 Outcome
WPS' engineering team coordinated with Christie Digital to design a video projection system that stacked the projectors to display content in series with no image creep or overlap. This design choice gives WMATA the flexibility to control which content windows will be fixed and where providing the necessary information at all times. WPS also used a series of video processors to manage all of the data source inputs and feed them through the video projectors ensuring that content delivery was displayed at the highest resolutions. The result was a system that could deliver near 24/7 reliability, excellent image quality, and high visibility within the environment. In addition, the system has a much lower operational cost due to the reduced maintenance requirements compared to the outgoing system.
The system that WPS implemented enhances the safety, security, and efficiency of WMATA's entire rail network operations.