Background and Scope of Work
Victory Christian Ministries International (VCMI) is Christian congregation with multiple church locations including Florida, Maryland, Virginia, Washington, DC, and the UK. The church's mission is to develop a dynamic and uplifting environment within each of its locations that helps build a stronger sense of community within its congregants.
VCMI recently expanded to a new 123,221 sq. ft., 3,000 seat church in Woodbridge, VA with a focus on providing an elevated experience to event attendees and worshippers, virtually or on-premise. With this goal in mind, VCMI selected Washington Professional Systems (WPS) as the integrator to design, engineer, and install the building-wide audiovisual systems including:
Large, high definition LED video walls
Video IMAG and video distribution system
Broadcasting, editing, and recording studio with duplication rooms
Performance audio system for sanctuary designed for both spoken word and large scale productions
Stage and instrument audio capturing system for choir, band, singers, and speakers
Challenges
Because WPS and the project stakeholders maintained an open line of communication, only minor challenges presented themselves throughout the project lifecycle.
The main sanctuary of the newly constructed VCMI building included two, very large dead-hung LED video walls on each side of the stage that required a very specific angle when installed. Infrastructure and rigging was to be provided by the lighting and electrical contractor working alongside WPS. WPS developed the rigging and infrastructure drawings for the video walls and worked with the contractors to ensure a high level of quality.
Many components of the performance audio system were also dead-hung from the ceiling, but because of their locations throughout the sanctuary, WPS had to work in conjunction with the structural engineer to determine the maximum load for each speaker. WPS was able to attain quick approval for the installation plans by fabricating the rigging and speaker cluster at our fabrication center. By pre-fabricating each cluster, WPS was able to get the exact weights and loads for all of the dead-hung audio components.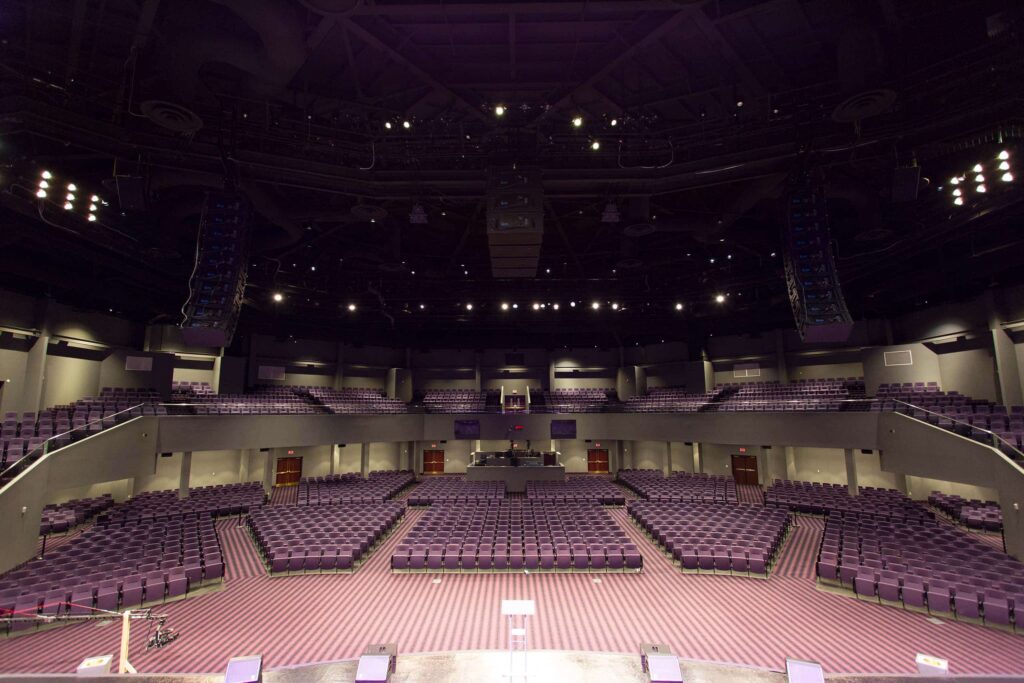 Outcome
WPS worked alongside several contractors including the AV consultants to deliver three completely integrated audiovisual systems including the performance audio system, the large LED video walls, and the IMAG and video production systems. Each of these systems were designed with flexibility in mind allowing VCMI to produce a wide variety of performances.
After the systems were fully integrated, tested, and tuned, WPS provided VCMI with on-going support for training, troubleshooting, and event production for several months. This extended support period allowed VCMI to fully stress test the system in a variety of situations with little risk or downtime.
VCMI has now gained the flexibility to reach attendees and congregants virtually with the new broadcasting capabilities that allow the church to stream events and services to YouTube, Facebook, and TV networks.
VCMI's new performance audio system in the sanctuary can be leveraged for many types of events from spoken-word sermons to energetic musical performances. Because the space was acoustically tuned, the audio system can be easily adapted for high, mid, and low frequencies giving the entire system a high level of flexibility, regardless of production.
brands leveraged