Background and Scope of Work
Established in 1746 in New Jersey, Princeton University is one of the oldest and most renowned higher education institutions in the world. The university has produced two US presidents, 12 US Supreme Court Justices, 16 Field Medalists, and 69 Nobel laureates. Distinguished alumni include F. Scott Fitzgerald, Lee Iacocca, Alan Turing, Woodrow Wilson, and Jeff Bezos.
Renovating such a historical institution is not without its challenges, but as the march of time moves forward, Princeton realized that modernizing was integral to its future including its storied classrooms and lecture halls.
For McCosh 50, Princeton's oldest lecture hall, the university needed to adapt to the paradigm shift in instruction by making the lectures more accessible to virtual students, but also ensure that professors had the resources available to teach to in-person students more effectively.
WPS | Washington Professional Systems was selected to modernized McCosh 50's AV and teleconferencing capabilities while also improving accessibility to students with hearing disabilities. Specifically, Princeton wanted to:
Replace existing projector and screen with large, bright, and high definition 20′ LED video wall
Install assistive listening devices for students with hearing disabilities
Update lectern with modern adapters and connectors for laptops
Update audio and video capturing system for in-person and virtual classes
Install a wireless and lavalier microphone system
Install ultra high definition camera systems
Integrate the system with the lectern controls
Integrate the system with an existing TriCaster and Extron controller in the broadcasting control booth
Challenges
Because McCosh 50 is over 100 years old, WPS knew that its engineering and installation team had to take great care to preserve the character-defining elements of the lecture hall while using the existing infrastructure for the upgraded AV equipment. WPS engineers had to mock install the 20 foot LED video wall in its fabrication facility to test the overall load that would be placed on the wall once full installed. This additional step ensured that the load on the 114 year-old wall was evenly distributed and well within the design specifications.
Since the installation of equipment was scheduled to begin in early 2020, at the beginning of the COVID-19 pandemic, WPS had to follow strict safety protocol from both the university and the State of New Jersey. In some cases, these safety requirements limited the amount of install technicians that could be present at any given time. WPS was quick to adapt to this chance and formulated an installation schedule that reduced staff overlap, but followed a logical agenda that focused on completing individual systems (i.e. cameras, video wall, control systems, etc.). This scheduling methodology allowed WPS to install, test, and tune systems as they were installed.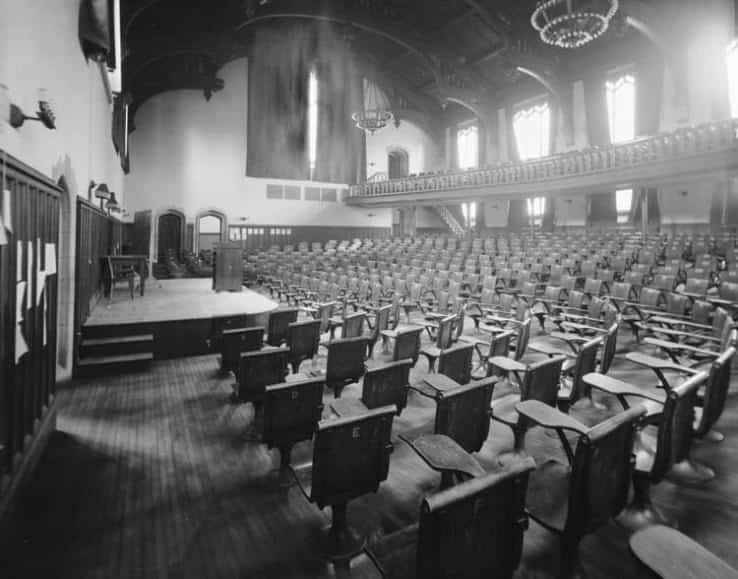 Outcome
WPS completed the system integration within schedule and in time for the Fall 2020 semester. After demonstrating the new LED video wall, faculty and students alike were impressed with the clarity and brightness of the content compared to the previous projector-based system. Because the video wall is LED-based, it has a much lower operating cost, produces significantly less heat, and operated at near silent levels.
Additionally, lecture audio and video can now be captured in both high fidelity and high definition thanks to the improved microphone and UHD camera systems. Streams and lectures can now be made available in real time or for future reference with the use of the capturing and storage technology implemented by WPS.
brands leveraged