Background and Scope of Work
Located almost equidistant from Baltimore and Washington, DC, Howard County, MD is one of the fastest growing counties in Maryland. Founded in 1838, Howard County is known for its many historical locations that played an important role in the Revolutionary War, Industrial Revolution, and the Civil War. Because of its early founding, many of the government buildings in use today are occupied in nationally-registered historic buildings. While Howard County has continued respecting the history of the buildings, the lack of expandability in the existing 175-year old courthouse became an issue for the court systems looking to implement greater equity in access to justice.
With these limitations in place, Howard County decided in 2017 to design and build a completely modern, 238,000 square-foot circuit courthouse with the latest construction, security, IT, and audiovisual technologies. The new building is large enough to accommodate all of the court's operations including sheriffs, prosecutors, and clerks.
Washington Professional Systems (WPS) was selected as the audio-video technology integrator and developed AV systems for the following:
13 total courtrooms (four configurations total) incorporating interactive presentation technology, dynamic sources, audio and video conferencing, audio recording, sound masking, and evidence displays with customized controls for clerks and judges.
26 small conference rooms with wall-mounted displays and ceiling mounted speakers that support multimedia presentations and audio conferencing. Digital AV inputs (HDMA, 3.5mm TRS, USB, VGA) for computers or laptops.
6 large conference rooms with multimedia presentation and audio-video conferencing capabilities (PTZ cameras, ceiling-mounted speakers, and ceiling-mounted microphones). Includes wall-mounted displays with digital AV inputs.
Media room with evidence and case review capabilities. Workstations for members of media to access files and documents
Large training room with multimedia, audio-video conferencing capabilities, and cable TV routing. Lectern with custom AV controls, digital AV inputs, and audio and video recording.
Digital docket displays for every courtroom, jury assembly rooms, waiting areas, elevator lobbies, and judge's chambers.
CourtSmart "For the Record"digital audio capturing, transcription, and storage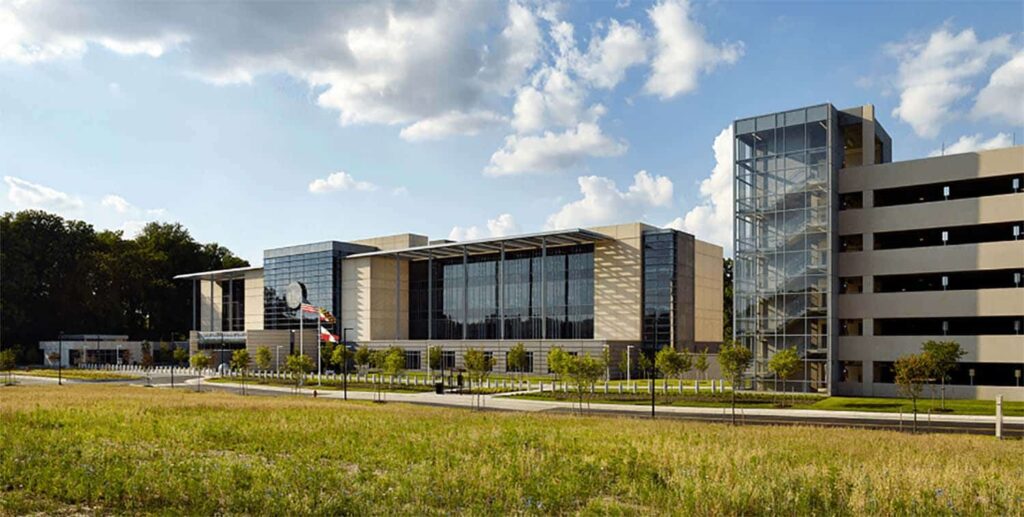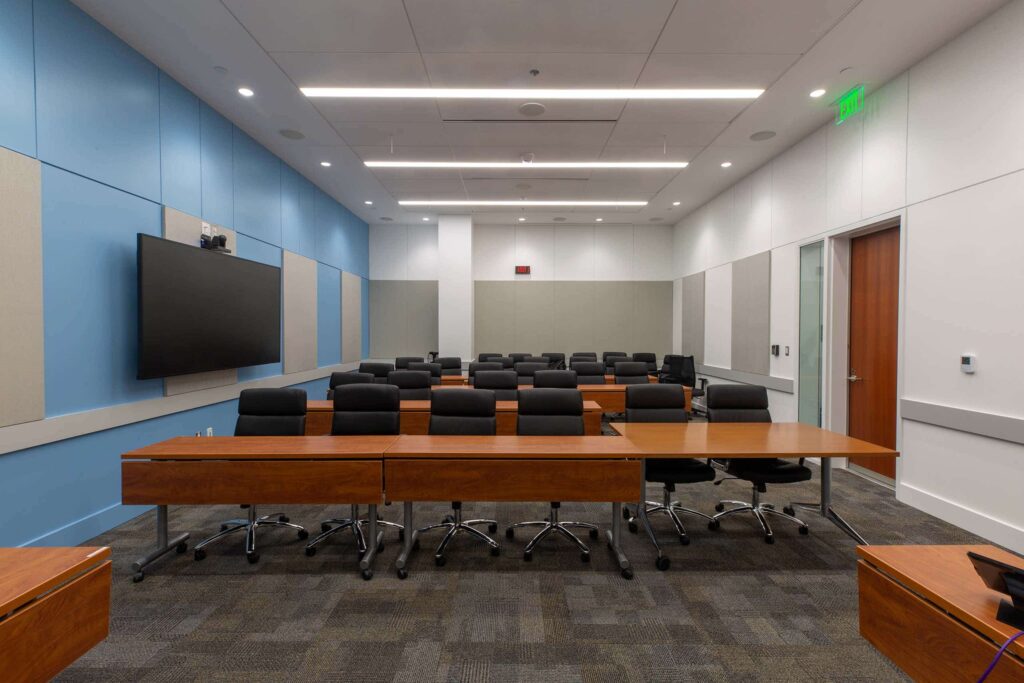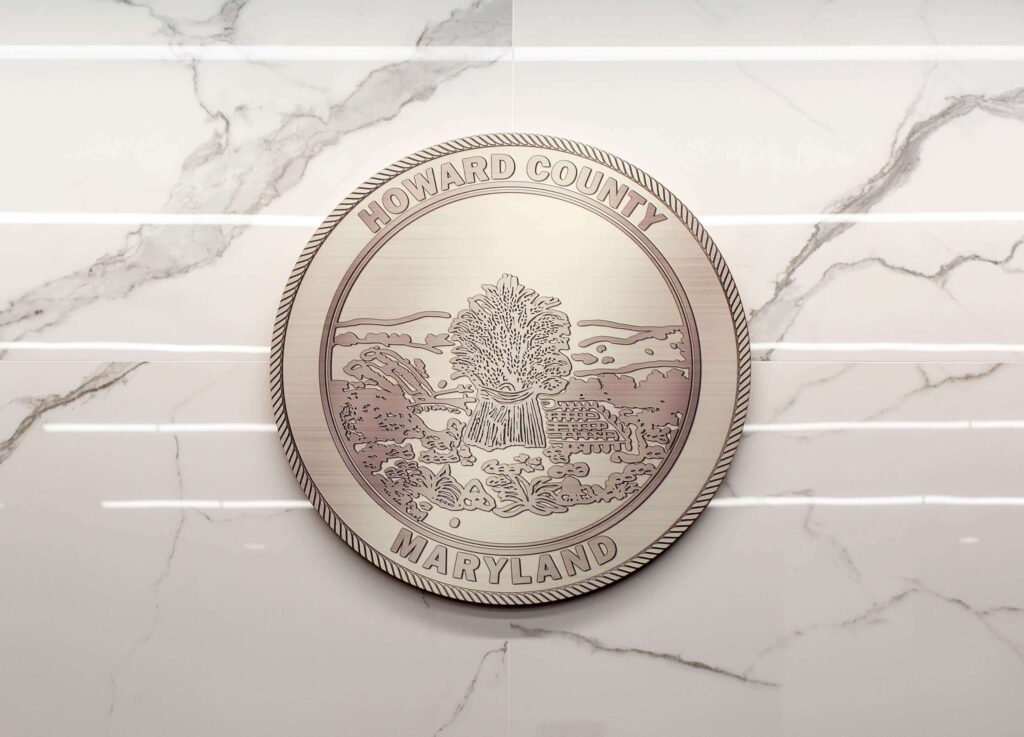 Challenges
Howard County's Executive, Calvin Ball, officially broke ground on the new Courthouse on June 24th, 2019 and shortly after, the old Dorsey building that occupied the location was demolished. In early 2020, WPS began pre-fabricating racks, mocking-up equipment, and programming the systems. By early 2021, the topping out had been complete
Since the networks that the Courthouse ties into were both sensitive and not fully installed, WPS was unable to rely on these systems for equipment configuration and testing. To ensure each system worked correctly as an integrated unit and between servers, WPS worked with the county and Comcast to develop a temporary secured network. This network had limited permissions, but allowed WPS to program each system as if they were on the Courthouse connection.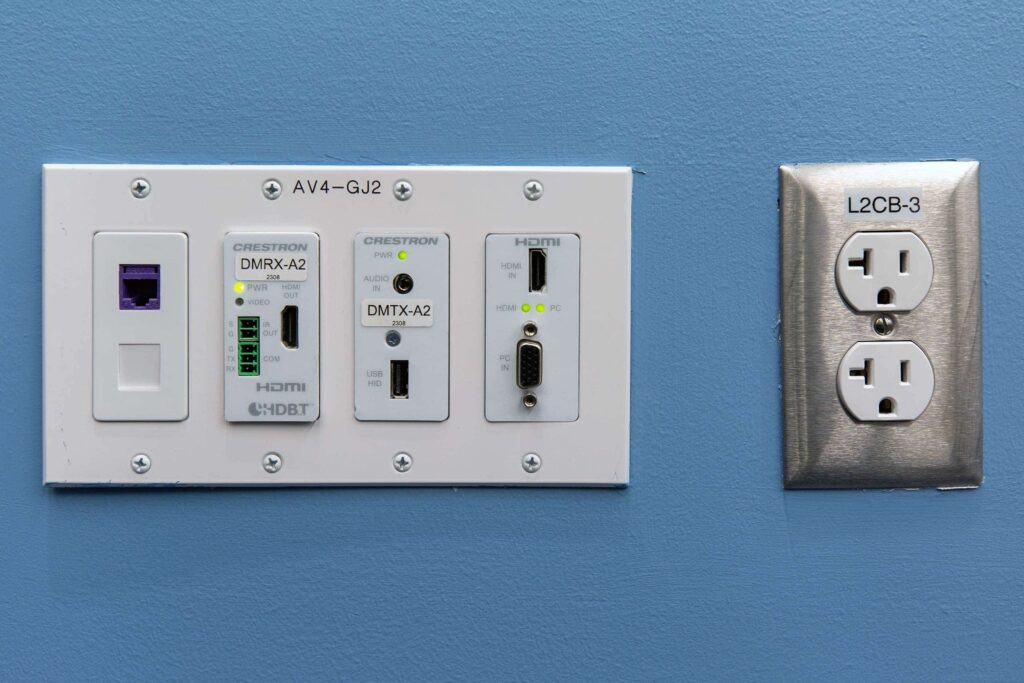 Outcome
On July 6th, 2021, the Howard County Circuit Courthouse was officially opened within schedule and with all systems operating normally. WPS completed the installation and commissioning of systems on time and within budget, earning the praise of construction project managers for the high level of quality and craftsmanship.
The Courthouse now has the ability to remain fully operational in the case of new lockdowns or social distancing measures. This is in part to the very tightly integrated audio and video systems that allow secure and private video conferencing to take place. This capability reduces operational down time that can impact proceedings and increases accessibility to more people.
The new conference and training rooms also feature state-of-the-art presentation, recording, and videoconferencing technology for the states and district attorney's staff. These conferencing and presentation systems have all been designed to be easy to use and include the most common connections for laptops, tablets, and computers.
As the Courthouse becomes operational, it will now be well prepared to tackle the many challenges within the judicial branch, but because of the new audiovisual technologies, the court will be able to deliver more efficient, accessible, and equitable justice.