Background and Scope of Work
As one of the 10 original MLS teams since the league's founding, DC United has a storied history and a loyal fan base in the Washington, D.C. metro region. For two decades, though, DC United made its home in the 61-year old RFK Stadium, a multi-purpose venue that once hosted Washington's NFL football team that was seldom renovated or maintained. Due to continued scheduling conflicts with events held at RFK Stadium, DC United made the decision to search for a new site and build an entirely new soccer-specific stadium that would become the permanent home for the team. After many years of searching, DC United selected the Buzzard Point neighborhood in Southwest D.C. as the site for the stadium.
WPS | Washington Professional Systems was selected as the sole audiovisual integrator for the project by Turner Construction, the project's prime contractor. WPS was tasked to engineer, and integrate the entire audiovisual and broadcasting systems for the stadium, including:
Stadium-wide bowl and distributed audio system for various locations, including:

Bowl seating
Concourses
Bathrooms
Bars
Club
Suites

IP-based and ADA-compliant media distribution system for various applications, including:

Television
Digital menu displays
Digital signage
Wayfinding displays
Ad panels

Broadcast production system, including

ENG infrastructure
Video board controls
Broadcast intercom system

Connected audio-video systems and controls for:

General areas
Coach's offices
Family room
Locker rooms
Suites
Owner's suite
MVP club
MVP roof deck
East deck
Club patio
Director's lounge
Small conference room
Large conference room
DC United offices
Bar patio
Media workroom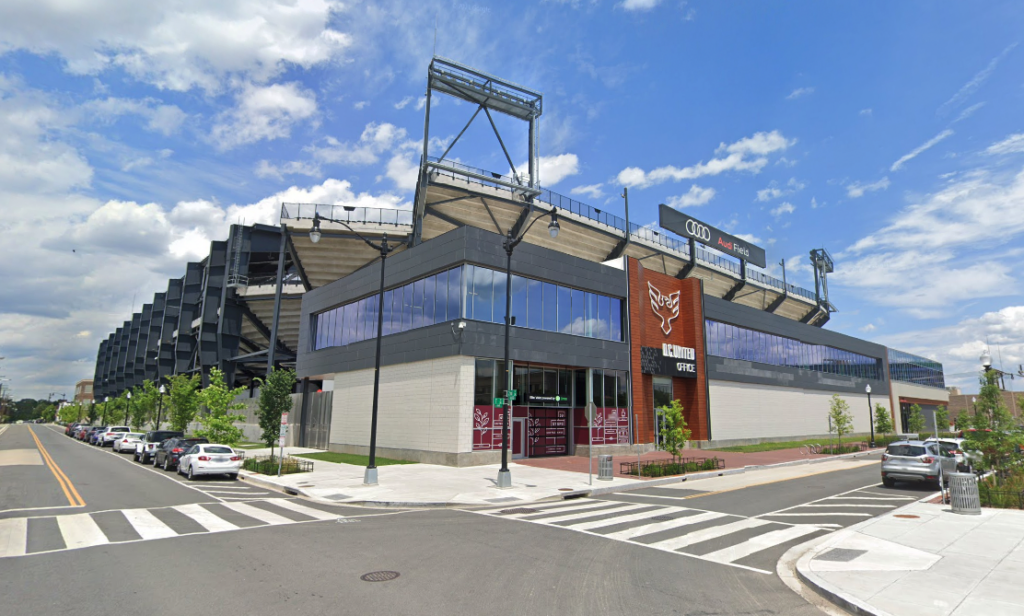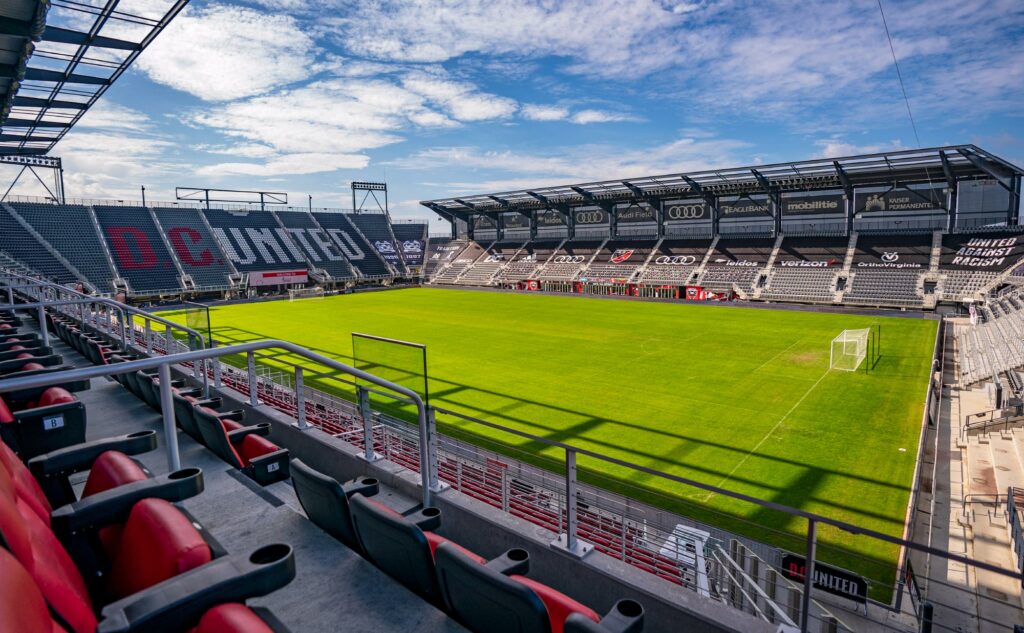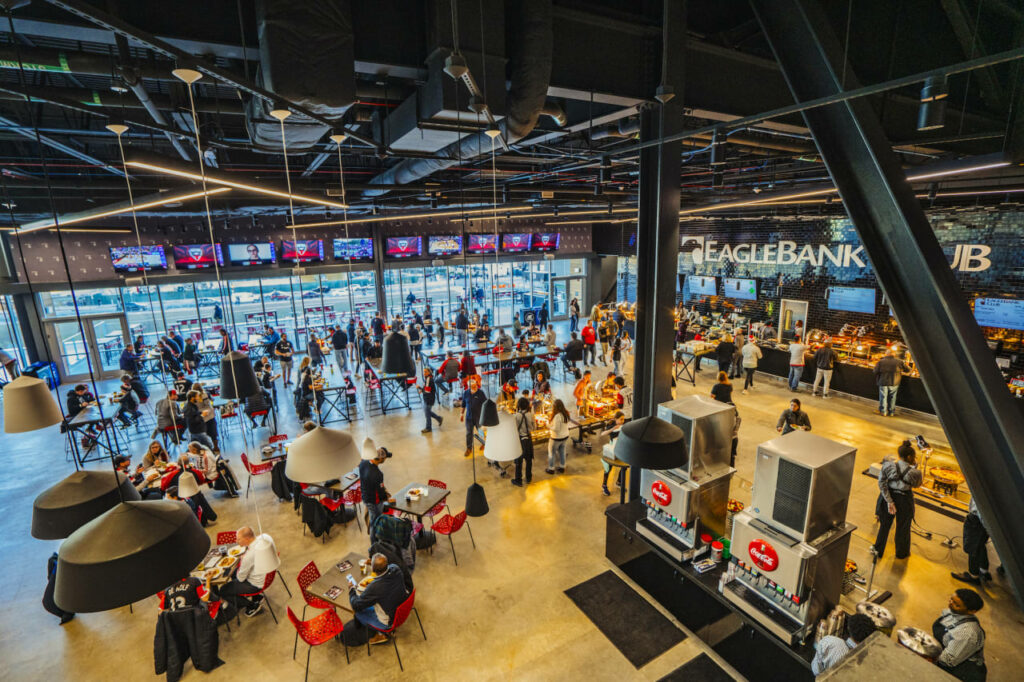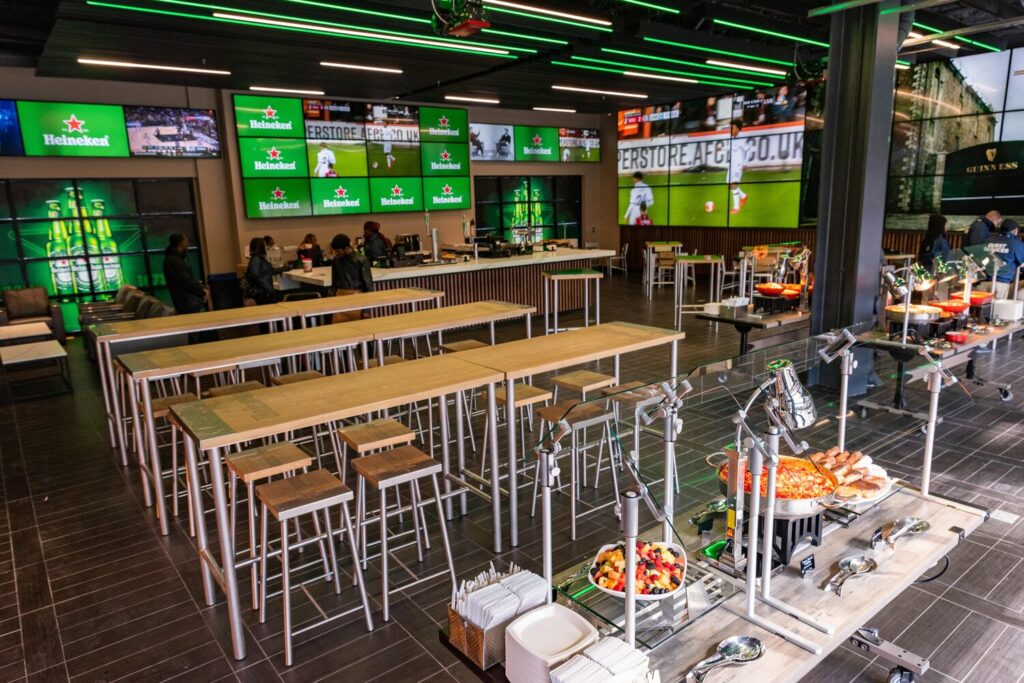 Challenges
Based on the short timetable to complete the project, WPS employed a novel approach to its biggest engineering challenge: the recovery of the stadium's distributed audio when switching from grid to generator power within 15 seconds. John Fish, Senior Project Engineer for WPS explains that "we went 'old school' and avoided amplifiers with built-in networking, which take in excess of 60 seconds to boot back up and pass signal." Fish highlighted that "all networked digital signal processing (DSP) components, which are fully supported by battery backup, feed analog audio to the amplifiers, which are on generator power." To ensure convenience, WPS decided to use networked amplifiers for the ancillary speaker systems, Fish added.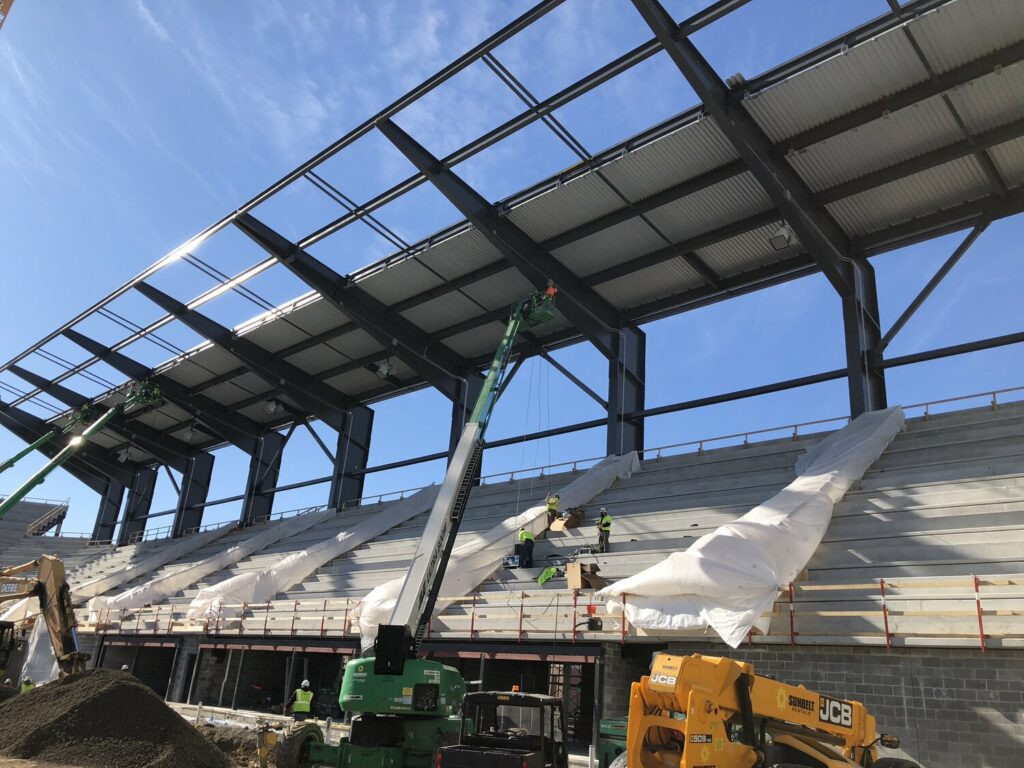 Outcome
Construction of Audi Field was completed in record time in July of 2018, a little over a year from the ground breaking in February of 2017, in time for the opening game on July 14th to a crowd of 20,504 fans. The stadium is designed specifically for soccer and is shared with the Washington Spirit, D.C.'s professional women's soccer team (NWSL). For a stadium with such a large seating capacity, the entire footprint of the facility is less than 13 acres making it one of the tightest in the league. This space constraint required engineers to make use of all of the available area by building the seating with a total incline of 35 degrees, one of the steepest grades in the league. This design choice turned out to be an advantage for fans, whi now have uninterrupted views of the pitch from every seat in the stadium.
In total, WPS helped lay 34 miles of broadcast cable and installed 130,000W of amplifier power with 80,000W of speaker load for the bowl audio system. To maintain system redundancy, WPS ran the 16,700W ancillary speaker system analog paths in parallel with primary and secondary digital paths. John Fish noted that "we're using an isolated fiber-based Q-Sys network for sound system distribution and processing, and we're also employing Dante for signal acquisition to the console, from the console to the Q-Sys Primary/Secondary DSP frames, from the console to the video broadcast suite, and for general distribution throughout the stadium." WPS also installed SMPTE fiber with an Exterity IPTV system and a NewTek TriCaster system in the head end. WPS selected Shure's Axient Digital Quadversity wireless microphone systems, giving crews the ability to shoot four antennae across the field.
Since its opening in 2018, Audi Field has maintained an average attendance of 17,600 fans, or 88% of capacity. Fans are delighted with 14 different food vendor options, including menus developed by famous chef (and D.C. local) José Andrés. Today, Audi Field remains one of the top ranked soccer stadiums in the league and was designed from the beginning to represent the innovative and sustainable engineering methodologies of local D.C. firms.